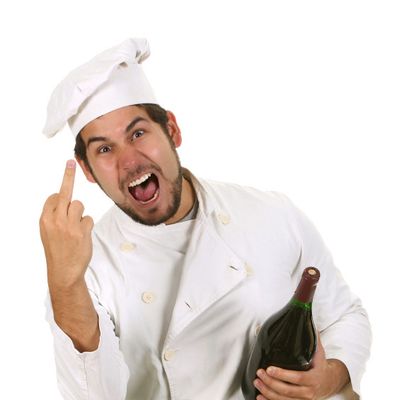 "How do you like these bell peppers?"
Photo: iStockphoto
Working in front of hot ovens slowly cooks your skin, but it won't necessarily make it thicker, it turns out: Chef Claude Bosi has two Michelin stars for his refined cooking at the restaurant Hibiscus in London, the Guardian reports, but is considerably less couth when it comes to reviews filed by amateurs. After a blogger named James Isherwood wrote a tepid but innocuous review of Hibiscus on his personal site, Bosi sought him out and unleashed a litany of insults directed toward him on Twitter, at one point writing, "As a man you should say something to my face when I ask,Please buy yourself a pair of balls and play with them."
It should be noted that other well-regarded, Michelin-starred chefs, namely Sat Bains and Tom Kerridge, were drawn into the exchange and also piled on the insults, writing, "Smash him in chef Bosi #chefsunite;" "there is a c**t amongst us.!!!" and "Who is this guy??? What a loser!!" Isherwood ultimately deleted his account; #chefsunite indeed.
This isn't the first time a chef has gone after a blogger. We're just a little more mild-mannered about it here in New York, it seems.
Alex Stupak once responded to Opinionated About Dining's Steve Plotnicki with an open letter. "To say I'm more 'market' driven is another indicator of ignorance and careless writing," Stupak wrote, correcting Plotnicki before adding, "You also misspelled fundido." Stupak also went after a Columbia student-blogger who staged briefly with him and later wrote a negative review of Empellón. Stupak wrote, "This person showed up at wd~50 and cut himself on a brand new knife from Korin that his daddy probably bought for him twice in the first 45 minutes he was there."
And who could forget the time Dave Chang became upset after Serious Eats' J. Kenji Lopez-Alt complained that the $5 Mexican Coke at Momofuku was a little bit pricey, writing, "kenji please stick to catering. mexican coke = hard to obtain in nyc + costs $," before calling out Serious Eats in general. There was even a time JoeDoe chef and owner Joe Dobias was actively seeking out a Grub Street editor in order to run him over with his bicycle.
But hey — no harm, no foul. For as long as people continue to tweet through dinner, social media will continue to be a direct extension of table manners. "Unfortunately," the Guardian notes on the situation in London, "Bosi has now shown himself to be an insecure mess of a man and a bully." So, until they can be sure their comments won't affect the number of people who show up for dinner, chefs will have to watch what they type as much as what's cooking in those ovens.
Top chefs unite against blogger's review [Word of Mouth/Guardian]