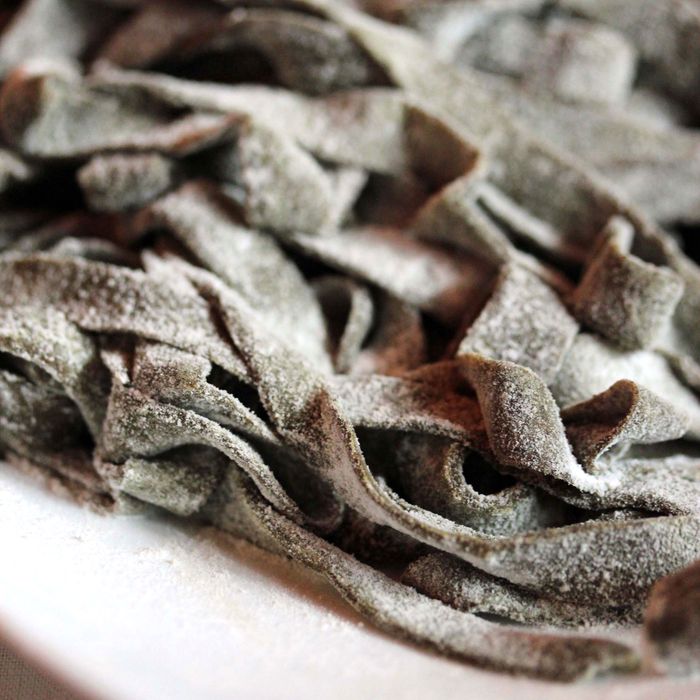 No seeds, no stems, no sticks. Just noodles.
Photo: Bradley Hawks
While New York may have yet to legalize marijuana, culinary cannabis is already popping up in Astoria. At Ornella Trattoria Italiana, Giuseppe Viterale, the same extreme chef who stuffs cannolis with blood and chocolate and occasionally invites guests to try some foul Italian maggot cheese, is bringing a whole new meaning to "pasta pot" this week. Two new dishes at the restaurant are made with organic hemp flour fettuccine. This Yorkshire stuff is strong and gluten-free, though Viterale blends his with a small amount of wheat to soften the texture.
The noodles, seen here fresh, turn forest-green after a good simmer. Viterale sautés them in olive oil with garlic cloves and bitter and sweet sun-dried tomato, which brings out the nuttiness of the hemp. The second, heartier version is tossed in a pistachio-truffle cream sauce. Although the hemp pasta is already a hit — cough, cough — with customers, these wacky noodles of course contain no measurable amount of THC. They do, according to customers, register obscene amounts of TLC. And while Viterale is not overtly trying to court the Cheech and Chong crowd, his restaurant, funnily enough, is now also serving "stoned" steak, where your meat is cooked tableside on a super-heated rock.