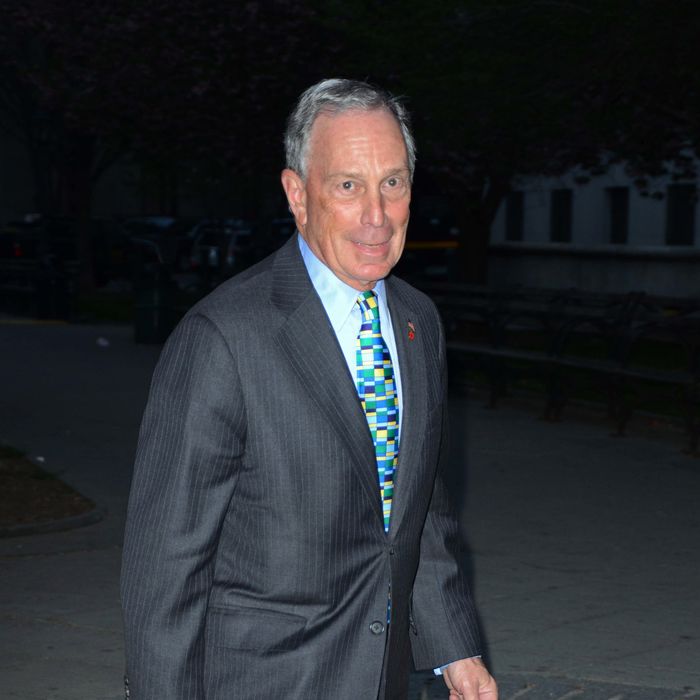 Bloomberg, in a photo taken pre-Sandy.
Photo: Derek Storm/Splash News
Before Hurricane Sandy put a halt to outings of any kind, New York's celebrities engaged in the usual Halloweekend revelry. In the storm's aftermath, they fled their downtown penthouses and meatpacking clubs to gather at a few uptown hotspots. This week, Katie Holmes came face to face with a "Free Katie" T-shirt at Mr. Chow, Mayor Bloomberg dined at Bistro Le Steak, and Emma Stone and others took to higher ground at the Mark. More pre-Halloween festivities and post-hurricane activities straight ahead in our weekly roundup of celebrity dining.
Avenue: Kim Kardashian dressed as a blonde mermaid to attend the 2nd Annual Midori Green Halloween Saturday night. Kanye West made a half-hearted attempt to match Kim's chosen theme by donning a striped shirt and sailor hat. [NYDN]
Bistro Le Steak: Mayor Bloomberg was spotted taking a break from recovery efforts on Tuesday evening. He chatted with fellow diners and even snapped a photo with a group of young women. [Page Six/NYP]
Buddakan: Vince Vaughn picked up the bill for two older women at the table next to his Saturday night. He told the waiter he thought they were "very sweet." He wasn't met with the same kindness on his way out the door, however. As he left the Chelsea restaurant, a passerby told him he'd gotten fat. At another table inside, Joe Jonas dined with a friend and stopped to take a picture with two young fans. [Page Six /NYP]
Lavo: The midtown club reopened Tuesday night, and Leonardo DiCaprio, Gerard Butler, Maxwell, John Legend, Chrissy Teigen, and a group of Victoria's Secret models all partied away their hurricane woes. [Page Six/NYP]
The Mark: Downtown celebrities flocked to the Upper East Side hotel following massive power outages. Superbad costars Emma Stone and Jonah Hill hung out at the bar, while Vladimir Restoin Roitfeld and André Balazs dined at the restaurant. [Page Six/NYP]
Mr. Chow: Katie Holmes got the kind of Halloween scare only possible for celebrities of her ilk. She and Suri sat next to a group dressed as them at dinner in Tribeca on Saturday. The costumed diners, complete with "Free Katie" and "Save Suri" T-shirts and a spurious Tom Cruise, exchanged an uncomfortable glance with the real deal but covered up before Suri could notice a thing. [Page Six/NYP]
Rose Bar: A Halloween decoration went up in flames at a party on Saturday night. Nicky Hilton, dressed as a leopard, was among the partygoers at the Stavros Niarchos, Andy Valmorbida, and Vladimir Restoin Roitfeld–hosted event. Peter Brant was also at the Gramercy lounge Saturday night with model Wolf Fleetwood-Ross. Younger brother Harry stayed home. [Page Six/NYP, NYDN]
Shun Lee: Liv Tyler ate with boyfriend Theo Wenner and son Milo post-hurricane this week. Fergie was spotted dining at a separate table. [Page Six/NYP]
The Tippler: Rumer Willis met boyfriend Jayson Blair's parents at the Chelsea bar Saturday night. The group chatted while sipping cocktails. [Page Six/NYP]
Top of the Standard: Lindsay Lohan and Leonardo DiCaprio got into the Halloween spirit at opposite sides of the bar last weekend. LiLo wore a red wig, floppy hat, and glasses, while Leo fit a mask under his usual baseball cap. The disguise must not have been too convincing — a misguided partygoer was overheard complimenting the actor on his great Leonardo DiCaprio costume. [Page Six/NYP]