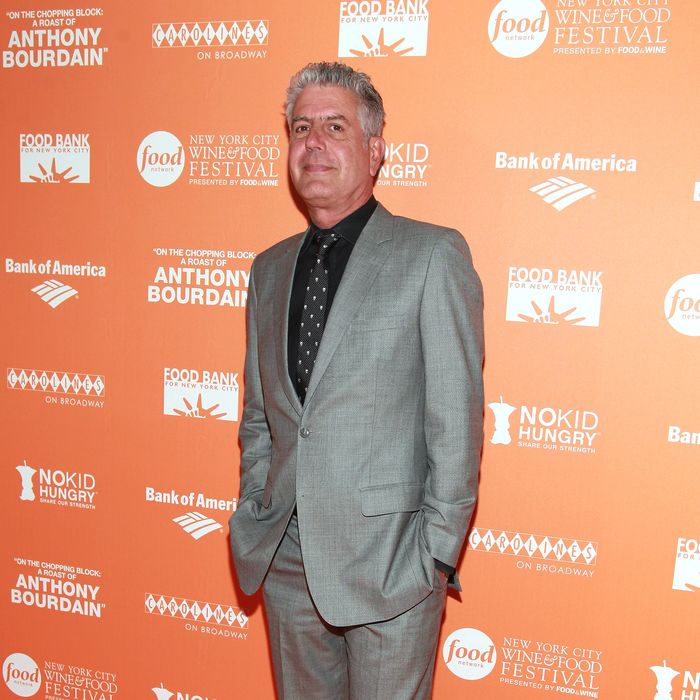 More of a Chevy guy?
Photo: Taylor Hill/Getty Images
Last night marked the series finale of No Reservations, but Anthony Bourdain isn't leaving the Travel Channel without pulling his own mini-version of a Keith Olbermann-style Twitter anti-corporation Twitter rant. The host took a break from live-tweeting during the episode to, once again, express his frustration over a promotional spot (which Eater has embedded at the bottom of this post) for Ann Romney's favorite car company.
I do NOT drive a Cadillac. And now I never will. #travelchannel— Anthony Bourdain (@Bourdain) November 6, 2012

There's a clown caught up in the wheel well of my #Cadillac— Anthony Bourdain (@Bourdain) November 6, 2012

There's a dead prostitute in the trunk of my #Cadillac— Anthony Bourdain (@Bourdain) November 6, 2012

#Cadillac The blood and spooge wipe right off ! #travelchannel— Anthony Bourdain (@Bourdain) November 6, 2012

Wow! I can fit TWO bodies in full rigorin the trunk if a #Cadillac ! Awesome! #travelchannel— Anthony Bourdain (@Bourdain) November 6, 2012

If you blow your load on a #cadillac dashboard it wipes clean off!— Anthony Bourdain (@Bourdain) November 6, 2012

When a #travelchannel exec runs over a hobo in a #Cadillac, I'm told they can barely tell! #goodsuspension— Anthony Bourdain (@Bourdain) November 6, 2012

Related: The 22 Best Lines From Last Night's Roast of Anthony Bourdain