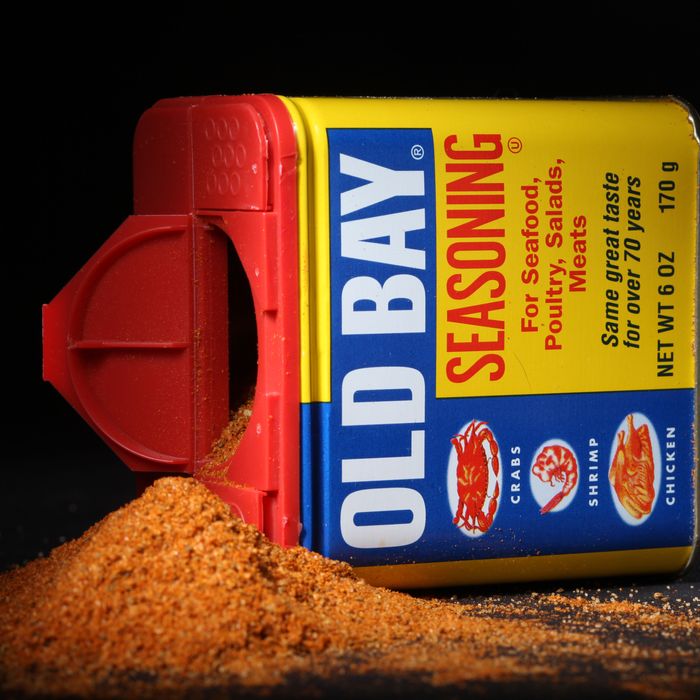 There's a lot going on in that little tin.
Photo: Melissa Hom
When you think of Old Bay — the Maryland spice blend in the yellow and blue tin — you probably think of outdoor crab shacks on the Chesapeake Bay, or maybe a lobster bake on a beach. But there's nothing inherently summery or regional about the blend itself, other than how well it goes with a cold pitcher of Natty Boh. Chefs seem to have realized that. Mission Chinese's Danny Bowien has used it in a dish of Sichuan catfish; the Momofuku group famously seasons their fried chicken with it; plenty of places sell Old Bay–dusted fries and burgers with Old Bay–infused aïoli — the list goes on and the reason is obvious: Old Bay's transformative powers extend way beyond crabs.
The mix was first put together in the forties by a German immigrant named Gustav Brunn. The precise ingredient makeup is, like Coke's formula or KFC's eleven herbs and spices, one of those tightly guarded corporate secrets, but the ingredients listed on the package are celery salt, "spices (including red pepper and black pepper)," and paprika. Anyone who's tasted it can tell you there's a lot more than that in the mix. I'd bet bay leaf, clove, allspice, dried mustard, ginger, and cardamom are all in there, too, layering and rounding the overall flavor.
The final blend is one of those Heinz-like products that manages to nail all of the various taste sensations — salty, sweet, umami, etc. — that everyone loves. Go ahead and try dusting your fries with another spice blend like Zatarain's — it won't be the same (even if spice giant McCormick does own both brands).
So it's no wonder that chefs put Old Bay to work to make all sorts of things taste better. In fact, when I sat down to think about new ways to use the tin of Old Bay that was already in my pantry, I realized I had a lot of options.
Pork larb, the Northern Thai meat salad — served with lettuce leaves and rice — utilizes a vivid combination of spices and herbs, many of which you can't get here. Andy Ricker can get them and you can taste the exotic mix in his larb at Pok Pok, but his life would be a lot easier if he just subbed in some Old Bay, which is what you should do at home.
Buffalo steaks are available at most grocery stores these days and have a milder flavor than beef. They're better for you (much less fat) but could stand a flavor boost in the form of a dry rub. Enter Herr Brunn's special seasoning.
And finally, just to make sure I didn't totally ignore Old Bay's classic appeal, there's beer-steamed shrimp with Old Bay remoulade. You can even use Natty Boh to cook the shrimp.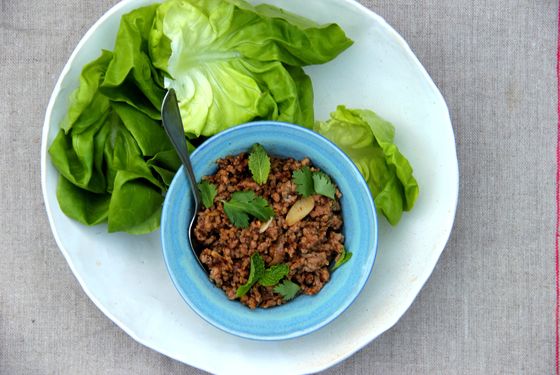 No matter how you spell it — larb, laab, laap, or lahb — Old Bay is a novel inclusion.Photo: Ian Knauer

Old Bay Pork Larb
Serves 4
2 tablespoons vegetable oil
2 large shallots, sliced
1/3 cup chopped fresh ginger
2 lemongrass stalks, bottom 4 inches only, finely chopped
2 garlic cloves, sliced
11/4 lbs ground pork
1/4 cup fish sauce
2 teaspoons Old Bay
3 tablespoons lime juice
1/4 cup cilantro leaves
1/4 cup mint leaves
Accompaniments: white rice; large lettuce leaves
Heat the oil in a large heavy skillet over medium high heat until hot, then stir in the shallots, ginger, lemongrass, and garlic and cook, stirring, until they start to brown, about 5 minutes.
Stir in the pork, breaking up any lumps with a spatula and cook, stirring, until pork is cooked through, about 6 minutes. Stir in the fish sauce and old bay and cook until liquid is almost evaporated, 3 to 4 minutes. Stir in the lime juice and transfer larb to a serving bowl. Sprinkle with cilantro and mint.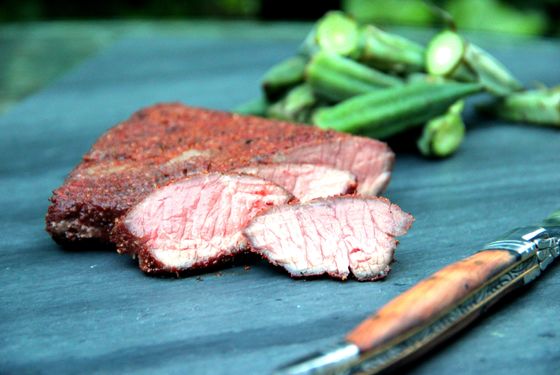 The spice rub is also great on ribs.Photo: Ian Knauer

Bison Steaks With Old Bay Rub
Makes enough rub for 6 steaks
1 tablespoon brown sugar
2 teaspoons Old Bay
1 teaspoon smoked paprika
1 teaspoon ground cumin
3/4 teaspoon finely ground black pepper
1/2 teaspoon garlic powder
1/2 teaspoon fine salt
6 (6 oz) bison steaks
Stir together sugar, Old Bay, paprika, cumin, pepper, garlic, and salt until combined. Pat steaks dry, then generously rub spice mixture. Let steaks stand at room temperature for at least 1 hour.
Preheat grill or grill pan.
Grill steaks over high heat, turning occasionally, about 6 minutes total for medium rare. Let steaks stand 10 minutes before serving.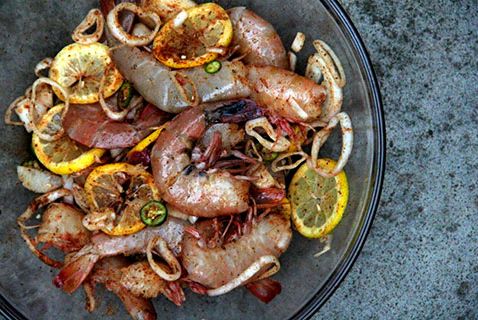 Like peel-and-eat shrimp, but better.Photo: Ian Knauer

Beer Steamed Shrimp With Old Bay Remoulade
Serves 4
For the remoulade:
1 cup mayonnaise
1 tablespoon tomato paste
1 shallot, finely chopped
2 teaspoons Old Bay
1 teaspoon Worcestershire sauce
1 teaspoon sugar
1 teaspoon fresh lemon juice
For the shrimp:
2 lbs large shrimp in their shells
1 lemon, thinly sliced
1 large shallot, thinly sliced
1 serano chile, thinly sliced
1 tablespoon Old Bay
1 (12 oz) bottle of beer
1/4 cup red wine vinegar
Whisk together all the remoulade ingredients and set aside until ready to use.
Toss the shrimp with the lemon, shallot, chile, and Old Bay, then let marinate at room temperature for 30 minutes.
Bring beer and vinegar to a boil in a heavy pot fitted with a steamer basket and lid, then add shrimp mixture and steam until shrimp are just cooked through, 3 to 5 minutes.
Transfer shrimp to a serving platter and drizzle with 1/2 cup beer mixture. Serve shrimp with remoulade.