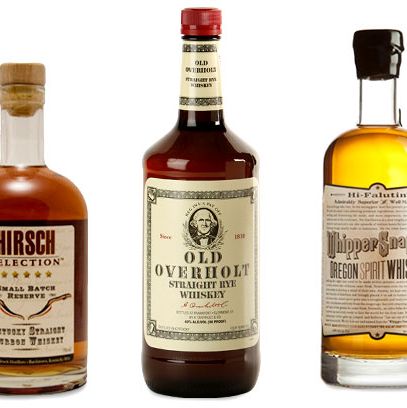 There's plenty to go around.
As you've probably heard, Gotham's growing packs of boozehounds are in a fix: Pappy Van Winkle, a big-game bottling from Frankfort Kentucky's Old Rip Van Winkle Distillery is almost nowhere to be found. Look, we've tasted most of the Pappy range and we can attest to its luscious, buttery, appley, punch-you-in-the-gut then tongue-kiss-you-in-the-rain deliciousness. But this is America y'all: Pappy ain't the only game in town. In fact, our fellow countrymen produce plenty of outstanding bourbons and ryes — most widely available and at prices far under the $200-plus that a bottle of Pappy goes for when you can find it.
1. Rittenhouse Rye 100 proof
Where it's made: Louisville, Kentucky
Why it's amazing: This titan of the American backbar has been punching above its weight since 1934. This rye is an incredible value at around $23 a bottle, with a hairpin balance of richness and menacing heat. Swirled with sweet vermouth and angostura it makes one of the most impeccable Manhattans around.
2. Old Overholt
Where it's made: Clermont, Kentucky, though its ancestral home is Pennsylvania, where it was distilled from the early nineteenth century through the eighties.
Why it's amazing: Remember the first moments of Good Will Hunting, before Matt Damon saved all the math and you still believed he was just an exceptionally good-looking janitor? That's Overholt for you. You may spot this sneaky bottle hiding out on the bottom shelf — its cut-rate price tag of around $20 helps keep it there — but the bargain rye is a goodly surprise: minerally and clean with a black pepper bite.
3. George T Stagg
Where it's made: Frankfort, Kentucky
Why it's amazing: Here's another bottle to add to your masochistic aspirational shopping list. Stagg bourbon is extremely difficult to find — a limited supply is released each fall as part of Buffalo Trace's "Antique Collection." And of course it's wildly expensive, starting at around $70 and soaring from there on the bourbon black market. It is unfiltered. It is uncut. It is viciously strong; so aggressive and muscled it would steal your lunch money if it could. To get a bottle, put yourself on a wait list and try not too look like such a dweeb.
4. Hirsch Small Batch Reserve Bourbon
Where it's made: Bardstown, Kentucky
Why it's amazing: This creamy pour is tray of warm cookies in a bottle with all its solicitous scents of vanilla and caramel, baking spices and walnuts. It has the classic warm profile of an American bourbon, but doesn't overstay its welcome on your palate. Rich and ephemeral, and a solid value at around $30.
5. Wild Turkey 101 Rye
Where it's made: Lawrenceburg, Kentucky
Why it's amazing: Don't hold the mass market label against this high-proof rye. The bartender favorite is a spicebox beauty, all oranges and cinnamon sticks with a little leather thrown in to keep it honest. The 101 has the makings of a trophy bottle, making it tough to find, if not quite as scanty as Van Winkle. If you spot it on some forgotten liquor store shelf, hoard it. Otherwise, right this way to the wait list.
6. Eagle Rare Single Barrel 10 year
Where it's made: Frankfort, Kentucky
Why it's amazing: This unimpeachable sipping bourbon is another feather in the Buffalo Trace cap — and unlike its cousin Stagg, it's widely available at around $33. Think of it like a bag of faux-healthy trail mix plucked from a vending machine: There are notes of cereal grain and almond, sure, but there's plenty of sweetness in there too.
7. WhipperSnapper Oregon Whiskey
Where it's made: Sheridan, Oregon
Why it's amazing: This bottle is a boozy insurgent, borrowing from a variety of global booze-making traditions to build something entirely new. It noses like a malty Dutch genever, but the flavor has that sweet-grain backbone so essential to an American bourbon. Instead of the usual charred oak, WhipperSnapper is aged for only about a year in Pinot Noir barrels (among others). It defies categorization, but at around $30 a bottle, it's worth a test drive in a lighter whiskey cocktail (a smash, with lemon and mint, would do nicely).
8. Templeton Rye
Where it's made: Mostly distilled in Lawrenceburg, Indiana; bottled in Templeton, Iowa
Why it's amazing: The heroic press-release tale of this Prohibition era recipe reads a bit suspect: Originating in the tiny Iowa town that gives the rye its name, Templeton claims to have been Al Capone's preferred hooch during the Noble Experiment. But whether it's all exaggerated marketing hogwash doesn't matter much: Hovering around $40, Templeton is one of the most interesting American whiskeys available right now, with a high rye content that gives the juice a lush and sturdy structure.
9. Ancient Age Bourbon
Where it's made: Frankfort, Kentucky
Why it's amazing: It's cheap (about $15), juicy and balanced with spice and fruit. This isn't a broody, fireside bourbon; it's a line 'em up and shoot kind of bourbon. That Ancient Age happens to be delicious makes it go down even easier.
Earlier: Let the Great Pappy Van Winkle Shortage Begin (or Continue)