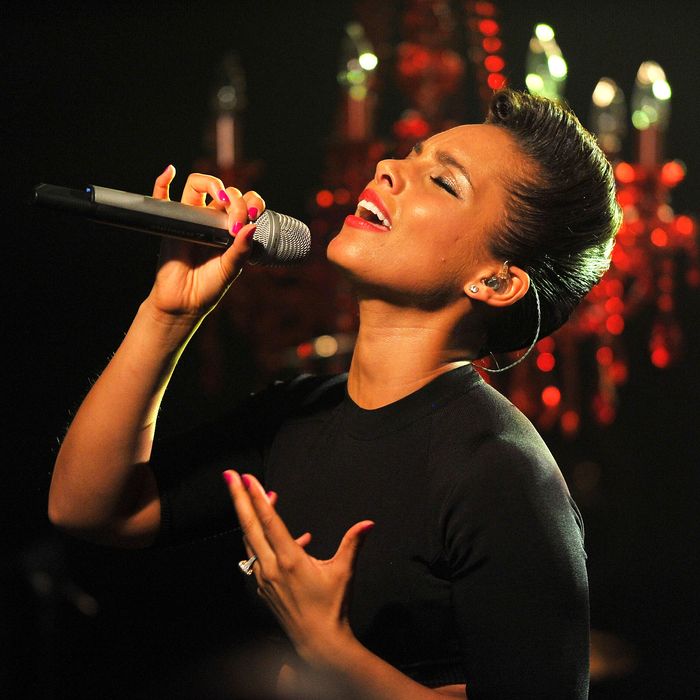 Keys: supporter of reverse stripteases.
Photo: Theo Wargo/Getty Images
This week, New York celebrities recovered from Thanksgiving festivities by going light on the dining and a bit heavier on the drinking. Alicia Keys celebrated an album release at the Box, Bill Clinton got drinks at the Lamb's Club, and Justin Bieber fit two dinners into one night out this weekend. All the deets (and just a few eats) straight ahead in our weekly roundup of celebrity dining.
The Ainsworth: Supermodel Jessica White was spotted watching football at the Chelsea bar. [NYDN]
Asellina: Justin Bieber picked up the check for dinner with five friends at the Murray Hill restaurant. [NYDN]
Avenue: Lindsay Lohan punched a fellow clubgoer in the face early yesterday morning. Rumor has it that the fight went down over Wanted singer Max George. [NYP]
The Box: Alicia Keys held her album release party at the burlesque club last weekend. Keys, Swizz Beatz, Beyoncé, Jay-Z, and Justin Timberlake gave standing ovations to the acts that included a reverse striptease and something involving jump ropes. [NYDN]
Brasserie Ruhlmann: Marion Cotillard attended the Peggy Seigal Co. luncheon for her new movie Rust and Bone on Tuesday. [NYDN]
Café Carlyle: A horde of New York TV stars were at the classic New York spot Monday night. Sue Simmons, Regis Philbin, Jill Zarin, Joan Collins, Hoda Kotb, Rosanna Scotto, and others came out in support of jazz musician Steve Tyrell. [Page Six/NYP]
Dean & Deluca: Meg Ryan considered the gourmet shop's baked goods before taking a stroll down Broadway with a male companion. [NYDN]
Greenhouse: Sandra Denton, better known as Pepa of Salt-N-Pepa, celebrated her 48th birthday at the Soho club. Pepa and friends, including Queen Latifah, drank Dom Perignon and danced to a DJ set that featured a 30-minute block of Salt-N-Pepa songs. [NYDN]
The Lamb's Club: Bill Clinton was at the Times Square restaurant Saturday night. The former president sat at a corner banquette and ordered a glass of red wine. [Page Six/NYP]
Marble Lane: Justin Bieber and Selena Gomez met up for a late-night snack. The two were heavy on the PDA and later headed upstairs to the Dream Downtown's rooftop bar PH-D. [Page Six/NYP]
No. 8: Bobby Cannavale and Rose Byrne got close at the Killing Them Softly after-party Monday night. They were spotted making out earlier in the evening and left together around 11 p.m. Jennifer Carpenter, Amy Adams, Harvey Weinstein, Sean Avery, Josh Lucas, Francisco Costa, and Chris Noth were also in attendance. [NYDN]
SPiN: After dinner number one at Asellina and before his Marble Lane date with Selena, Justin Bieber and his team hit up the ping pong club where Bieber seemed glued to his phone. [Page Six/NYP]