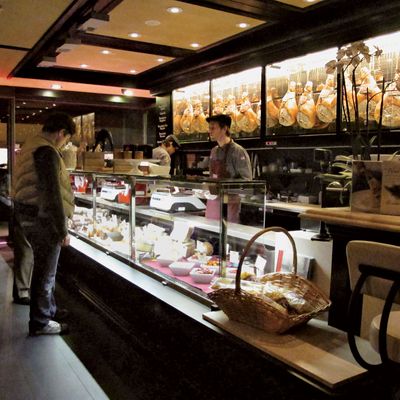 Salumeria Rosi Parmacotto
Photo: Jenny Westerhoff/New York Magazine
These days in New York, chefs tend to learn their craft in uptown kitchens (if they think about Manhattan at all), then move inexorably downtown. But with Cesare Casella, it's been the other way around. During the course of his varied New York career, the personable chef from Tuscany has pedaled his special brand of rustic home-style Tuscan cooking down in the Flatiron district (at his breakout restaurant, Beppe). He's detoured to start an import company devoted to heirloom Tuscan beans (Republic of Beans), and served comfort-oriented "cowboy style" pastas and steaks at a short-lived West Village restaurant called Maremma. But several years ago, Casella joined forces with the Italian salumi purveyor Parmacotto to open the boutique Upper West Side establishment Salumeria Rosi Parmacotto. And with that, one of the city's original, downtown Slow Food cooks transformed himself into an uptown chef, with a devoted new clientele, new upscale recipes, and a polished, even posh, new uptown style.
I pondered that history, and other weighty topics, while contemplating my somewhat meager, $24 maitake-mushroom salad at Salumeria Rosi Parmacotto's latest location, which opened not long ago in a former shoe emporium, a block north of the Ralph Lauren store, on Madison Avenue and 73rd Street. Like the original West Side outlet, this restaurant features a glimmering display of Parma-cotto products—haunches of prosciutto di Parma, ivory blocks of smoked speck—laid out, like jewelry at Tiffany, in a glass display case up front. The dining room is larger than the West Side operation, however, and the small-plate, dining-counter format has been replaced by a more ambitious sit-down menu featuring time-tested classics like beef carpaccio, mushroom lasagna, and osso buco. The walls of the railroad-style room are covered with Pompeii-like frescos of lounging Romans, the busboys are dressed in pressed white topcoats, and the places are set with fancy glass flatware and a sprig of Casella's trademark rosemary.
"Why don't we go to restaurants like this anymore?" asked my wife, as she picked merrily at a plate of baked oysters, which were crumbled on top with a buttery mixture of crushed walnuts, bread crumbs, and pancetta and cost, at $21, precisely $7 a bite. There was a fresh but similarly pricey ($25) warm lobster salad in this first wave of antipasti, which seemed to have been designed, in accordance with the local terroir, for the ladies who lunch, and an elegantly rustic mash of chicken livers, which Casella and his cooks fold with capers and marsala wine, and serve on toasty slices of Tuscan bread. The gnocchi expert at our table thought that the gnocchi alla Romana had an undistinguished, faintly bland quality, but nobody had any complaints about the delicious mushroom ragù that accompanied it, or the refined uptown version of panzanella Toscana, tossed with heirloom tomatoes, cannellini beans, and silvery slivers of white anchovy.
Back during his raucous, Tuscan-home-cooking period at Beppe, Casella had a fondness for hefty country pastas buried in crumblings of sausage and rusticated walnut ragùs. But at this elevated Madison Avenue establishment, many of the pastas and risottos taste like something you'd encounter at one of the swankier tourist destinations in Florence or Rome. The natural fishiness of the $23 bowl of seafood carbonara I ordered one evening was obscured in too much cheese and egg, and a risotto creation called savarin del Parmacotto (also $23) worked better once you cleared the tiny, denatured meatballs to one side of the plate. Mrs. Platt had no complaints about her pastry-size wheel of porcini-mushroom lasagna, however, and my friend the Risotto Snob couldn't stop raving about the Risotto Nero, which the kitchen whisks together with perfectly cooked carnaroli rice, and opulent amounts of grana padano cheese and squid ink.
In general, however, the dishes that work the best at this mannered restaurant are those that retain a trace of Casella's trademark earthy style. My favorite pasta was the simple rigatoni con melanzane (rigatoni and eggplant mingled with tomatoes and melted strings of mozzarella), which our waiter dished out around the table, one diner at a time, in grand uptown style. The soup component of the market-fish acquapazza had a wan, watery quality to it, so if you're in the mood for seafood, try the more robust cuscusso di mare, made with fresh shellfish jumbled in a small mountain of couscous. Casella's signature "rosemary perfumed" Berkshire pork chop is a better value than the listless, overpriced ($85) rib eye for two, as is the pollo pressato, especially if you complement it with several bowls of the crunchy Tuscan fries tossed with rosemary and whole cloves of garlic.
Even in Sandy's aftermath, Salumeria Rosi Parmacotto is being overrun with throngs of tottering gourmands from the neighborhood. Despite the crowds, my mother would like everyone to know that the service is excellent, and that "there's not as much brittle shrieking here as there is at Swifty's." There are a surprising number of fairly priced Italian bottles on the wine list (try the Barbera d'Alba 2010 with your pork chop), although one of my oenophile friends was shocked to see the bejeweled lady at the table next door drinking her $200 Brunello from a goblet filled with ice cubes. The desserts are mostly familiar classics—a decorative apple tart, an appropriately wobbly panna cotta, a caramello "dome"—dressed up in antic ways for the Madison Avenue crowd. The most antic of all is the Limoncello. It's constructed with broken pillars of lemon-filled meringue, which taste like some inventive, elevated form of lemon-meringue pie, and look like they've been scattered by a great wind all over the plate.

Salumeria Rosi Parmacotto
903 Madison Ave., nr. 73rd St.; 212-517-7700
Hours: Dinner Monday to Saturday 5:30 to 11 p.m., Sundays 5 to 10 p.m. Lunch Monday to Friday noon to 3 p.m.
Prices: Appetizers, $12 to $23; entrées, $29 to $85.
Ideal Meal: Baked oysters, rigatoni with eggplant, pork chop or pressed chicken, caramello dome or Limoncello.
Note: The full menu is also available at the dining counter, but the chairs are Lilliputian, and the space is cramped.
Scratchpad: Two stars for the polished, uptown cooking. This grumpy critic might be inclined to subtract a star for the prices, but his wife and mother won't allow it.
*This article originally appeared in the November 12, 2012 issue of New York Magazine.