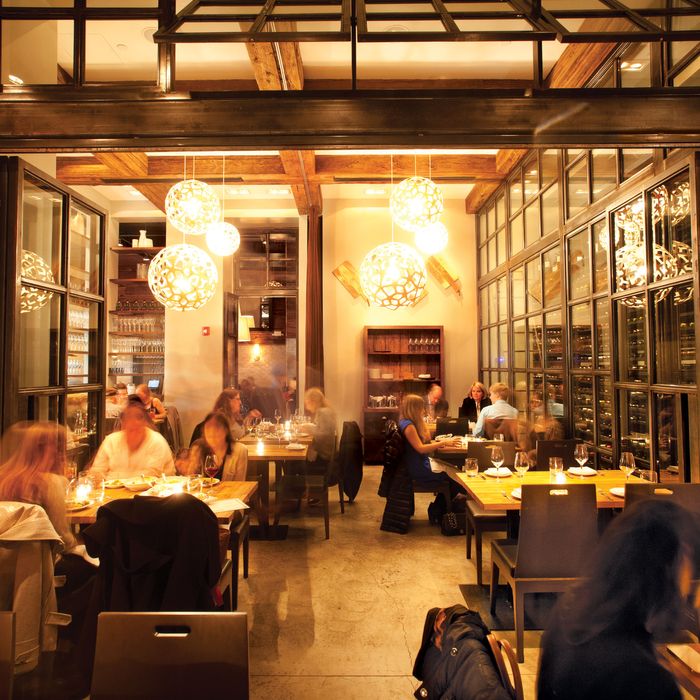 L'Apicio
Photo: Victor Prado/New York Magazine
Like David Chang, Gabe Stulman, and a host of other successful, much-buzzed-about restaurateurs in this bare-bones, downsized, remorselessly utilitarian dining era, Gabe Thompson and his partner, Joe Campanale, have mastered the art of the tiny room. At their first venture in the West Village, dell'anima, the pair managed to fit two dining counters, an open kitchen, several intimate, candlelit stand-up bar tables, and an excellent wine collection into a space only a little larger than a good-size barn stall. Their popular bar on Eighth Avenue, Anfora, is only slightly more spacious than that, as is their other hit Italian restaurant, L'Artusi, on West 10th Street, which is appointed with a polished white-marble bar, rows of orange-and-white-striped banquettes, and a painted, gently curved ceiling that makes the windowless room feel, on crowded evenings, like you're dining in the belly of a tastefully decorated submarine.
Now comes L'Apicio, which opened a little over a month ago on 1st Street, off the Bowery. Like most of the other Thompson and Campanale operations, the new restaurant's name begins with an apostrophized A, and also like the other venues, the menu here is stocked with appetizing-sounding pastas and polentas smothered in elegantly earthy "Italian inspired" ragùs. But by Thompson and Campanale's tiny, Mini Cooper standards, L'Apicio is a huge Rolls-Royce of a place. The double-height room is located on the ground floor of a newly minted condominium building and duly clad in panels of glass. There's a cocktail area on one side of the room outfitted with lounge couches and tall, sprouting floral arrangements, and an L-shaped dining space on the other fitted with roomy black leather booths. The walls are covered in expensive lattice woodwork, the cooking is done in a gleaming state-of-the-art kitchen, and there are rows of café tables set up outside for sidewalk dining, like at a tourist joint on the Champs-Élysées.
It's much more difficult to control quality, and expectations, in a large restaurant than a small one, of course, and the tight, eclectic menu at L'Apicio seems to have been designed with this in mind. The first barrage of "piattino" antipasti-style dishes to arrive at our table on my visits included fresh (though tiny) pieces of fluke crudo for dainty seafood eaters, and a variety of inventive salad combinations (try the escarole with buttermilk dressing and crushed almonds or the watercress tossed with yogurt and roasted carrots) designed for the discerning vegivore set. My eccentric friend who stubbornly orders octopus whenever it's on the menu gave his blessing to the lemony, charred version here (garnished with fregola pasta and salty bits of pepperoni), and the robust eaters at the table devoured the arancini (rice balls, shot with melted fontina and crumblings of sausage) and stout helpings of polenta, heaped with hungry-man toppings like pork meatballs and a thick oxtail ragù.
Thompson studied nouveau rustico cooking techniques at Del Posto, among other places, and he has a Batali-esque fondness for combining encyclopedic varieties of pasta (there are twelve different kinds on the menu) with varying combinations of gourmet lightness and good old-fashioned heft. Some of these concoctions work better than others, of course. I enjoyed my bowl of rich, deeply flavored lamb Bolognese (over fresh-rolled green garga­nelli), but even the most sophisticated carnivores at the table couldn't discern much difference between the overstewed wild boar en agrodolce (over cavatelli) and the salty, equally thick short-rib ragù (over pappardelle). The fresh, faintly spicy linguine with clams was the best of the lighter pastas we sampled, and if you're looking for a perfect combination of elegance and weight, I suggest the delicate little packets of agnolotti, which Thompson and his chefs stuff with sweetbreads and garnish with a dab of mascarpone on the side.
Given this volume of pastas, I'm happy to report that there are only nine entrées on the menu, and with the exception of the lamb chops (which go for $34), none of them cost more than $27. "I love this lamb chop. I just wish there were two of them," declared my friend the Meat Loon, as he cut into a perfectly charred "long bone" lamb chop, served with a mess of roasted fingerling potatoes flavored with mint pesto. The slightly more bountiful pork chop (served with sweet potatoes and a nicely contrasting pairing of pancetta and cranberries) got even better reviews, as did my helping of cod saltimbocca, which was wrapped in speck and set in a delicious stew of leeks, crushed potatoes, and gently simmered clam stock. The flank steak tasted flat and listless, by comparison, so get the plump roast chicken instead (crusted in fennel seeds and lemon), or the red snapper, which is served over a tangy and nourishing mass of lentils.
Thompson and Campanale have designed L'Apicio, unlike their other restaurants, for volume (and profits), and when the crowds swell in the evening and the thrumming music is turned up loud, the room can have an impersonal, clubby feel. If you have the resources, distract yourself with bottles of Pinot from Sonoma or Etna Rosso from Sicily, which the former Babbo sommelier Campanale divides into New World and Old Country on his carefully chosen wine list. The desserts include a smooth panna cotta made with flagons of crème fraîche, and an expedient, presliced banana-chocolate torta that one guest accurately described as a "glorified granola bar." The gingery multitiered vanilla semifreddo, on the other hand, is one of the better desserts you'll find in this restaurant-cluttered neighborhood, and so is the improbably tasty pumpkin budino, which is dressed with more crème fraîche, and dotted here and there with cranberries, like a festive holiday pudding.

L'Apicio
13 E. 1st St., nr. Bowery; 212-533-7400
Hours: Dinner Sunday through Wednesday 5:30 to 11 p.m., Thursday through Saturday 5:30 p.m. to midnight.
Prices: Appetizers, $8 to $20; entrées, $23 to $34.
Ideal Meal: Sweetbread agnolotti, linguine with clams, polenta with pork meatballs, pork chop or cod saltimbocca, vanilla semifreddo.
Note: In addition to Campanale's wines, there are seventeen well-curated beers to choose from, divided into categories like Quirky, Hoppy, and High-Octane.
Scratchpad: One star for the robust food, and another for the wine and décor.
*This article originally appeared in the December 3, 2012 issue of New York Magazine.