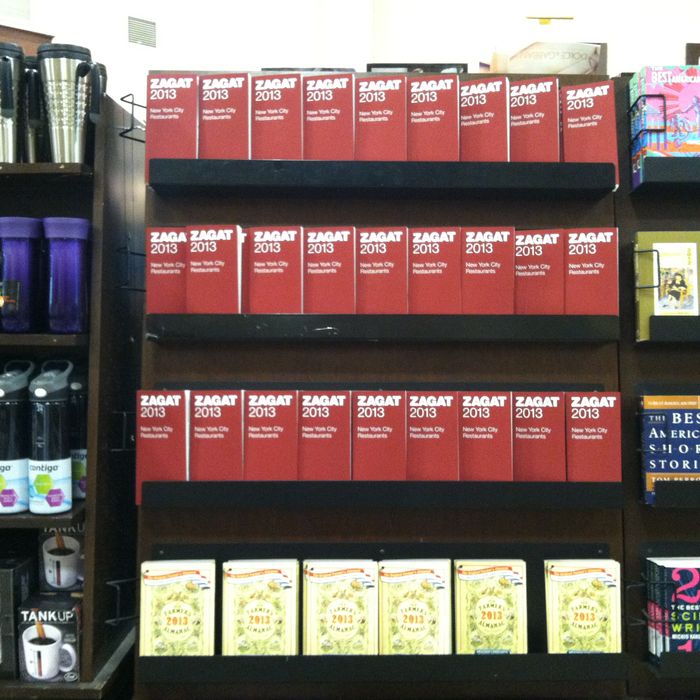 What's wrong with this picture?
Photo: Max Thorn
What's wrong with this picture? Barnes & Noble in Union Square is right now selling copies of the 2013 Zagat Guide to New York City Restaurants — from the looks of it, many, many copies. The problem is that this year's Zagat results won't officially be out until later this week.
The restaurant guide, which was sold to Google last year, includes 2,120 restaurants in its 2013 edition, and many newcomers land with high marks. Williamsburg's inventive and underrated Gwynett St. comes with a food score of 28, Battersby nabs a 27. Atera lands a 26 for food and Littleneck, in case you were wondering, has 24 clams.
Carroll Gardens' precedent-setting Grocery gains a notch at 28, moving it up a bracket in the guide's "Top Food" category of perennial favorites. Di Fara knocks Totonno off the same category with a score of 27. The Chef's Table at Brooklyn Fare had 29 points for food in the 2012 guide, but now has a score of 27; however, it is difficult to say how many of the 44,306 "avid diners" whose reports comprise the guide's scoring were actually able to eat at César Ramirez's restaurant, which only seats eighteen people and does one turn per night. Le Bernardin remains New York's top restaurant.
The results of Zagat's 2013 New York City Restaurants guide will be officially released later this week.