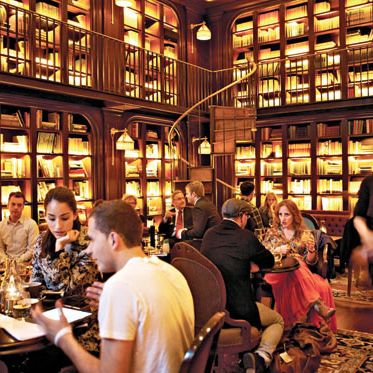 Today is probably a good one for a dark 'n' stormy at the NoMad.
Photo: Danny Kim
While our friends at Daily Intel are live-blogging the imminent arrival of Hurricane Sandy, a.k.a. the Frankenstorm, here's a list of some bars and restaurants that aren't battening down all their hatches just yet. We can't wholly advise heading out into the storm, and if you must venture outside, please be careful. That said, if you absolutely need to find a place to grab a bite to eat or have a stiff drink, we've got you covered. We've even listed the results by neighborhood so you can chart a course accordingly.
In Manhattan
Morningside Heights
Dave Cook from Eating in Translation reports Oren's Daily Roast and Absolute Bagels are open, but are mobbed. The coffee-shop chain says its locations may close early today.
Upper West Side
Nice Matin Pretend the encroaching Hudson is the Riviera. The restaurant will be open through dinner.
Upper East Side
Dorrian's Red Hand
The old bar is having a "Hurricane Social" today and operating with normal business hours.
Midtown and Hell's Kitchen
The Breslin
According to the restaurant's host stand, April Bloomfield and Ken Friedman's restaurant will be open for regular dinner service tonight starting at 5:30 p.m.
The Russian Tea Room
For all you lovers of caviar, blinis, and freak storms: the storied, opulent old timer is open.
Westway
The greasy spoon stays in the picture.
Flatiron
Eleven Madison Park
Co-owner Will Guidara posts on Twitter that the restaurant is setting up for dinner service.
The NoMad
Guidara also points out that he and Daniel Humm's other restaurant is getting ready to serve guests.
China Latina
Topsy-turvy fusion food, taking the form of chorizo shumai and "sushi burritos" may be just the thing when things outside are no longer predictable.
Chelsea and Meatpacking
The Americano
Open all day, serving Joseph Buenconsejo's French and Latin American-influenced menu.
The Hog Pit
"As long as we have power, you have happy hour."
West Village
Buvette
A commentor writes that the French Bistro is "alive and well."
Tavern on Jane
The Eighth Ave. pub is also open for business.
Num Pang
From the restaurant: "Num Pang on 21 East 12th Street (at University) is open and serving sandwiches all day today!"
La Villette
Reps from the new restaurant at 10 Downing Street restaurant write to say the foie gras terrines are ready to be sliced for dinner tonight.
Waverly Restaurant
"What hurricane?"
East Village and Alphabet City
The Cardinal
While early closure tonight is a possibility, the restaurant's owners say they're going to give the storm the middle finger for as long as possible.
Edi & the Wolf
Get through the Frankenstorm Austrian-style with the one-two punch of a "goulasch party" and schnapps.
The Smile
Melia Marden's restaurant is open today. That's a reason to, em, smile.
Veselka
The pierogi, borscht, and burger 24-7 stalwart is not closing today.
The Wayland
They're warding off the storm with dignity and strong drinks in Alphabet City. Update: A reader writes in to say The Wayland has closed for the night and ConEd may shut down power to the entire block.
Mudspot
Open for strong coffee and good cookies. Hug someone while you're at it.

Lower East Side
Katz's Deli
"We are open normal hours," says a worker at the venerable Houston Street deli. Pastrami does not yield to inclement weather.
Meatball Shop
The guys are keeping hope and comfort food alive at 84 Stanton Street all day long.
Brooklyn
Williamsburg, Greenpoint and Bushwick
The Bedford
If you're going to brace yourself for impact, do so with this restaurant's all-day happy hour and dinner, which will be served through 11 p.m.
Brouwerij Lane
If it's growlers that you need, Ed Raven sends word his shop is open and the fireplace is going strong. Watch out for zombies.

Northeast Kingdom
Open for lunch and dinner. Update: The restaurant has decided to close for the day.
Blue Collar
The In-n-Out-ish burger spot will be open today. Call to find out if they're offering delivery as the day goes on.
Maison Premiere
Reps from the restaurant say the oysters and absinthe drinks will keep on going during regular service hours tonight.
Meatball Shop
Holman and Chernow are keeping regular hours in Williamsburg today as well.
Boerum Hill, Cobble Hill, Carroll Gardens
Mile End Deli
Noah Bernamoff writes: "The deli is 100% operational and OPEN for breakfast and lunch today. Smoked meat hash, bagel & coffee?"
Brooklyn Buschenschank
The beer-heavy Austrian and Tyrolean Carroll Gardens restaurant is open.
Park Slope
Fort Reno
The barbecue will keep smoldering during the storm.
Red Hook
Red Hook Bait and Tackle
"We're going to see how long we can stick around," the pioneers on the corner of Pioneer Street and Van Brunt Street tell us. "We're all sandbagged in."
Fort Defiance
For now, St John Frizell's café and bar is staying open in the heart of Zone A. And they have muffins.
Bay Ridge
Uncle Jimmy's Backyard Barbecue
Chicken wings, beer, and ribs in Bay Ridge. Uncle Jimmy's is keeping regular hours today.
Queens
Long Island City and Astoria
Studio Square
The Queens beer garden will host a "Hurricane Party" with two-for-one drink specials today from 4 p.m. until close.
Know someplace that's staying open? Let us know in comments. And please, please be safe out there!