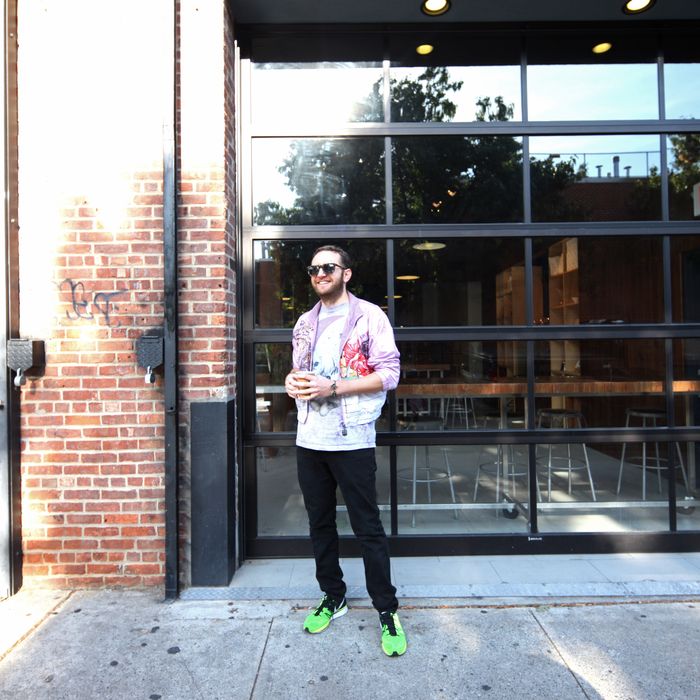 Selby outside Blue Bottle Coffee in Williamsburg, a favorite haunt and
Edible Selby
subject.
Photo: Melissa Hom
Todd Selby has one of the best jobs around: The founder of the Selby travels the world, documenting — in photographs, paintings, drawings, and words — some of the choicest dwellings and restaurants on the globe. He just released his second book, Edible Selby, which the self-described food-obsessive calls "very much a diary of the last two years of my life." Selby tells us that after publishing his first book in 2010, he "wanted to do something that was similar but kind of changed the topic." The culinary world was perfect because of the "creativity and strong personalities." However, his pescatarianism, a habit since age 16, has occasionally resulted in awkward moments. At L'Osteria senz'Oste in Italy, the sausage-makers were "bewildered" at his dietary restriction. "It was like telling them you don't eat food," he recalls. "But I drink Prosecco, so I think I was okay with them." Check out this week's New York Diet (by way of Tokyo and Seattle) to see what else he managed to eat.
Friday, October 12
I woke up at 8 a.m. on the 33rd floor of the Cerulean hotel in Tokyo. The view from my room was so beautiful. My favorite thing about this side of the building is that you look down on top of one of the buildings in the neighborhood where there is a doggy day care on the roof. The dogs are like little ants down there, running all around like crazy.
On the 35th floor, they have the executive lounge, so invariably when I'm there, I'm eating there. It's where all the photographers stay, so I always run into people. It was so clear, and you could see all the way to Mount Fuji. They have binoculars for looking out the window.
I had one poached egg with two cherry tomatoes that I squished onto two pieces of toasted bread with cream cheese. This egg sandwich is what I always eat for breakfast when I am in Japan. I go three or four times a year, and the Cerulean is kind of my spot. I also had a platter of fruit and some muesli with some Evian. I read the paper and then went back to my room to pack.
My driver, Sato-san, picked me up, and we headed to the airport. He always drives me around when I'm there. He's a hipster; he likes jazz, I think. In the van, I drank some of my favorite green tea. I have no idea what the brand is; it's just a plastic bottle with Japanese characters on it.
At Narita airport, I wandered around looking for rice balls with fish eggs that I could bring as snacks on the plane. I was peeking into a Japanese restaurant trying to take a picture of this particularly impressive display of plastic food when there was a strong earthquake and everything in the display case started shaking. Everyone was fine — they have quite a few earthquakes nowadays.
At that point, I went to the Japan Airlines lounge and ate some mediocre shrimp sushi and a tuna-and-egg sandwich. Sato-san had brought me a present — he gave me a box of banana-leaf-wrapped treats in a basket to bring back home, but I was curious about what they were, so I started eating them. They were these supersoft, delicious mochi balls, and I ate two of them. Then I got on the plane to Seattle and fell right asleep.
Friday, October 12 (part II)
I woke up on the plane after crossing the international date line (hence Friday number two) and had an English breakfast tea. It tasted like heavy cream, so I didn't really drink it. I ate another mochi rice ball and then had half a croissant with jam and a blueberry yogurt.
After landing in Seattle, I did some work and then went to lunch at Chandler's Crabhouse on the water. It's kind of a fake old-timey kind of place. It has a view and Dungeness crab, so works for me. I was on a job, and they knew I loved seafood, so they were taking me around. I ate six Kumamoto oysters, half a steamed Dungeness Crab, and some Alaskan king crab legs. Until this point, I always thought king crab was the top crab, but now I am a Dungeness believer. I kind of discovered Dungeness crab on this trip; I'd had it before, but I was going crazy for it.
I worked the rest of the day and snacked on some green tea Kit Kats I bought in Narita airport. I also at a chocolate cookie from Dutch Bike coffee shop.
For dinner, I went to a local pub called Oddfellows. I ate ricotta gnocchi with corn and cilantro. I drank a couple Planter's punches (rum, citrus, bitters, grenadine) and called it a night.
Saturday, October 13
Breakfast was a bagel with cream cheese and salmon from craft service on the RV on the set of my shoot. Lunch was a vegetable sandwich from craft service, which wasn't so exciting.
After the job was done, I rushed over to Pike Place Market and bought a whole Dungeness crab, a king salmon, and different kinds of smoked salmon. They packed it up in gel packs and a cooler so I could check it on the plane home.
Dinner was great: Some of the crew and some friends met up at Taylor Shellfish Farms. You sit on stools; they have some chowders they make themselves. I had six oysters, including Shigoku, Kusshi, and Kumamoto, which were so good. I'm a big oyster person when I'm out there. I also had the oyster stew, which blew my mind. I love clam chowder, and this was way better than other clam chowder. We also had some geoduck sashimi paired with a white wine, 2010 Muscadet Sevre et Maine. I headed to the airport for the red-eye home to NYC. I ate a small package of processed cheese in the lounge.
Sunday, October 14
I cooked eggs with scallions and the smoked king salmon. Lunch was Dungeness crab with oyster mushrooms cooked in butter, and faro.
Dinner was Dungeness crab and whole-wheat spaghetti, based on a dish that I love in Kamakura, Japan. It's mostly creamy tomato sauce with some white wine and cherry tomatoes, then you throw in some spaghetti and the crab. The sauce-to-pasta ratio is about two-to-one. My girlfriend, Danielle, was in charge of making the pasta; I made the sauce.
I love to cook with her when I'm home. We make a lot of vegetarian healthy stuff, though this time we were doing a lot of seafood. Then Jeni's salty caramel ice cream from Ohio, with fresh grated ginger, lemon, and honey.
Monday, October 15
Breakfast cereal — Barbara's Multigrain Shredded Spoonfuls with almond milk — and PG Tips tea with whole Battenkill Valley Creamery milk.
Lunch was at Roberta's. I had the apple salad with goat yogurt and a cheese pizza with jalapeños, the Famous Original. I'm in this weird pizza-obsessive thing: I posted a picture of Roberta's pizza on my Instagram, and my friend wrote "stop eating pizza" because I had already had pizza twice the week before in Japan.
I cooked dinner with Danielle. We made smelt from a recipe in the Edible Selby book from Kirk Lombard. We had it over my favorite kind of rice, Koshihikari short grain from California. Danny Bowien from Mission Chinese got me into that stuff. It's so good, just the texture — it's so fluffy and flavorful. I could eat that and throw whatever on top of it.
Tuesday, October 16
Barbara's Multigrain Shredded Spoonfuls with almond milk — and PG Tips tea with whole Battenkill Valley Creamery milk.
For lunch, I stopped by Velselka in the East Village in the hopes of getting Christmas borscht, but it's too early in the year still, so no luck. I went to Roberta's again. I had a cheese pizza with jalapeños and roasted peppers.
That night, I had an event for Edible Selby at Mission Chinese and had deviled crab on Little Gem lettuce with Tartine toast. Chad Robertson from Tartine made the bread in S.F. and FedExed it out for the event. I also had anchovy on Tartine toast, and fish fragrant eggplant, and a no-sausage version of Danny's salt cod fried rice in a little takeout box. I drank a few "Edible Selby" cocktails, which were very strong and very sweet.
Wednesday, October 17
Barbara's shredded with almond milk and PG tips tea with whole milk.
Lunch was vegetarian drunken noodles from Sugar Beets Thai, my go-to delivery spot.
Dinner was salmon from Seattle. I cooked it in a cast-iron pan, then finished it off in the broiler. I made a spicy soy-sesame-oil sauce and put that on top.
Then I ate the rest of an Edible Selby chocolate bar; it's made out of chocolate from Papua New Guinea, and it's very smoky. You can get them by special order from Mast Brothers. The wrapper is a compilation of all the food paintings from the book, and I requested my favorite flavor, the Papua New Guinea. We did it just for fun. I eat two or three of those chocolate bars a week, so I'm pretty psyched.