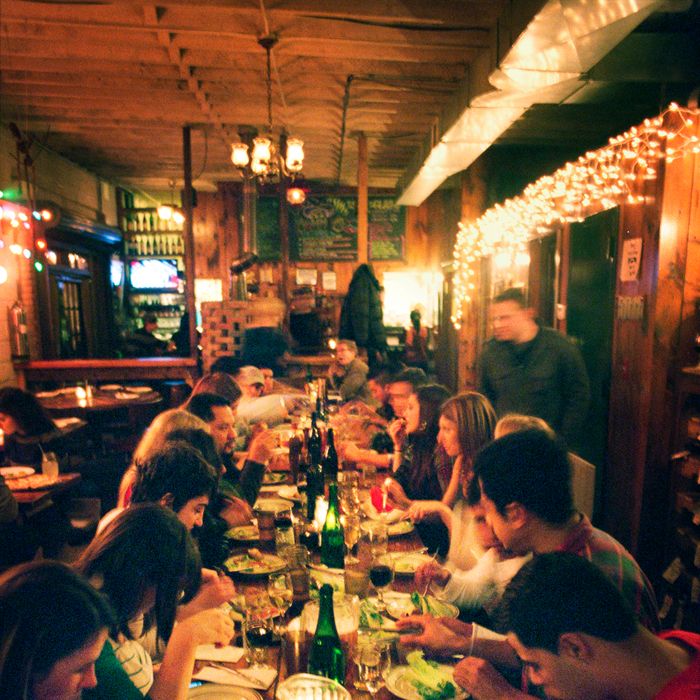 The goal: finagle a free meal somewhere good like Roberta's.
Photo: Pari Dokovic
Being young and underpaid in an expensive city means never passing up a chance for free food — and one of the easiest times to secure it is when your parents come to town. But the best restaurants these days tend to include loud music, backless seats, and interesting food — normally great, but not necessarily parent friendly. Is it worth a free meal if you have to eat it while your dad complains about the restaurant for two hours? Well, yes, but handle the situation accordingly, and you won't have to worry about it.
Find the Right Restaurant
If your favorite chef has a mini-empire, research the restaurant that's going to be the best for your parents. Sue Chan, who works with Momofuku's David Chang, tells us that people going out with parents gravitate toward Má Pêche because it's the only one of Chang's New York restaurants that has seat backs, offers a spacious dining room, and is located in tourist-friendly midtown. You get to eat lobster buns; your parents get trappings that aren't too far outside their comfort zone.
For God's Sake, Make a Reservation
Mom and dad don't want to stand around for 90 minutes in a sidewalk clusterfuck waiting for a table. "If you're coming in with your parents, definitely make a reservation — and confirm it in advance," says Stuart Brioza. His San Francisco restaurant, State Bird Provisions, was just named Bon Appétit's Best New Restaurant of the Year. Since then, people have lined up well before the doors open and sometimes idle outside for two hours. But, "if you have a reservation and it's been confirmed, you're in," he says. Just make sure you're on time: Nothing's worse than explaining to your dad why your coveted table has been turned over to ravenous hipsters.
Take a Cab
Save the strolls for daytime, especially if you're hitting a restaurant somewhere like Bushwick. Seeing a street fight might be second nature to you, but it will probably spoil your parents' appetites.
Enlist Your Server's Help
Even waiters have parents, so the best ones will realize what the situation is as soon as you sit down and act accordingly. A lot of times that means a free dish or drink. Take it from Brian Poe, who runs Boston's Tip Tap Room: "This is how we earn what we call the 'cuddle factor,'" he says. Servers know that a little coddling early on makes the rest of the meal go smoothly — and good servers can take the temperature of a table to know when finicky diners need a bit of extra love.
Try to Finagle a Celebrity Sighting
If there's one thing out-of-town parents love when they're in the big city, it's a well-placed celebrity sighting — or even just the rumor of one. When mom and dad get back to Indianapolis, they'll be able to tell everyone they ate at the same restaurant as Jimmy Fallon or Aziz Ansari ("You know," your mom will explain to her friend, "the Indian kid who wears suits from that Parks show"). And if the room is devoid of "Page Six" potential, you might consider mentioning that you heard someone like Liam Neeson eats there all the time — there are plenty of ways to track down past celebrity sightings.
Realize Your Parents Are Less Embarrassing Than You Think
Even if your mom smuggles her own tea bags inside her Vera Bradley purse, or your dad wears a tie-and-blazer combo to a place called Animal, it's probably fine. No matter how much it makes you cringe, the restaurant has seen worse. One industry worker we talked to for this story confessed that her father once asked a waitress for a bag of ice to put on his lap after a vasectomy — your mom's tea bags are nothing compared to that.