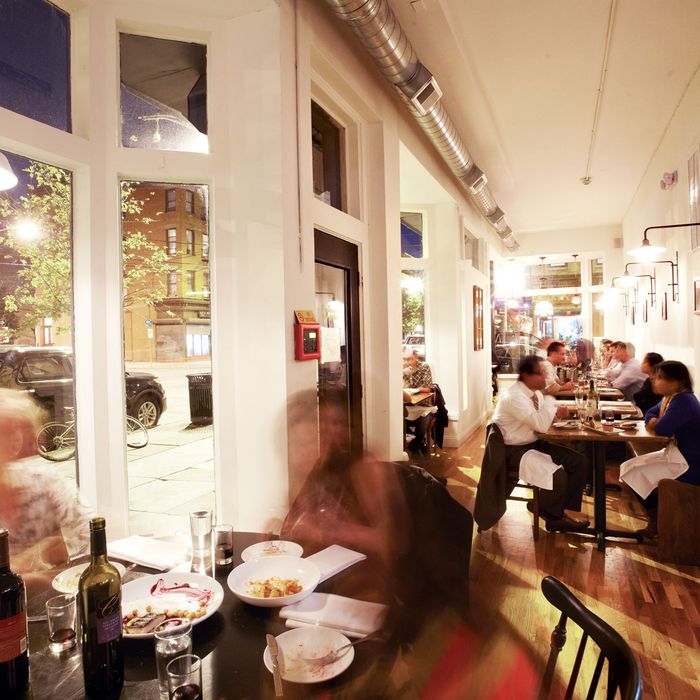 Thirty Acres.
Photo: Victor Prado
This week, the Underground Gourmet ventured across the Hudson to hit up Thirty Acres in Joisey City. So, where did the rest of their eating compadres dine this week? Find out straight ahead.
"This," Pete Wells warns us at the top of his review for "21" Club, "is going to be a kind of love letter to a restaurant where the food is largely forgettable and the prices are almost always unwarranted." Despite food that is mostly "classic, unsuspenseful and solidly prepared" (shrimp cocktail, grilled lamb chops) and a few "hopeless" duds (caesar salad), "to judge '21' as a restaurant is to miss the point of the place." This surviving relic of New York's Golden Age is "at its best when you treat the food as a solid foundation for the liquid entertainment" and surrender your expectations to a monologuist sommelier and a colorful bathroom attendant named "the Rev" who tells Wells Halle Berry is going to spank him.

Tejal Rao sits at chef Matthew Lightner's counter in Tribeca. She says "the real focus at Atera is on what's before you right now, at this very moment." And appearances can deceive: "Dig into what looks like this peach's pit, and you'll find it's winsome ice cream made from a toffee of sunflower seeds, in disguise." The kitchen at this Power Rankings mainstay sets out with an understanding that "cooking is nature plus science, not a war between the two" and then "pushes forward." "A meal there," Rao concludes, "reminds us that right now is the most exciting time to be alive in this freakishly beautiful world."

Advice from Silvia Killingsworth at The New Yorker: Trade egg's crayons and white butcher paper for colored pencils sketchbooks at its sister, the "all grown up" Parish Hall. "The food is a turn away from rib-sticking biscuits and gravy and toward the bounty of the garden," and winsome dishes like duck with granola say "Williamsburg" in a new, "more attentive" way.

Ryan Sutton crowns chicken gizzards king at Tori Shin, "a tasty temple dedicated to chicken-on-a-stick." The $50 yakitori tasting menu brings a few vegetable small plates and seven skewers, which can include the often-overlooked chicken "oysters," dollops of chicken liver that "dissolve in the mouth like a savory panna cotta," kidneys that are "sweet and tender," and "obscenely silky belly skin." This ain't your cousin's wedding's chicken-on-a-stick.

Michael Kaminer is a doll, at least according to his waitress at KTCHN, the restaurant inside Out NYC hotel, midtown's "straight-friendly urban resort." Kaminer admits he was only surprised by the food, which starts out strong with smoked bacon served with creamy polenta and slightly crunchy fried artichoke, continues with the Black Angus filet with gorgonzola-walnut ravioli, and lands on two feet with desserts that take "an everything-but-the-kitchen-sink approach meant to convey a spirit of kooky too-muchness." One thing that isn't over-the-top? The fair prices and sane wine recommendations.
Steve Cuozzo gives us the heads-up for Pig and Khao: "Expect less of the sweet and sour, salty and bitter balance for which Thai and Filipino cuisines are known; [Chef Leah] Cohen aims for impact, not subtlety." Cohen melds traditional hawker food with dishes "of her own imagination" and plates that share the "restless spirit" of Asian-fantasy weavers David Chang, Dale Talde, and Zak Pelaccio. A "smooth, coconut-y red curry unifies a fantasia of egg noodles boiled and fried, chicken seasoned with fish sauce, pickled mustard greens, cilantro and onions" within the khao soi, and Cuozzo dares us to "try finding one like this anywhere else in Manhattan." Desserts and drinks leave something to be desired (variety and hard liquor, respectively), "but Cohen's way with a burn gives you all the buzz you'll need."
Finally, hearing rumors of its waning quality, Robert Sietsema checks in on Union Square Cafe. The place is running on all cylinders, "the original luster of the restaurant remains," making for "the culinary high point" of the well-seasoned critic's week.