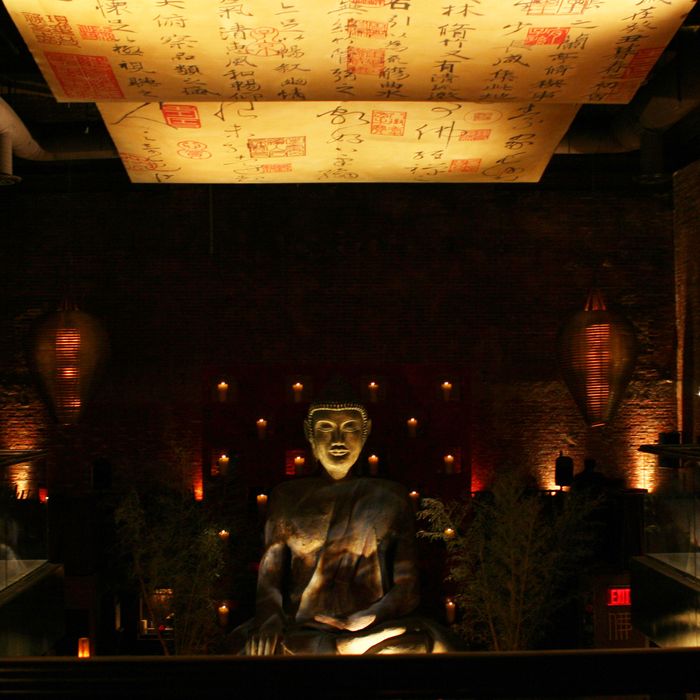 Big buddha: Tao NY.
Photo: Melissa Hom
The owners of big-box party venue and fusion-menu mess hall Tao filed a trademark infringement lawsuit against a small Maine restaurant with the same name on Tuesday, the Portland Press Herald reports. Of course, only one of these places sells Kobe sirloin at $19 an ounce and allows ladies in bikinis to sip Bacardi Razz and ride inflatable dolphins carried around the patio by hairless male models.
But, whatever: The lawsuit is claiming that the 40-seat restaurant in Brunswick, Maine, is besmirching the good Tao name in "an effort to free-ride on the enormous goodwill established by Plaintiff's well-known and famous" venues in Las Vegas and New York.
The Brunswick restaurant opened four months ago. Chef and owner Cara Stadler staged at Guy Savoy, and worked for Gordon Ramsay and at the Striped Bass in Philadelphia. She also trained at restaurants throughout Asia before returning home to open Tao. The chef's mother Cecile, who is a co-owner, says the family does not have a lawyer yet. "We have some friends of my children who are law students," she tells the paper.
Vegas nightclub company sues Maine restaurant over name [Portland Press Herald]