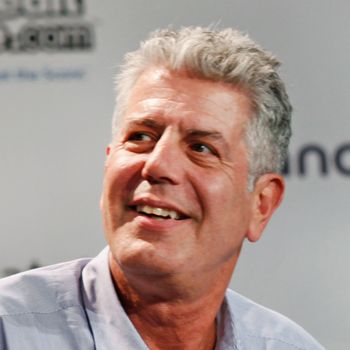 The vanquisher.
Photo: Sean Mathis/WireImage
This critique of Anthony Bourdain by Tamar Adler over at The New Yorker's Culture Desk purports to unpack the writer and TV personality's "man versus food" MO, to evaluate the "overweening performer" who gazes on to his place settings with "anxious libido" and says things like, "I would jerk a rusty butter knife over my best friend's throat just for this," while he waits for his dumplings. Adler, who worked at Chez Panisse, wants to convince you that Bourdain and his globe-trotting schtick are imbued with stale machismo. To paraphrase Brillat-Savarin: Tell Alder how Bourdain eats, and she will tell you what he is.
It's apparently all about the right and wrong ways to have a meal. Bourdain, writes Adler, "has managed to insert, through performance of the great feat of eating Vietnamese or Tunisian or Parisian food, the neurotic notion that eating is best understood as a competition or conquest — man versus food. Why choose to merely ingest, he asks, when you can vanquish?" (For her part, Adler enjoys cow intestines in Rome not by exclaiming how fucking awesome they are, but rather in a presumably less expletive-laden and quieter-sounding "state of pure gustatory contentment.")
Having worked in kitchens, Adler questions Bourdain's ability to connect to the moments of transcendence she's found in a cook's life, and the associated deeper connections to food and cooking that come with it. "Maybe because he never became that sort of a cook himself," she writes.
Well, burn sauce: It's alright for Adler to challenge Bourdain's experience; in fact, he'd probably welcome it. But since the critic not only claims to be a better cook but says she is also someone who's "good at sensible eating," one begins to wonder if Adler is just trying to say there's only one real, true way to enjoy cow intestine. There's no gustatory contentment to be had at all by doing things like that.
When Meals Get Macho [Culture Desk/New Yorker]
Related: The Feeding Tube: The Anthony Bourdain Brand