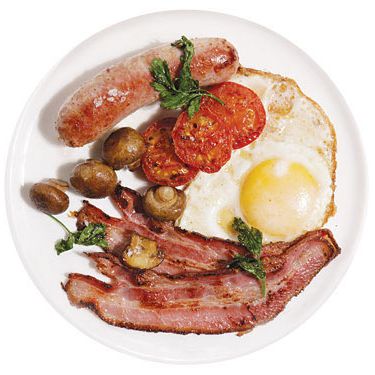 The spread at the Breslin.
Photo: Hannah Whitaker/New York Magazine
There's nothing worse than showing up to some hallowed house of eggs or pancakes one bleary weekend morning, hung-over and hurting for coffee, only to be told the wait is two hours. Which is why we'd like you to consider the more civilized practice of weekday breakfast. It's kind of like brunch — there are eggs, hash, and pancakes, depending on where you dine — but just one little ingredient is missing: insane crowds. (Al Sharpton's favorite breakfast spot notwithstanding.) There's something sophisticated and go-getter-ish about a solo session boning up on the morning news, or a meeting convened over breakfast instead of lunch. See what we mean by heading out to one of the following spots.
Balthazar
Keith McNally's perma-hot bistro is possibly the most stylish breakfast in town. It's where the downtown-erati (and tourists) get their oeufs and bacon, not to mention excellent ham-and-cheese croissants or pain au chocolat from Balthazar Bakery, next door. Fishbowl-size servings of cappuccino are great, too.
The Breslin
April Bloomfield's morning selection of sweets and savories are as good as you'd expect: There are hot cross buns, cinnamon toast, mixed-berry scones, and even a fried peanut-butter-and-banana sandwich with bourbon and vanilla. A full English breakfast — fried eggs, pork sausage, blood pudding, bacon, tomato, and mushrooms — would cure any midweek hangover. Wash it all down with Stumptown coffee.
Buvette
The French-inspired 50-seater channels Paris in miniature, and we're not just referring to the narrow space. Eggs and tartines are top-notch, and there are also crepes and croissants, bien sur.
Clinton St. Baking Company
The fluffy pancakes at Clinton St. Company, loaded with fruits and nuts and then topped with warm maple butter, have single-handedly made the Lower East Side restaurant a breakfast destination. But in addition to its famous 'cakes, Clinton St. also serves the buttermilk biscuit sandwich (filled with scrambled eggs, melted cheddar, homemade tomato jam, with hash browns), omelettes, crispy potato pancakes with caramelized applesauce and cinnamon sour cream, and a country breakfast. You're apt to find a line any day of the week, but waits are shorter on weekdays.
Egg
Starting at 7 a.m. each morning, Williamsburg early risers (whoever you are) can indulge in a Southern-style breakfast that garners hours-plus waits on weekends. Grits and eggs are standard, as well as a buttermilk biscuits dish served in sawmill gravy (with pork sausage, pan-seared mushrooms on the side); a Grafton cheddar omelette with broiled tomatoes; duck hash; or sticky buns.
The Lambs Club
The Chatwal hotel's clubby restaurant serves more than after-work martinis. In the mornings, fresh-squeezed juices in eclectic blends (carrot-ginger, beet-green apple-celery) and the daily Super Food Smoothie should energize healthy types. Or grab Greek-yogurt pancakes with Italian plums and lemon, or a fall French toast loaded with spiced pumpkin cream cheese and candied pecans.
Locanda Verde
In the morning, Locanda's hotel location proves a boon (and smaller crowds are a good reason to get up early): Breakfast starts at 8 a.m., and favorites include the sheeps'-milk ricotta, served with truffle honey and burnt-orange toast; lemon ricotta pancakes, paired with fresh blueberries and lemon curd; and the goat-cheese-and tomato-topped zucchini frittata.
Maialino
At Danny Meyer's Roman-style trattoria, oats and grains reign.Stone-cut oatmeal is topped with farro, candied walnuts, milk, and drizzled with Umbrain honey. Housemade pastries include an olive-oil muffin and toffee-glazed brioche bun; eggs come poached, soft-scrambled, or served alongside hangar steak. Or there's the quintessential breakfast sandwich: porchetta and sunny-side-up eggs served on a baguette.
Michael's
This longtime media hang is best known for its power lunching, but important things happen at breakfast, too. For one, there's the NY Power Breakfast, a lean, mean plate of scrambled egg whites, steamed spinach, and citrus salad. Just don't spill any on your tie.
Mile End Delicatessen
Mile End's original Boerum Hill outpost, which seems like it's always crowded, serves breakfast from 8 to 11:30 a.m. during the week — a time when the place isn't nearly as full and things are much mellower. Consider it your source for bagels with shmears, lox, capers, tomatoes, and onions. Also don't miss the breakfast sandwich on rye with eggs, bacon, and Quebec Cheddar.
Norma's
Skip the $1,000 lobster-and-caviar omelette here, obviously, but do go for the Waz-Za waffle with a crème brûlée top, potato pancakes, French toast, and eggs Benedict dishes that all hit the spot for far less coin.
Seersucker
Try the chocolate croissant French toast topped with maple-bourbon butter, or pick up the breakfast tacos, filled with chorizo, eggs, potato, and salsa roja or verde. The "everything croissant" is Seersucker's classic breakfast sandwich, stuffed with scrambled eggs, Berkshire ham, and cheddar.
The Standard Grill
The Standard Hotel's main restaurant serves breakfast from 7 to 11:30 a.m., including eight different egg dishes, one of which is the classic breakfast sandwich with fried eggs, aged cheddar, and Kentucky bacon, served on a roll. French toast, pancakes, and waffles are served off the griddle, and there are homemade pastries, too.
Ted & Honey
At this stroller-set neighborhood haunt in Cobble Hill, egg sandwiches are served all day, and no wonder: The craving could set in any time for housemade biscuits topped with everything from avocados to house-cured bacon to Cheddar grits.
Tertulia
Seamus Mullen's Spanish restaurant recently added weekday breakfast, featuring baked goods by Dominique Ansel (try the the Croissant Ibérico, stuffed with Ibérico ham and Mahon cheese). Also on offer: churros and, for juice heads, "Zumo Verde," a concoction of parsley, kale, ginger, apple, lemon, and honey.
Tom's
The Prospect Heights standby clings to its old-fashioned diner roots (cash only!), serving breakfast beginning at 6 a.m. Options for omelettes and Tom's "world famous pancakes" that come with flavored butters, abound. For those in the fall mood, try the pumpkin walnut pancake (or waffle); for a heartier breakfast, opt for chicken cutlets with eggs or corned-beef hash.