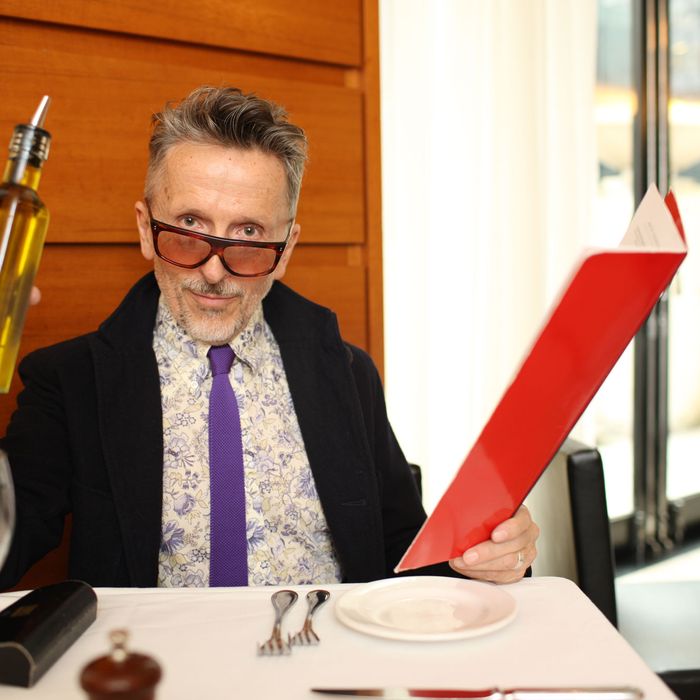 "My dad told me that fast food was all made with donkey dick — and I guess that stuck."
Photo: Melissa Hom
Simon Doonan, the creative ambassador of Barneys New York, popular columnist for Slate, husband of Jonathan Adler, and recent author of Gay Men Don't Get Fat, is a legit health-food freak and a purist to the herringbone. "I loathe contrived food … the 'foam movement' is a crime against humanity," he tells Grub Street. "As far as I am concerned, Alice Waters is still the queen: local ingredients, simply prepared … and as Tyra Banks would say, 'Don't get it twisted!'" Read all about Doonan's flaxseeds, lentils, and dragon bowls in this week's New York Diet.

Friday, October 19
My breakfast is always a very lesbian moment, by which I mean it's a "locally harvested organic fruit and sustainable granola" moment. Yes, I am an old-school health-food nut. The only non-crunchy component of my brekkie is Women's Wear Daily, which I read while guzzling Kukicha twig tea.
Was on deadline with my Slate column, so at lunchtime, my assistant Aaron schlepped to Angelica Kitchen on 12th Street in the driving rain to pick up a macrobiotic "dragon bowl," which consisted of rice, veggies, beans, and greens. I took a dollop of the warm brown rice and mixed it up with my dog's food. Liberace is old and likes his food to be above room temperature.
My current column is all about old people and underwear. Should senior citizens (like me) be allowed to wear sassy, cheeky foundation garments? I filed it right before dinner, which consisted of a fab organic chicken plus Brussels sprouts. Jonathan and I tore at the bird with murderous paws and then drove out to Shelter Island.
Saturday, October 20
My weekends are wildly sportif. I got up early to watch Chelsea beat Tottenham Hotspur live — four goals to two — while eating flaxseeds and granola and macro Kanten jelly. Jonny and I then ran the annual Shelter Island 5K. Upon returning to our house, we paddle-boarded to Hay Beach in the October sunshine.
Lunch was al fresco on our deck overlooking Gardiners Bay: broccoli and chicken leftovers.
Dinner at the always yummy Vine Street Café: onion soup, salmon, and fruit crisp.
Sunday, October 21
The raccoons have stolen my bird feeder. The little bastards unhooked it and then carted it away. They devoured my sunflower seeds in their lair. I devoured an egg-white omelette while watching football with my Jonny, who is a die-hard Philly Eagles supporter.
Don't recall eating anything besides that.
Monday, October 22
My computer was starting to malfunction because I keep dropping seeds into it. The hard drive has diverticulitis. It's one of the hazards of being a health-food freak. It's not my fault. I was raised that way. My mom was a wheat-germ queen starting back in the fifties. Her guru was a bloke called Gaylord Hauser. I have never eaten junk food. My dad told me that fast food was all made with donkey dick — and I guess that stuck with me.
Lunch at Giorgione on Spring Street with my husband. He ate a chicken paillard, and I enjoyed an entrée-size portion of the fava bean salad. I often have lunch with my Jonny and then go back to his studio and look at all the amazing new objets d'arts which he is in the process of creating. When I met him seventeen years ago, he was just a clay-spattered potter. Now he is a clay-spattered potter with 200 employees and 26 stores.
Tuesday, October 23
Lunch at Fred's on the ninth floor of Barneys at Madison Avenue where we have now enlisted the support of a cow named Veronica. She is one of the pretty little ladies of Arethusa Farm Dairy, a Connecticut dairy farm owned and operated by George Malkemus and Anthony Yurgaitis, president and vice-president of Manolo Blahnik in America. Barneys proudly serves Veronica Blahnik's products just a few floors up from where you can browse and buy Manolo's legendary shoes.
Dinner with gal pals Liz Lang, Ariel Levy, and Amy Norquist at Saint Ambroeus in the West Village. Cauliflower soup and a lentil salad. No booze for me ever. I am on a natural high.
Wednesday, October 24
Lesbian brekkie.
My pal Deb worked in an insane asylum for years. I come from a long line of depressives and schizophrenics. We always have lots to chat about. Wednesday was her birthday. A group of us dined on the top floor of a meat-market place called Five Ninth. The service was hilarious and very British, by which I mean comically grumpy. Every request was met with a sigh and a "just a moment." At 9:45 p.m., we were told to vacate the private room: "You wouldn't enjoy it if we started cleaning up around you." Highly recommended if you enjoy John Cleese in Fawlty Towers.