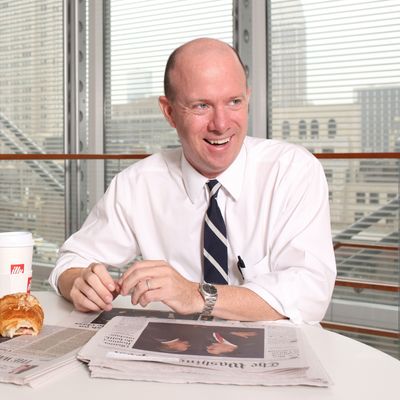 "I spend many afternoons filled with regret and self-loathing because of my lunch choices."
Photo: Melissa Hom
"It's really nice to walk into a restaurant without a dress on," Sam Sifton, the national editor of the New York Times and former restaurant critic, tells Grub Street, before explaining himself: "I never really did that!" he laughs. In fact, he says his former life of anonymity was easy: "If you're a bald-headed white guy in New York, who's known for wearing a repp tie and Brooks Brothers shirt, and you throw on a black rayon shirt, you're instantly an Irish immigrant who no one talks to." Come October 23, everyone will be talking to Sifton, when Random House releases his book Thanksgiving: How to Cook It Well. "The kitchen serves the role for me that I think a basement or shed served for a fifties father," Sifton says. "My dad would be building a radio or a rocket; I'm in the kitchen tinkering with a stock." Read all about that kitchen tinkering, a RedFarm feast, bedtime bourbon, and church chili in this week's New York Diet.
Friday, September 28
One of the rules my family had when I was a restaurant critic and out every night was: Dad makes a hot breakfast for the family every day. Even if he needs to wear sunglasses while he's cooking and chases his Advil with coffee. Friday was French toast. We had some day-old Italian bread from Caputo's, and I soaked that in eggs, milk, and a tiny splash of vanilla. Served it with maple syrup and some really terrible Canadian blueberries from Fairway.
I ate a few bites off the girls' plates, along with a half-piece of the bacon I cooked for their lunch sandwiches, and drank a half a pot of coffee — French roast, also from Fairway, with half and half.
It was raining all morning, and the desk seemed a little glum, so I ordered in pizzas from Lazzara's. They're grandma-style pies, rectangular, cooked in a pan, and they're much better than their component parts would seem to promise. The best one to get is pepperoni and anchovy combined, but I didn't today — anchovies don't play well in the newsroom. I had a slice of the plain pepperoni.
Friday nights can run late because we're preparing for the Sunday paper in addition to closing the Saturday one. My plan had been to hit Tertulia on the way home for tapas, then drive out to Long Island afterward. My wife's restoring a house out in Greenport, and I was going to meet her and the kids, along with my in-laws. But time got away from me, and I missed dinner. I thought about food for most of the drive east: soup dumplings I might have gotten in Flushing or clams I could have slurped down in Oceanside. A steak at Tom Colicchio's new place in Bridgehampton? Oh, that'd be fine. I sang the no-dinner blues. Had a bourbon when I arrived and hit the sack.
Saturday, September 29
Breakfast was mostly coffee — some Costa Rican blend, from Aldo's in Greenport — with half and half. I made an apple compote with some Honeycrisps out of the refrigerator, then added to it some strawberry preserves. Mixed up some pancake batter, crisped some bacon. Cooked the pancakes on this cool old soapstone griddle I got from my father. That served the kids and in-laws. I ate a few leftovers off their plates, but there weren't many.
We had some friends over for sandwiches in the kitchen at lunch. They went about five-to-one for ham and Swiss with fat slices of tomato, lettuce, plenty of mayo, and mustard, on Ecce Panis bread.
There was good stuff at the farmstands and farmers' market in Greenport. That and a run to the supermarket in town made dinner for all of us. I grilled fairy tale eggplants from Latham's Farm in Orient with olive oil, salt, and pepper, and then put some local chèvre on it to melt. Slow sautéed some colorful carrots for the kids and steamed a big tub of corn to go along with them. While that was going, I grilled a butterflied leg of lamb. Served everything with warm pita, some Greek yogurt, a little wine. We're holding on to summer as hard as we can.
Sunday, September 30
At it like a short-order cook that morning. Sausage, toast, and eggs for some; toast and cereal for others. Coffee all around. Gray skies outside gave the meal a healthy, rib-sticking feel. Time for a long walk with the dog.
A very long walk. I missed lunch. Drove westbound and stopped in Riverhead to get a new taillight at the AutoZone. Might have gone for some wings from Spicy's down by the river just to blunt the hunger, but it was getting late. Didn't want to ruin my appetite. For once!
Dinner was, as it is on a lot of Sundays, at the Church of the Ascension, on Kent Street in Greenpoint: a neighborhood meal for all those who show to eat it. John Merz, the priest, was away, but Brother Max from the Little Portion Friary in Mount Sinai ran a smart service in the pews, and then there was chili over rice in the parish hall in back. About 30 people ate, at a long table set with candles over a tablecloth. It was a vegetarian chili, heavy on the beans and squash, made by two of the congregants. I had two portions and then helped clean up. Sunday dinner! That's my next book.
Drove home. Big bourbon as a nightcap. Monday's coming. Here endeth the lesson.
Monday, October 1
Ate a bunch of diced pineapple in the dark, brewed some coffee, drank it, then went to the gym. Picked up a ham-and-cheese croissant and a latte afterward at the Dean & DeLuca in the lobby of the Times.
Do you remember when Dean & DeLuca was a Soho specialty grocery? Now it's basically an airport Sbarro's down to the semi-efficient service and the individual portions of cream cheese they give you if you order a bagel with cream cheese. Here's what you can think about when you're waiting in line at a Dean & DeLuca sometime. A bagel with cream cheese is a bagel with a schmear of cream cheese. It is not a dry bagel served with a little package of cream cheese on the side. This is New York City.
At work: Someone brought in approximately 30,000 Munchkins. Ate one. (Jelly-filled.) Ate another. (Same.) A Munchkin is kind of a ridiculous foodstuff.
Lunch was a single carnitas taco from the cart out in front of the building, with hot sauce and extra jalapeño: $2.50 and not worth one penny more. Ten minutes after, I sucked down a Red Bull. It tasted of cancer. It woke me right up.
Dinner! Went to RedFarm in the West Village, where Eddie Schoenfeld runs the door and Joe Ng the kitchen, and all is well in between. Rose Levy Beranbaum, the famous baker lady, was just leaving, and Eddie introduced her to me when I came in the door, which is exactly the kind of thing that could never happen when I was a restaurant critic. She was very, very nice.
Sat in a booth with my friend and colleague Michael Kimmelman, the paper's architecture critic, and made like food professionals.
We ate like Plattypants: smoked cucumbers, spicy crispy beef, smoked salmon, and caviar on top of fried-eggplant "bruschetta." We had pan-fried lamb dumplings, shrimp-stuffed chicken popsicles, shrimp dumplings flavored with yellow leeks, with lobster, with blue crab, with water chestnuts. We had egg rolls stuffed with Katz's pastrami. And then — Kimmelman was pale at this point and a little sweaty — we finished with lobster sautéed below egg and pork, and a huge bowl of fried rice with more egg and hunks of Benton's bacon.
I used to eat like that six nights a week and had to come up with more to say about it than, "Whoa, that was terrific." Tonight, I just laughed and then walked a great distance across Manhattan before heading home to Kings County.
Tuesday, October 2
French toast for the girls, this time of slices of rough country bread, with maple syrup, breakfast sausages, and sliced apples. Stole a few bites but was not at all hungry. Wonder why! Made do with three cups of coffee, heavy on the half and half.
It was raining at lunch, so I went upstairs to the Times cafeteria, where you can never go wrong with the roast turkey. A few slices of that on a roll with a splash of gravy, some lettuce, and tomato? It's a safe harbor in a world that doesn't have many of them. Drank a club soda with it and powered on through the day.
I was meant to meet Manohla Dargis, in town from L.A. for the New York Film Festival, to see a screening of Argo, the new Ben Affleck thriller. But news intruded, and a bunch of us had to hustle to get a story onto the front page. I wasn't done 'til well after the movie had started.
So I drank a Red Bull and met her afterward, late, for dinner at the Breslin — a fairly passive-aggressive move on my part since Manohla's aggressively vegetarian. But Carla Rzeszewski, the restaurant's wine director, made fast work of her worry with some ridiculously delicious Grignolino, and a radicchio salad and a bowl of beets followed fast on its heels. For me: thin-sliced roast beef over toast fried in beef fat with horseradish cream, followed by a lamb burger with a thicket of fries and a glass of Ridge Lytton Springs Zinfandel. Healthy!
Wednesday, October 3
Coffee, please. Up at six to make BLTs for the girls' lunches at school as well as a breakfast of buckwheat waffles with apples and the last of the breakfast sausages. Stopped by Court Street Grocers on the way to work for a superior ham-and-cheese croissant — really the best croissant of all croissant varieties. I wanted to get a Manhattan Special soda as well, since it's an excellent beverage to apply to an early morning that follows a very late night. But they were out.
So I got a huge latte from the cafeteria when I got to work. I drank a Red Bull as I was waiting for it to arrive. It went down exactly as it might have if it were a cigarette back when everyone smoked but not so much in the morning, before nine.
Lunchtime rolled around eventually. I needed to stop by Capitol Tackle to pick up some heavy diamond jigs to replace the ones I lost off the fishing guide Bryan Goulart's boat out in Montauk the other day, chasing striped bass in the swell. You should really book him for yourself.
On the way back, I thought I'd get a sandwich at this deeply strange Midwestern chain restaurant that revealed itself to me on Seventh Avenue a few months ago: Potbelly. The décor runs to fake antiques nailed to the wall. It smells of smoke, and there's a sad busker playing guitar. I go in part because it seems possible that Jennifer Aniston might show up behind the counter, wearing flair, to greet me. But it's also a righteous little sandwich they serve: turkey and Swiss with mayo and hot peppers.
There was a huge line, though. And an incredible amount of smoke from the griddles. This is the downside of lunch in midtown. You can make one inconvenience work. But not two. So I backed out of the place and hoofed over to BonChon Chicken instead.
And what the hell happened to that place? It used to be good! Now it smells of bleach over garbage, and the food takes forever to come. Should have walked out of there, too, and gotten falafel on the corner. My bag contained: four drumsticks that could have come off a Jack Russell terrier, with awful crust, tasteless save for the heat off the "spicy sauce." A side order of coleslaw seemed to be made of a handful of shredded paper bound together with hair gel. If it was vegetable matter, I don't want to think about it. I want to deny the whole meal happened. I spend many afternoons filled with regret and self-loathing because of my lunch choices.
Just six hours until the first presidential debate. Pizza for dinner! Life in newspapers is glamorous, no?