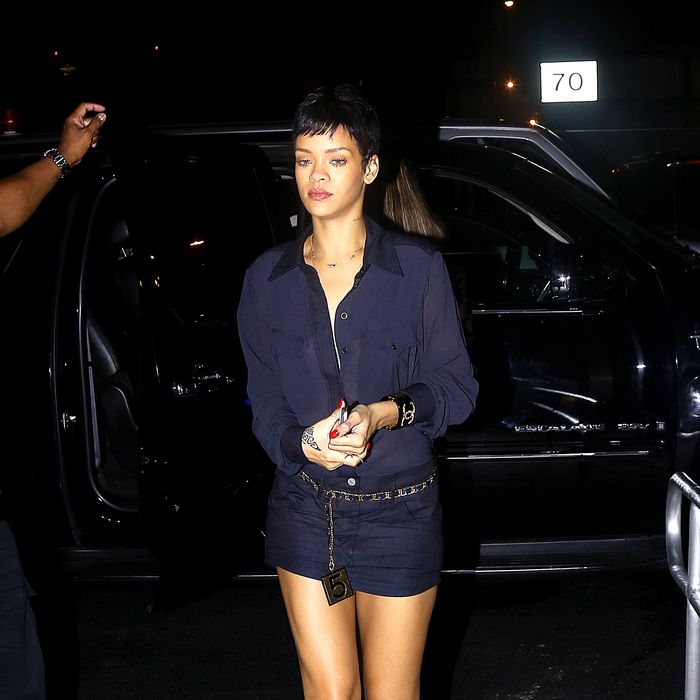 RiRi, on the town this week.
Photo: Sharpshooter Images/Splash
This week, along with the usual hobnobbing at industry parties, a few celebrities engaged in some mildly shocking behavior at New York's dining and drinking establishments. Rihanna and Chris Brown got into some serious PDA at Griffin, Sofía Vergara danced on tables at Bagatelle, and Charlie Rose Dougied with a 6-year-old at Melba's. Get all the dirt ahead in our weekly roundup of celebrity dining.
1 Oak: A night after reuniting at Griffin (see below for details), Chris Brown and Rihanna met up again on the west side. The two arrived separately but left together at 4 a.m. [Page Six / NYP]
Bagatelle: Sofía Vergara was at the meatpacking spot for a friend's birthday over the weekend. She ate truffle fries and danced on top of a banquette as fiancé Nick Loeb looked on. [NYDN]
Blue Fin: Morgan Freeman celebrated his two News and Documentary Emmy Awards with a late-night dinner in Times Square. The Emmy statuettes formed table centerpieces at the 30-person dinner where Freeman ordered grilled fish and vodka on the rocks. [NYDN]
Bocca di Bacco: Rosario Dawson held a dinner for Voto Latino at the Hell's Kitchen Italian restaurant. [Page Six / NYP]
Caravaggio: Former New York Yankee Hideki Matsui had lunch at the Upper East Side Italian spot. [Page Six / NYP]
Carmine's: Meg Ryan and boyfriend John Mellencamp got lunch with Stephen King in Times Square. King and Mellencamp wrote the musical Ghost Brothers of Darkland County together. [Page Six / NYP]
Catch: Rihanna partied with friends at the seafood hot spot before heading out to meet former flame Chris Brown. Keep reading for even more on these two — they were everywhere this week. [Page Six/NYP]
Da Mikele: Matthew Lillard chowed down on pizza, pasta, bruschetta, and arugula salad after a screening of his directorial debut, Fat Kid Rules the World. [Grub Street]
Da Silvano: Terry Richardson lunched at the West Village restaurant. [Page Six / NYP]
Double Seven: Butter co-stars Olivia Wilde, Ashley Greene, and Alicia Silverstone attended the West Village after-party for the movie's New York premiere. [NYDN]
Gina La Fornarina: Jay Pharoah, Jessica White, and Chanel Iman arrived at the Upper West Side restaurant for Wyclef Jean's surprise birthday party Saturday night. Pharaoh, who got there a bit too early, ran across the street to get in some stand-up before the guest of honor showed up. Back at the restaurant, Katie Couric was also seen feeding gelato to boyfriend, John Molner. [Page Six / NYP]
The Griffin: Rihanna and Chris Brown ended up spending twenty minutes locked in a bathroom at the meatpacking club. Chris Rock, Dave Chappelle, Tyson Beckford, and Bow Wow, who sat at Brown's table, can all say they were there when Chris Brown and Rihanna forgot about court appearances and media firestorms and rekindled their romance. They parted ways around 4 a.m.[Page Six / NYP]
Il Mulino: Jon Corzine sat with entertainment lawyer Allen Grubman and taxi magnate Andrew Murstein at a table not far from Ronald Perelman on the Upper East Side location's first night in business. [Page Six / NYP]
Isola Trattoria & Crudo Bar: Stacy Keibler snacked on crudo and drank red wine with friends in Soho. [NYDN]
The Lion: Chelsea Handler dined with NBC Universal boss Bonnie Hammer in the West Village. [Page Six / NYP]
LT Burger: Shaquille O'Neal sipped a milkshake at the newest Laurent Tourondel burger joint. [Page Six / NYP]
Melba's: CBS's Charlie Rose did the Dougie in Harlem alongside a break-dancing 6-year-old, and there's video to prove it. [Page Six / NYP]
MercBar: Jack Black went out in Soho for the DVD-release party for his film Bernie. [Page Six / NYP]
Michael's: Pamela Anderson and her Dancing With the Stars partner Tristan MacManus lunched together in midtown and launched some relationship rumors. [Page Six / NYP]
Recette: Lauren Bush Lauren dined at the West Village restaurant. [Page Six / NYP]
RYU: Ed Westwick got drinks with a guy friend at Scott Disick's restaurant Tuesday night. []
Stone Rose Lounge: Sting and wife Trudie Styler mingled with Ben Stiller and Griffin Dunne at a party at the Time Warner Center. They likely had something beyond small talk to discuss: Both Dunne's daughter and Sting's daughter are in the Noah Baumbach film Frances Ha. [Page Six / NYP]
Williamsburg Pizza: Brooklyn Borough President Marty Markowitz was hungry for something more than stadium concessions when celebrating the opening of the Barclays Center with Jay-Z. He sent his driver to pick up two pies from the new pizza place. [Grub Street]