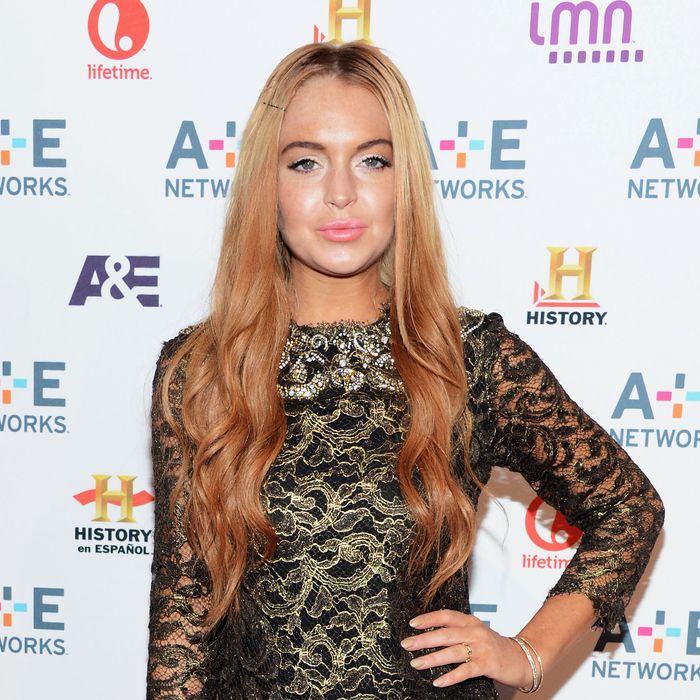 La Lohan got violent.
Photo: Jason Kempin/Getty Images
This week, celebrities went out in droves. Jay-Z partied at 1Oak with dozens of his famous friends, Richard Gere stood apart from the pack of actors dining at Nick & Toni's, and just about everyone who is anyone turned up for the Academy of Arts and Sciences party at Stone Rose Lounge. All this and more in our weekly roundup of celebrity dining.
1Oak: Jay-Z celebrated a successful run at the Barclays Center with 40 friends Saturday night, including Beyoncé, Leonardo DiCaprio, Kelly Rowland, Usher, Tyson Beckford, Jessica White, and Lindsay Lohan. The group arrived at 2 a.m. and partied until past 4 a.m., fueled by what else but Jay-Z's new cognac, D'usse. [Page Six/NYP]
21 Club: Monica Lewinsky sat under a replica of Air Force One donated by former President Bill Clinton during dinner Monday night. She's currently writing a tell-all about her time at the White House. During dinner, she did not acknowledge the origins of the object above her head. [Page Six/NYP]
Catch: Lindsay Lohan may have been on her best behavior at 1Oak, but on Monday she drew attention when she nearly choked a friend with his own scarf. Lohan mistook the scarf for one she had gifted to ex Samantha Ronson and said as much while tightening it around Gavin Doyle's neck. Before the altercation and subsequent intervention by security, the two were dining with a group of friends at the meatpacking restaurant with plans to head up to the rooftop for model Carole Remer's birthday party. [NYDN]
The Darby: Leonardo DiCaprio and Cameron Diaz joined Naomi Campbell in the West Village to celebrate her new Oxygen show The Face. Campbell's The Face co-stars Nigel Barker, Coco Rocha, and Karolina Kurkova also joined the festivities. [Page Six/NYP]
Fishtail: Ann Romney discussed politics with former White House Press Secretary Ari Fleischer at the David Burke restaurant. [Page Six/NYP]
Harry Cipriani: Rob Lowe and W magazine editor Stefano Tonchi lunched separately at the midtown eatery. [Page Six/NYP]
Jacob's Pickles: The Motherf**ker With the Hat castmates Chris Rock and Bobby Cannavale chatted over lunch at the soul food spot. [NYDN]
Le Bain: Gwyneth Paltrow, Molly Sims, and Christy Turlington Burns stopped by celebrity trainer Tracy Anderson's Method Pregnancy Project at the Standard. [NYDN]
Monkey Bar: Fellow Brits Robert Pattinson and Sienna Miller hung out at the midtown bar Friday night. [Page Six/NYP]
Nick & Toni's: Richard Gere angered a restaurant patron by (allegedly) flirting with the man's wife. Onlookers saw the Arbitrage star speak into the ear of a blonde at another table. The woman's husband then not-so-nicely told him to leave. In town for the Hamptons International Film Festival, Meryl Streep, Mike Nichols, Blythe Danner, Alec Baldwin, Liev Schreiber, and Brendan Fraser also dined at the restaurant Saturday night. [Page Six/NYP]
Patsy's: Ann Romney ordered a grilled chicken caesar salad and discussed her favorite recipes with restaurant owners Joe Scognamillo and Frank DiCola on Tuesday. [Page Six/NYP]
Philippe Chow: Tony Romo, Chace Crawford, and Cuba Gooding Jr. got together in the restaurant's private wine cellar. Meanwhile, billionaire Mohamed Al-Fayed dined with three friends upstairs. [NYDN]
Sardi's: Paul Rudd, Michael Shannon, and Ed Asner were on hand to see their likenesses added to the wall of the Times Square restaurant this week. The Grace stars' caricatures now hang with around 1,300 others at the New York institution. [NYDN]
Stone Rose Lounge: Daniel Craig, Rachel Weisz, Ben Affleck, Michael Douglas, Richard Gere, Michael Moore, Steven Soderbergh, and Bette Midler helped kick off Oscar movie season at the Academy of Motion Picture Arts and Sciences party. [NYDN]