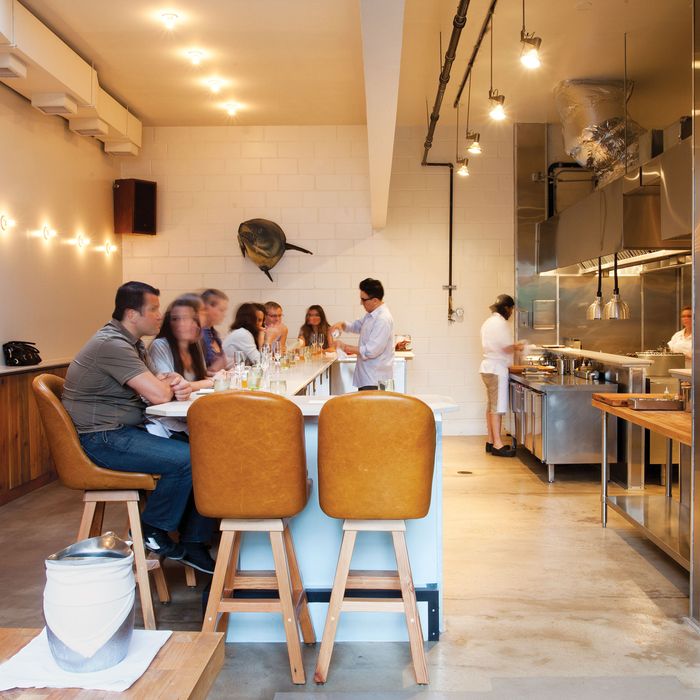 Blanca
Photo: Victor Prado
It's a general rule, in this new age of boutique tasting bars and overrun hipster noodle joints, that the smaller, more willfully obscure the restaurant, the more people will be clamoring to get in. Take Blanca, the distant (yes, it's in Bushwick), fashionably tiny (twelve seats) tasting room that opened earlier this year on the grounds of Roberta's in Brooklyn. When I first called for a table, a canned voice informed me that the voice-mailbox was full. When I got the same message the next week (and the week after that), I explored a few furtive, sub-rosa options ("I've failed you, Platty," said one supposed "friend of the chef"). When those dried up, I handed the task over to my daughter, who discovered (on the website that Dad had ceased checking long ago) that Blanca would take reservations by phone on the first day of each month for dates 7 to 30 days hence. "Okay, Dad, you're all set," she said after a few minutes of speed dialing, "but don't be late, or next month we'll have to do this all over again."
Blanca, for those of you who may not have heard, is the brainchild of the formerly anonymous Bushwick chef Carlo Mirarchi, who, along with two partners, has turned Roberta's from a ramshackle neighborhood pizza hall on the fringes of Bushwick into a poster child for the great Brooklyn culinary miracle. The night I dropped in, Bill Clinton himself was renting out the main restaurant for a private party, so the barbed-wire-enclosed compound was crawling with serious-looking security operatives in dark suits. Those of us who were lucky enough to get a seat at Blanca (which sold out for the month within hours) were met by a gentleman wearing glittering silver pants who led us into the restaurant past a folding metal door decorated with a graffiti painting of a giant purple cat. Once inside, we were poured flutes of Champagne by the genial sommelier, who had acid-blonde hair and fingernails the color of pea soup. "The president's in town. There's a rumor he might be coming to dinner too," she said.
Roberta's has all sorts of local charms (the calzone, the roof garden), but the restaurant owes its outsize national reputation to Mirarchi, who began serving his improvised, twice-weekly tasting menu a couple of years ago to local Bushwick gourmets. These elaborate dinners used to take place at weathered picnic tables, but at Blanca, the $180, twentysomething-course meal is served at a polished counter lined with the kind of padded chairs with which your father may have outfitted his retro suburban wet bar. A large taxidermied tuna head has been affixed to one of the walls, and near the entrance is an antique turntable, where guests can spin vinyl LPs. The room — in a converted garage — is commodious, even huge, by the standards of other cramped tasting ateliers in town, and as Mirarchi saunters around his state-of-the-art kitchen, dressed in khaki shorts and a backward baseball cap, he looks less like an imperious auteur chef than like the host of an impromptu backyard barbecue.
There's nothing impromptu about dinner at Blanca, however, which began, on one recent occasion, with a salvo of studied Japanese-style omakase dishes delivered by waiters who sounded like they were reciting hastily learned lines from a particularly grave play. These included thimble-size tastes of osetra caviar topped with frozen beet granita, faintly gummy pearly shrimp touched with celery juice, and a collection of decent-enough crudi tastefully arranged on lime-­colored porcelain plates from Japan. The most memorable of these early dishes tended to involve textural combinations — creamy sweetbreads with a lightly frizzled crust, a deliciously smooth polenta mingled with even smoother uni. I didn't hear any real murmurs of approval from the assembled food geeks at the bar, however, until the arrival, about an hour into the meal, of Mirarchi's version of beef carpaccio, which is sweetened with duck yolk and has the soft, melting consistency of a fine French crêpe.
Mirarchi has long had an underground reputation as one of the city's preeminent pasta wizards, but as dinner unfolds at Blanca, it becomes clear that his real genius is for cooking fish and meat. The house garganelli, and toasted-flour "twistiti," blandly flavored with mushrooms, aren't especially memorable. But I can tell you in intricate detail about the little stack of snow-crab legs from Alaska, which the chef grills to the perfect point of sweetness, then spoons with a subtle mix of crab guts, uni, and sake lees. This was followed by delicious, crispy-topped ribbons of lamb, which Mirarchi ages for several weeks and enhances with wobbly spoonfuls of gêlée made with mint from the garden outside. The delicately funky, spoon-tender Wagyu beef at this Brooklyn restaurant is aged for up to 85 days, and the duck is roasted until it's the color of honey, then cut into fatty lozengelike slices, which leave a pleasing slick of richness as they slide down the back of one's throat.
Mirarchi's cooking is more about purity of technique than El Bulli-style pyrotechnics, and inevitably some of the gastronauts who'd made the arduous journey out to Bushwick were disappointed, given all the hype. "Delicious but not stunning" was the assessment of one, as we picked at a series of soothingly refined desserts, which the pastry chef, Katy Peetz, concocts from homespun delicacies like apple ice, sunflower-seed brittle, and sunchoke purée. But this is Roberta's, after all, and what Blanca lacks in culinary fireworks it makes up for with its own particular sense of occasion and place. Dinner took four hours, but it seemed half that long. Toward the end of the meal, someone put Sinatra on the stereo, and the waiters poured a sweet, sparkling wine from Bugey. It wasn't a stunning wine, but on this evening in the wilds of Bushwick, as the improbably talented cook circulated among his guests in his baseball cap, and the moon rose over the garden outside, it tasted just fine. It tasted delicious, in fact.

Blanca
261 Moore St., nr. Bogart St., Bushwick; 646-703-2715
Hours: Dinner Wednesday through Saturday, 5:45 to 10 p.m.
Prices: $180 for the multicourse tasting menu.
Ideal Meal: Uni with polenta, Wagyu carpaccio with duck egg, snow crab, lamb with mint gêlée, roast duck, apple ice with sunchokes and sunflower-seed brittle.
Note: The multicourse sake, beer, and wine pairing costs $85, but if you tell the friendly drinks staff that you're driving home, they'll pour sips for $45.
Scratchpad: One star for the commodious setting, another two stars for the lamb, snow crab, and duck.
*This article originally appeared in the October 15, 2012 issue of New York Magazine.