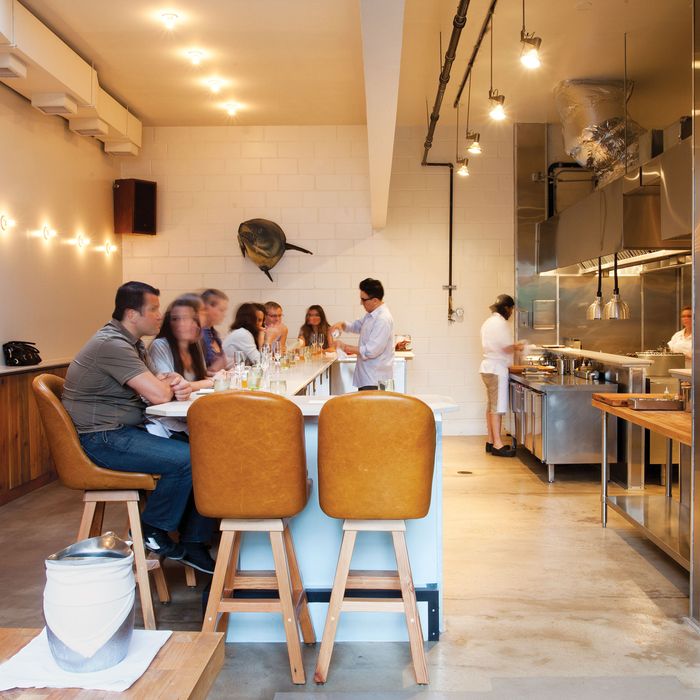 New York
's Adam Platt reviewed Blanca, seen here.
Photo: Victor Prado
After securing an elusive reservation, our own Adam Platt experienced the four-hour tasting menu at Blanca. Where did the other critics dine this week? Read on to find out.
An advocate for the people (or at least their palates), Pete Wells offers Yunnan Kitchen as a glimpse of what can happen when restaurants that aren't Italian, French, or farm-to-table cook with fresh ingredients and "traditional flavors." And while Wells admits that "Yunnan Kitchen is no immersion course," he counters that "in the meantime, there are enough lovely tastes to build a good meal, and to suggest what we have to gain if restaurants start to spread the wealth around."
Sitting among "a young yarmulke-wearing crowd" at Jezebel, Michael Kaminer learns that "there's a deep hunger for grown-up kosher food in a cool room." Yet the hit-or-miss cuisine (skip everything but the mains, he suggests) and "hapless" service in a kitchen prone to "rookie mistakes" reminds us that "you can't eat a scene."
But perhaps you can taste a view? Steve Cuozzo thinks so, especially if you dine at Gaonurri, a "strange new Korean extravaganza" with "16-foot-high windows facing east, north and west." Cuozzo, who also writes about real estate, delivers the tale of the space's pricey transformation into an "authentic" Korean barbecue spot and manages to mention that his first meal "was good enough to distract me from the view," if only "for a minute."
At The New Yorker, Leo Carey visits Hopsoda and finds it aims at "something sleekly international, albeit with one foot still in Central Europe." The chef is "attracted to unusual, slightly extreme flavors," and though she succeeds more often than not, "it's possible to wish for just a few more Czech classics." Thankfully, beer is unendangered at this Yorkville establishment, and you can share one with consular employees as they crowd in during the post-work rush.
After critics panned Nicoletta for, among other things, its pizza's thickness and heft, unfavorably comparing it to the September issue of Vogue, Robert Sietsema channels his college days in Wisconsin (home state of chef Michael White) to deliver a verdict: The crust is the problem, so uneven that "it's like visiting a different pizzeria with every bite." The toppings and sauce pass muster, and "the appetizers are good enough to make a whole meal." Now, that's some college thinking.
At Duck's Eatery, "wedged tightly among the drunken, sometime pantsless youth, women in dry-cleaned sweaters who interact mostly with their phones, and bleary-eyed bros who see only the meat in front of them," Tejal Rao writes, "it's easy to forget what it is you love about this cramped and unaffordable city." But the small plates and bar snacks ("deeply smoky, spicy ribs," "fried duck tongues on beets," "fried pig's ears," "Dee's Nuts") at this East Village bar, where Will Horowitz, formerly of Ping-Pong-and-cocktail mecca SPiN, draws loosely from Asia and Louisiana.