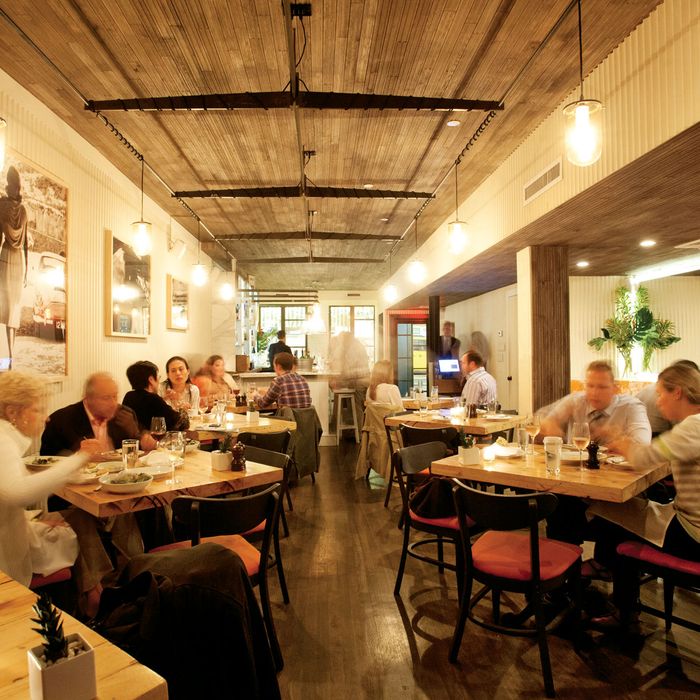 Amali.
Photo: Victor Prado
This week, our own Adam Platt hit Amali (and got his mother's input on how it compares to its predcessor Persephone), and he tried the poached oysters on toast at Governor in Brooklyn. But where did the city's other professional eaters stop by this week? Read on to find out.
Pete Wells declares the menu at Calliope true to the spirit of a French bistro "in a way that this city doesn't see often enough." While other, "fossilized" New York bistros slavishly adhere to "the same dog-eared recipe cards again and again," the kitchen at Calliope finds the spirit of classics like eggs mayonnaise, rabbit pappardelle, and baba au rhum. One star.
Jay Cheshes dined at Murray's Cheese Bar with high expectations, but the "servers behave like bored shop clerks" and "the food, which can take forever to emerge from the small open kitchen, often arrives lukewarm and limp." You can, however, make a meal out of the rarebit burger, and you ought to try the pimento and fromage fort cheese spreads. Otherwise, "Murray's is a cheese restaurant with too few triumphs to pass muster."
In far northeastern Queens, Robert Sietsema finds food from far northeastern China and elsewhere. The varied dishes at Rural Restaurant reflect both regions' histories as global crossroads. Such relentless borrowing plus eminently reasonable prices make this local spot worth visiting with an empty stomach and an appreciative palate.
At a young Cómodo, Tejal Rao catches "a glimpse at New York's post-supper-club culture, the aftermath of a trend that blew up a few years ago." If only Cómodo's food could match the personal touch of its intimate decor and its dinner-party hospitality.
Regarding M. Wells Dinette: "To hell with the horse," Steve Cuozzo concludes, "It's time to rein in the hype." The slow service and small menu only reinforced Cuozzo's skepticism of "no-reservations places with 'madcap' chefs and cult followings elevated to OMG status by a two-star review in the Times (or anywhere)." Oh, and in case you were wondering, Cuozzo hates Guy Fieri's new restaurant as much as anyone else, too.
Stan Sagner discovers that the Redhead is "a serious restaurant masquerading in slacker garb." The menu looks south and features plenty of pork (like pork belly with roasted grapes, blue cheese, and pistachio), generous appetizers (including bacon peanut brittle), and a "clean, fresh squash salad." Sagner missed the salted caramel hoho, but we bet he'll dine again at this "deservedly cherished East Village gem."
Ryan Sutton runs through the best and worst of the Barclay's Center. First rule: forget about beer. Barclay's follows other stadiums in selling multinational lagers at black market prices. For food, head to the Barclay's outpost of Cafe Cubana and tear into the Cuban, which is "everything this sandwich should be." The verdict? "Barclays isn't quite the ambassador for New York food as is Citi Field or Madison Square Garden." Yet Sutton concedes, "It gets the job done."
The New Yorker sends Amelia Lester to Calliope and she returns with such rave reviews that the worst she can do to the bistro is offer a sideways remark about the bravery of a restaurant that serves anchovies. At Calliope, it's "grownup food, which arrives as a whisper, not a shout." Restaurantgoers of New York ought to listen, if they can hear anything over the clamorous reviews.