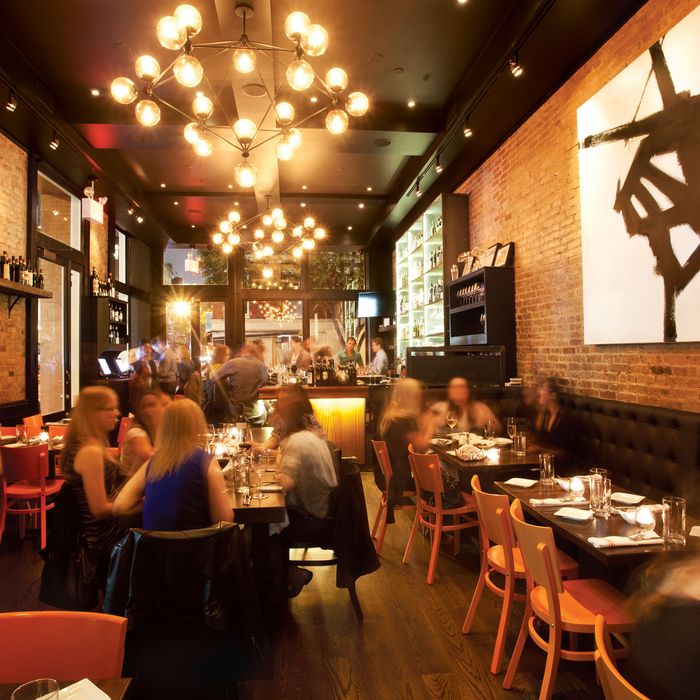 Angolo Soho.
Photo: VIctor Prado
Earlier this week, New York's Adam Platt discovered there's more to Angolo Soho than initially meets the eye. Even Sandy couldn't stop at least some of this city's professional eaters from weighing in on spots around town. Where'd they eat? Read on to see for yourself.
Pete Wells hits Talde and finds that the Park Slope spot has lost some of its vigor since opening. Of Wells's three visits, one's a dud and the others are only elevated by Dale Talde's apparently reluctant kitchen presence and a staff that's "buzzing with that nervous energy produced by the sight of a restaurant critic." It's hit-or-miss and ends up with a single star.
The Post's Steve Cuozzo takes a look at the city's new steak houses and takes the opportunity to notice that "it's impermissible in fancy culinary circles to admit they're what customers want more than anything else." And yet, steak is what the people love, even if critics are obsessed with "12-seat joints requiring reservations made nine months in advance for the pleasure of consuming 20 tiny courses for $250."
Bloomberg's Ryan Sutton heads to Brooklyn and checks out critical darling La Vara. The result: He's as impressed with the food as everyone else. In fact, the restaurant, "alongside Tertulia, Mercat, Aldea and Casa Mono, is proof that New York is entering a golden age of Iberian cuisine." He gives La Vara two and a half stars.