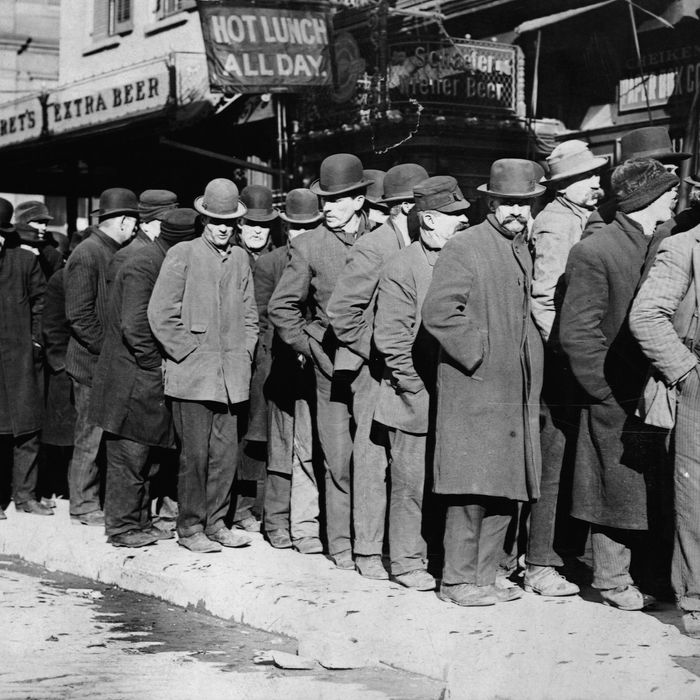 The hottest spot to eat in 1910.
Photo: Corbis
Years from now, we'll tell our grandchildren of the days when you could call a restaurant and reserve a table that would be ready when you arrived. ("A reser-what?" they'll ask, dumbfounded, before teleporting off to eat their space capsules.) 2012 might be remembered as the year when no-reservation policies — and two-hour-plus waits for a table — became normal at New York restaurants. David Chang kickstarted the trend a few years ago at the perennially mobbed Ssäm Bar and Noodle Bar, but Pok Pok Ny, Rosemary's, and Mission Chinese have made it almost mandatory for new hot spots, creating what Adam Platt recently called the No-Reservations Generation. But which restaurant has the worst waits, and how well do they treat diners who are willing to stand in line for so long? One intrepid reporter set out at prime times to find out.
Pok Pok Ny
Arrival Time: Friday, 8:45 p.m.
Quoted Wait: "30 to 45 minutes. Maybe much less."
Actual Wait: 8 minutes
How You'll Know Your Table's Ready: Text message
Waiting Conditions: The wide expanse of Columbia Street. You can't wait at the restaurant, but there are a few bars comfortably within the ten-minute grace period once a table opens up.
There was a discouraging "Line Forms Here" sign at the entrance, and the hostess was equipped with a shoulder-mounted walkie-talkie that spelled serious business. "Peter to D4," she barked into it at one point. She was either assigning tables or directing a game of human chess — hard to tell which. Despite this, we only had to wait for one party to give their names before it was our turn. She smiled and took down our phone number. We'd barely walked three blocks down Columbia Street before we got a text message letting us know our table was ready. Within minutes we were sipping drinking vinegars and looking at the menu.
Verdict: A quick survey of other recent customers indicates our experience wasn't blind luck, and that waits here have died considerably in the last few weeks.
Battersby
Arrival Time: Saturday, 7:30 p.m.
Quoted Wait: 3 hours, "but if everyone shows up, I may not be able to seat you at all."
Actual Wait: 1 hour, 59 minutes
How You'll Know Your Table's Ready: Text message
Waiting Conditions: No room in the restaurant, but you can duck into any of Smith Street's zillion or so nearby bars.
Tiny Battersby seems a little startled by its own success. A friendly-but-frazzled-hostess informed us that she would take our number, but, like a seasoned college admissions counselor, gently implied we might want to consider a few backup options. As we walked out, we heard a party of four receive the grim news that the restaurant was no longer taking names. After steeling ourselves for disappointment, a text came through telling us that a table had opened up — at the entirely reasonable hour of 9:30 p.m.
Verdict: It's a crapshoot at the moment. Just think of those poor people who were turned away at 7:35 p.m., left to wander the streets of Brooklyn, broken and hungry.
Mission Chinese Food
Arrival Time: Saturday, 7:57 p.m.
Quoted Wait: Between 90 minutes and infinity
Actual Wait: 2 hours, 23 minutes
How You'll Know Your Table's Ready: Drunken phone call followed by a wait in the scrum room
Waiting Conditions: Like a frat party, circa 1997. There's a keg of cheap beer, lots of Eminem on the playlist, and nobody really has their shit together.
Now we were getting into it: These were horrific waiting conditions.
We were surprised when we showed up and saw only a handful of people hanging around outside, but that made more sense when the hostess told us she wasn't taking any more names until 9:30 p.m. When we returned at 9:23 p.m., a tense, unsmiling crowd had formed inside the cramped vestibule of the restaurant. The hostess reassured us that we were still too early, so we stepped back outside. We turned around a moment later to find her jotting down names and numbers. By the time we made our way through the scrum, there were at least ten parties ahead of us on the list. "What, it's, like, 9:28 p.m.?" the hostess asked us drowsily as she cycled to "Whoomp! There it Is" on the restaurant's iPod.
Things seemed to be looking up when, 11 minutes into our estimated 30- to 45-minute wait, we got a giggling phone call from the restaurant telling us to come back. So at 9:45 p.m., we pushed our way inside and stood patiently in anticipation. Then we stood some more. At 10:03 p.m., a man next to us announced, "I never knew anything could be more annoying than brunch." At 10:12 p.m., a woman one spot ahead of us turned to a friend, pointed her index finger at her temple, and pretended to shoot herself. Finally, at 10:21 p.m., 40 minutes after being called, we were taken to our table with no explanation or apology.
Verdict: It's a cool-kid clusterfuck. Head to the restaurant's website and try to make one of the few reservations that they take each night.
Ippudo
Arrival Time: Friday, 6:38 p.m.
Quoted Wait: "About two and a half hours."
Actual Wait: 2 hours, 44 minutes
How You'll Know Your Table's Ready: There's an app for that.
Waiting Conditions: There's a bar, but it's very crowded. Surely you can find another place to drink in the East Village.
We gave our name and number to the host, a very young man in an ill-fitting suit who looked as if he had just auditioned for a Wes Anderson movie. We immediately received an automated text confirming our place on the wait list. But what's this? The text also invited us to download something called the BuzzTable app, which promised to let us monitor our progress up the wait list in real time. As early adopters, we couldn't resist.
To be honest, we were stumped by BuzzTable's interface, which displayed four light fixtures attached to a wall. In theory, each time a light went on, it meant we were closer to ramen paradise. "Did I miss the day in school where they tell how many minutes are equal to a sconce?" one of us asked. Apparently so, because we waited 90 minutes for one sconce to light up but only 15 minutes for the remaining two. Welcome to the future, friends.
Verdict: The wait may be shorter than advertised, but don't trust your smartphone.
RedFarm
Arrival Time: Friday, 7:03 p.m.
Quoted Wait: "An hour to 90 minutes."
Actual Wait: 2 hours, 10 minutes
How You'll Know Your Table's Ready: Text message
Waiting Conditions: There is a tiny bar, and it will almost certainly be jammed.
An attractive woman with an iPad took our name and number, then released us back onto the quaint streets of the West Village. She asked that we report back within ten minutes of receiving her text, and told us that if we were going to be late to give her a call. This seemed like a great excuse to grab a drink someplace else. On the way back, we hit the Meadow and spent way more on artisanal salt than we ever thought possible. Our wait was longer than promised, but once we got the news our table was ready, we were seated immediately.
Verdict: Find a bar or be in the mood to shop, since you'll be waiting a while.
Rosemary's
Arrival Time: Sunday, 8:08 p.m.
Quoted Wait: "About a half-hour."
Actual Wait: 33 minutes
How You'll Know Your Table's Ready: The hostess finds you.
Waiting Conditions: There's a big bar with standing tables at the back of the restaurant.
Another attractive woman with an iPad took down our names, then directed us to the bar. (She told us with a Mean Girls-like stare that she'd make note of some of our "identifying characteristcs.") The bar area was spacious enough, and it only took a few minutes to order a salumi plate from the genial bartender. We noted that the "identifying characteristics" of the Italian men and Prada-clad ladies were probably superior to whatever the hostess had put down for us, but at the 30-minute mark, a hostess did indeed appear and show us to our two-top.
Verdict: Everyone else waiting will be wearing cooler clothes than you, but it's oddly comforting.
Roberta's
Arrival Time: Saturday, 7:45 p.m.
Quoted Wait: 80 to 100 minutes.
Actual Wait: 1 hour, 40 minutes
How You'll Know Your Table's Ready: The hostess will find you.
Waiting Conditions: Crowded, but not unbearably so. As long as you're under 50 and don't have social anxiety disorder, you'll be fine.
Roberta's doesn't text or call. If you're lucky enough to snag a seat at the bar, you can order off the menu. But if not, there's a large garden in back that has its own bar, with a separate drinks menu and small plates to keep you from gnawing your arm off. The scene is painfully hip and we wondered if half the point of eating here wasn't the wait itself. Every five minutes or so a hostess dressed in black with bright red lipstick would wander through the crowd and call out names. When she finally came for us, she crooned, "I've been looking for you."

Verdict: Go with friends and make a night of it. You'll be there for a while, but that's not necessarily a bad thing.
St. Anselm
Arrival Time: Saturday, 8 p.m.
Quoted Wait: "Around 2 hours."
Actual Wait: 2 hours, 7 minutes
How You'll Know Your Table's Ready: Text message
Waiting Conditions: No room in the restaurant, but they own Spuyten Duyvil next door and will let you bring your drink with you. Or if you'd rather gorge on sweets before your steak, Momofuku Milk Bar is just across the street.
Still another attractive blonde woman with an iPad greeted us — are you starting to see a pattern? — and asked if we'd be open to sitting the bar, since it might reduce our wait time. We said we'd rather wait for a table, but wound up at the bar anyway. After two hours of anticipation, we barely cared. Plus, the bartender offered up a tip for beating the lines: Come on Tuesday, the only day when you stand a chance of getting a table in under an hour.
Verdict: It's definitely crowded, but there are a bunch of nearby bars where you can kill time.