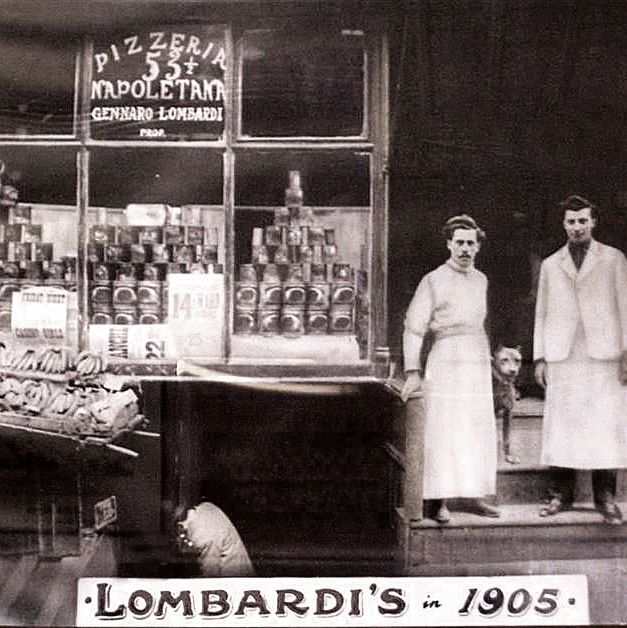 The Original: Lombardi's
1905
Gennaro Lombardi applies to the city government for the first license to make and sell pizza in this country. His restaurant becomes the training ground for the city's next generation of pizza-makers.

Totonno's
Spun Off From: Lombardi's
1924
Founded by Anthony "Totonno" Pero, former Lombardi's pizza-maker.
1940s-1994
Ownership changes hands three times, all within the family.
1994
Gennaro "Jerry" Pero, Anthony's son and a former owner, dies.
2009
A fire burns the original Coney Island pizzeria. It gets rebuilt and reopens less than
a year later and today is the only Totonno's still open.
Total Pizzerias: 1

John's Pizzeria
Spun Off From: Lombardi's
1929
Opened by John Sasso, who was trained by Lombardi.
1947
Sasso's nephews Augustine and Patrick Vesce take over the business.
1970s-1980s
Ownership changes hands two more times, all within the family.
1984-2008
John's opens up two additional restaurants in Manhattan and one in Jersey City.
Total Pizzerias: 4

Patsy's
Spun Off From: Lombardi's
1933
Pasquale "Patsy" Lancieri, who briefly worked at Lombardi's, opens Patsy's in East Harlem with wife Carmella.
1974
Lancieri passes away.
1991
Carmella sells the East Harlem pizzeria to longtime employees John Brecevich and Frank Brija.
1995
Brecevich and Brija license the Patsy's name to Nick Tsoulos. Six other Patsy's have opened in Manhattan since then.
Total Pizzerias: 7

Grimaldi's
Spun Off From: Patsy's
1941
A teenage Patsy Grimaldi starts making pies at his uncle Patsy Lancieri's restaurant.
1990
Grimaldi opens his own coal-oven pizzeria in Brooklyn at 19 Old Fulton Street and calls it Patsy's.
Mid-1990s
Brija takes Grimaldi to court over name licensing, resulting in Grimaldi's rechristening his
pizzeria after his last name.
1998
Grimaldi sells the restaurant to Frank Ciolli but stays on as a sometime consultant. Over time, Ciolli opens 32 out-of-state locations and four New York locations.
2011
Landlord disputes and rent problems force Ciolli to relocate to One Front Street.
2011
Patsy and Carol Grimaldi decide to open a new pizzeria called Juliana's, named after Patsy's late mother, in the original Fulton Street location, reuniting him with his coal oven.
2012
Ciolli files a lawsuit seeking an injunction against Grimaldi, citing "unfair competition."
Total Pizzerias: 36
See Also: How Patsy Grimaldi Is Getting His Good Name Back
*This article originally appeared in the October 29, 2012 issue of New York Magazine.