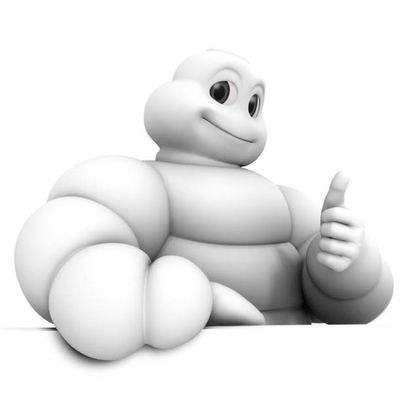 His name is Bibendum, and he really likes us.
Photo: Courtesy of Michelin Man
Michelin's anonymous inspectors made personal phone calls to Bay Area chefs this afternoon to inform them of their star awards for the 2013 Michelin Guide. A couple of chefs, Matt Accarrino of SPQR who received his first star this year, and Dominique Crenn whose Atelier Crenn earned two stars, couldn't contain their excitement and told the Twitterverse of their good fortune this afternoon. (There was not, however, the shitshow of misinformation on Twitter that happened last year, so our day was far less stressful this time around.) This is particularly a milestone for Crenn, who becomes the first female chef in the United States to earn two stars. We predicted SPQR's star promotion last week when they were left off the Bib Gourmand list, but a couple of our other predictions did not come to pass — namely that AQ and State Bird Provisions failed to show up on the new star list or the Bib Gourmand list, though they will be included in the guide, and Michelin tries to tell everyone that is an honor in itself.
We heard a hint of the inspectors' growing love for Crenn's food earlier this year when one of them tweeted the following: "To describe the experience at Atelier Crenn is a futile exercise… very little comes close to it. Oh that smoked pigeon!"
All told, under new director Michael Ellis — with whom we spoke earlier today — and under their anonymous female Editor-in-Chief — with whom we also got in a few questions this afternoon — the star list is not dramatically changed over the 2012 guide. The two- and three-star categories remain unchanged except for Crenn's promotion.
There are only two other new additions to the one-star list, besides SPQR: Keiko à Nob Hill, and All Spice in San Mateo.
Among the restaurants that dropped off the one-star list, primarily because of consistency and quality issues as the inspectors will tell you, are Hubert Keller's Fleur de Lys, One Market, Etoile at Domaine Chandon, Dio Deka in Los Gatos, and Applewood in Guerneville. Ubuntu dropped off for obvious reasons, because they closed, and Cyrus, which closes after this week, drops off the two-star list too. And, alas, Chez Panisse did not notch back the star they lost in 2010, however Michelin's Editor-in-Chief tells us, "We hope to find one-star food there again in the future."
Below, the full list.
The Michelin Guide, San Francisco 2013
Including the Bay Area and Wine Country - Italics indicate a new addition to the list or a promotion
*** Three Stars: (exceptional cuisine, "worth a special journey")
French Laundry
The Restaurant at Meadowood
** Two Stars: (excellent cuisine, "worth a detour")
Atelier Crenn
Baumé (Palo Alto)
Benu
Coi
Manresa
Saison
* One Star: (very good cuisine in its category)
Acquerello
Alexander's Steakhouse (Cupertino)
All Spice (San Mateo)
Ame
Auberge du Soleil (Rutherford)
Aziza
Bouchon (Yountville)
Boulevard
Campton Place
Chez TJ
Commis
Farmhouse Inn & Restaurant (Forestville)
Frances
Gary Danko
Keiko à Nob Hill
La Costanera (Montara)
La Folie
La Toque (Napa)
Luce
Madera (Menlo Park)
Madrona Manor (Healdsburg)
Masa's
Michael Mina
Plumed Horse (San Jose)
Quince
Redd (Yountville)
Solbar (Calistoga)
Sons & Daughters
SPQR
Spruce
Terra (St. Helena)
Terrapin Creek (Bodega Bay)
The Village Pub (Woodside)
Wakuriya(San Mateo)

Related: Head Inspector for Michelin Guide Explains Why State Bird Was Snubbed, and Fleur de Lys Lost Its Star
Dominique Crenn Reacts to Her Second Michelin Star
Earlier: Delarosa, Incanto, and Fish Story Dropped from Michelin's 2013 Bib Gourmand Picks
Michelin 2012: Benu, Baumé, and Saison Get Two Stars; Sons & Daughters, Atelier Crenn Both Notch One [Updated]