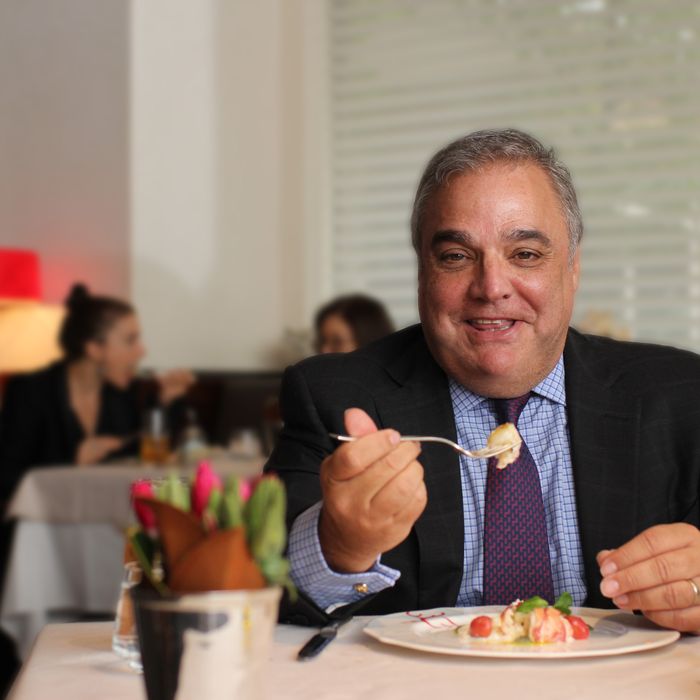 Schrager, at Marea for the three-dozenth time.
Photo: Melissa Hom
For Lee Schrager, the founder and face of this weekend's New York Wine and Food Festival, it's an understandably hectic week. "In Miami, it's much more condensed," he says of the festival's South Beach counterpart. "Here, we're in midtown, we're uptown, we're downtown, we're in Harlem, we're by the river, so there's a lot more running around." Add to that a very busy restaurant agenda the Miami resident tries to keep while he's in town. "I kind of keep a list. I have a folder that says 'Remember these' that I keep as I hear about places," he says. "I always say I eat out eight nights a week." To see which places that meant this week — Rosemary's, NoMad, and plenty more — keep reading today's New York Diet.
Friday, October 5
I took a Delta flight from Miami to New York, so breakfast was a bowl of Corn Flakes with milk, fresh fruit, coffee with a splash of Bailey's, and a pack of Biscoff cookies.
When I got here, the festival was having some union conflicts, and we had a forced city settlement meeting. It was nine hours. Lunch, at City Hall, was a wedge salad with bleu cheese and pancetta. I ask the kitchen to chop it up for me. Then I grabbed a few snacks from a vending machine during the meetings. I was supposed to go to Roberta's, but I had to cancel — I was really disappointed to miss Roberta's.
When I got home at 11 p.m., I ordered a pizza from Pepe and Carlos — half sausage and pepperoni. Then I popped the cork off a bottle of rosé. Not to celebrate — more just so that I could pass out after a long day.
Saturday, October 6
That day it was a glass of apple cider, an everything bagel, and I had a cup of Illy. In Florida, I'll drink coffee in the office, but here I actually make it at my apartment, probably because I don't go into an office here.
I didn't leave my apartment until one. I was exhausted from the union settlement the day before. But I saw Tribes, Off Broadway at the Barrow Street Theater at 2:30, and I decided to stop at Five Guys, only because it's next door. I ordered a small cheeseburger, fries, and a bottled water. It's too bad they're listing calories for each item now.
For dinner, I had a meeting with Justin Warner. When the weather's nice, I try to go to Brooklyn and try some new restaurants out. I hadn't done it in a long time, so I told Justin to pick something fun in Brooklyn. We went to Gwynnett St. in Williamsburg. We had the whiskey bread with butter; summer beans with garlic, fennel, and paprika; young carrots with yogurt and cumin; Maitake mushrooms with creamy onion, rosemary, and lardo; duck breast with wild rice, bell pepper, and gooseberries; and skirt steak with nori, radishes, and watercress. And I ordered a Bitter Truth to drink: Plymouth gin, Aperol, Fernet Branca, grapefruit, and lime. I really enjoyed it.
We didn't have dessert, but that's because it was a long dinner — pleasant, not drawn out, but long — and I think we were both ready to go.
Sunday, October 7
That morning, I stopped at a food cart on Sixth and 53rd and had an egg, bacon, and cheese scramble on a kaiser roll. No drink.
Brunch was at ABC Kitchen with my friend Will Schwalbe. Arianna Huffington and Charlie Rose were at the next table. I had French toast with warm fruit compote and crispy potoates. And a skim latte with an extra shot. And they sent out a warm cookie plate. Even though we'd said no dessert, we ate all of them.
Another latte, and then I hit the street to go see The Heiress.
It was a chilly, rainy evening, so I decided to cancel a dinner party and instead stay in and watch Steel Magnolias on Lifetime, which was dreadful, but I was happy to see it. I ordered from Chirping Chicken. A quarter-chicken and a quarter-rack of pork ribs, a side of mashed potatoes, a small Caesar salad, and rice pudding.
Monday, October 8
I ordered an Illy cappuccino and chocolate almond croissant from Margot on the first floor of Ansonia, where we live in the city. I didn't eat there for the first three years I lived in the building, but now it's a must, the best spot for a continental breakfast in the city.
Lunch at Marea. It's one of my favorite places. I don't eat fish, so it's interesting that I like it so much, but I love it. I had a baby-lettuce salad as an appetizer. And they have that great lobster-and-burrata salad that I have had every single time I've been there, which is probably three dozen times. I made a conscious effort not to eat the bread, but it was hard because they have all those great homemade breads.
Dinner was at Rosemary's. We had the olives; zucchini crudo; proscuitto; Pecorino Toscano; cavatelli with oxtail ragu; orecchiette with braised greens and sausage; lingeni with preserved lemon and chili; lardo foccacia; grilled lamb leg with roasted peaches; roasted Brussels sprouts; pine nut cookies; and spearmint tea.
Tuesday, October 9
I had a 7:30 a.m. call for the CBS show Live From the Couch to talk about the NYCWFF, so breakfast was a Slim Fast and some watermelon at 6 a.m.
Around 11 a.m., I had a snack from Grandaisy Bakery on the Upper West Side: skim latte and a slice of their potato flatbread with fresh rosemary, which was divine.
I had to go to Pier 57 for a big sponsor load-in. I ate with the culinary demo team, who also work on SOBE. I had beef barley soup from Hale and Hearty and a half-roast-beef sandwich on ciabatta with red pepper and mozzarella. For dessert, I ate two prepackaged Hale and Hearty chocolate chip cookies, and a Nestle water.
 
Dinner was at NoMad with Jon Rosen, the WME agent, and his fiancée. I had two Pimms cups, the radish appetizer, and the foie-gras-stuffed chicken for the entrée, but I barely touched it because I was so tired. Literally three-quarters of the way through dinner, I'm like, "Jon, I gotta go home." I fell asleep in the back of the car on the ride back to the Upper West Side.
Wednesday, October 10
That morning, I had a meeting with the entire festival team at the Standard Hotel, and there was a Continental breakfast set up. I just had a coffee and an apple.
Lunch was at Union Square Café with Amanda Melnick, who is the vice-president of marketing for Food Network and Cooking Channel. I had a Gruyère, ham, and mushroom panini that was delicious; a side of broccoli rabe; and some polenta with fresh figs.
That night was the chef's kickoff party at DBGB that Daniel Boulud and I hosted, but before that, I had dinner at Barry Weiner's home — he's Paula Deen's manager. We had pasta and bolognese sauce. I was thrilled to not look at a menu. Everyone always takes me out, so it was nice to have a home-cooked meal for a change.