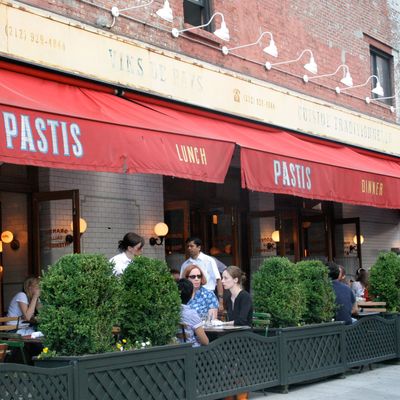 The end of moules frites au Pernod?
Photo: Shanna Ravindra
The Post reports that the owners of 9-11 Ninth Avenue have partnered with area real estate investors Aurora Capital Associates "to modernize and enlarge the buildings into a 108,000 square-foot office and flagship retail property." The valuable meatpacking district parcel is, of course, home to Keith McNally's thirteen-year-old thirties-style brasserie Pastis, so does this mean the absinthe drip has come to its last drop? While McNally has not yet commented on the restaurant's future, too many signs point to oui.
The proposed renovations will capitalize on the building's 100,000 square feet of air rights, reports the Post, "that will be used to add another five or six floors." While the tabloid makes no mention of the restaurant's future, the post-makeover rendering of the corner space is bistro-bereft, and instead indicates that a row of faceless cosmetics shops, boutiques, and salons will tenant the space.
The project will need approval from the New York City Landmarks Preservation Commission, which could delay the restaurant's closure. Nonetheless McNally, who last week confirmed his first London project will be an outpost of Balthazar, has had a notoriously tricky relationship with Meatpacking District landlord in the past.
Perhaps most saliently, a source inside told us last month that the restaurateur was given an ultimatum. "You either need to buy the building," a restaurant group employee says McNally was told, "or you have to get out by November."

Pastis building gets tasty redo [NYP]
Earlier: Keith McNally's London Restaurant Will Indeed Be a Second Balthazar