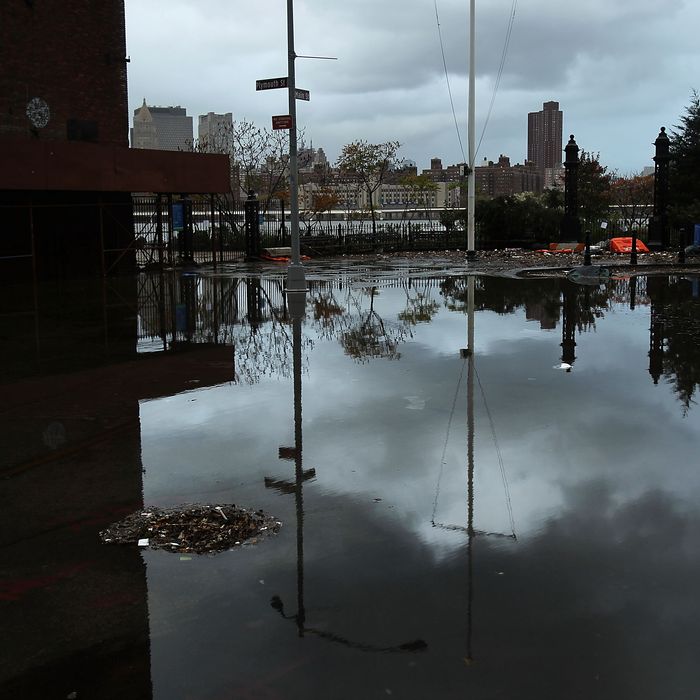 Dumbo, Brooklyn, yesterday morning.
Photo: Spencer Platt/Getty Images
As the reports have come in, we've learned that, among other trouble, the River Cafe in Dumbo was flooded, five feet of water poured into Governor, Fort Defiance was hit by the surge, and Mile End lost its production kitchen inside Red Hook's Pier 41 building. Additionally, Grimaldi's in Coney Island was trashed, and Eater NY reports that a lot of South Street Seaport's restaurant row has sustained major damage. Whether because of power-loss or damages, an uncountable number of spots have not yet been able to reopen. (Some of these restaurants are opening for a few hours at a time.) It's brutal out there as many owners struggle until they can just reopen. Here's how you can help.

1) Tip Well.
Those who cook, serve, and deliver our food have it rough to begin with. About one out of every eight industry jobs pays out at more than 150 percent the regional poverty level, so when all of a sudden it takes a waitress two hours and $15.00 to get to work on time, compared to the usual twenty minutes and $2.25, her ability to pay the rent decreases substantially. The difference between a 15 percent and 20 percent tip means that servers in empty dining rooms have a better chance of bridging the gaps between customers. And while we're at it, let's get those bike delivery guys more than a couple of bucks at a time.
2) Spread your spending.
The storm left some businesses completely untouched and completely devastated others. But because the weather hit entire neighborhoods, it's a fair bet to say your flood-prone Scandinavian coffeehouse is having just as many problems as the Korean burrito place down the street, it's just that restaurant owners sometimes aren't too comfortable advertising their hardships. So, let's plan on this: If you have $25 cash to spend on a meal, plan on setting aside $5 to drop somewhere else on your way out of the neighborhood, even if it's an ice cream cone or two bottles of Mexican Pepsi.
3) Get off your phone and walk around.
These days, while many restaurants have a strong social media and Internet presence, many more do not. Even though Grub Street has been trying to keep up to date with all of the restaurant reopenings during the last two days, many, many more will only be found by walking around and stopping by. Just let us, and everyone else, know what you're seeing out there.
4) Lend a hand.
A lot of the restaurant owners we've talked to who cannot open their doors have lost power and are in the process of cleaning up. That means pumping basements, throwing out food, and sanitizing work surfaces. At the same time, many small business owners have burned through their supplies of bleach because few suppliers are delivering right now. Talk to your favorite neighborhood restaurant owners: Perhaps you can pull a reverse Wimpy, and gladly trade a few contractor bags and a gallon of bleach today for a hamburger next week.
5) Cook.
Hey, restaurant cooks and assorted scullions, even if you can't get to the restaurant where you normally cook, put your skills to work closer to home. Volunteer for the Food Bank of New York, cook at the Greenpoint Soup Kitchen or deliver cooked meals on behalf of Citymeals-on-Wheels. Or hit up Governor chef Greg Kuzia-Carmel and make this citywide family meal for New York's restaurant workers actually happen.
6) Spread your Internet knowledge.
If you're reading this, it means you have (at least some) power and Internet access. But the Thai restaurant owner downstairs who's been bailing out his basement for the last day might not know he's potentially eligible for Disaster Relief, or that the city has set up a small business support package that might help.