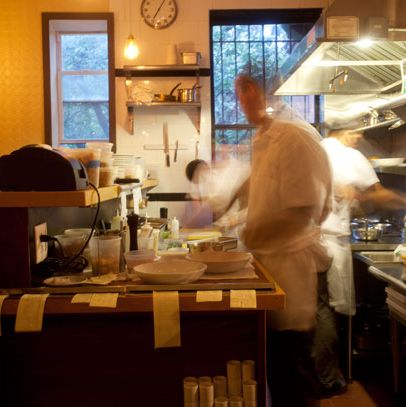 The kale salad at Battersby is so good it makes everything else seem like a blur.
Photo: Victor Prado
Hello again. Now that Frankenstorm Sandy has passed through the city, here's a list of some bars and restaurants that are open now, if you need a bite to eat, a stiff drink, a hot toddy, or just some company. We've listed the openings we've heard about by neighborhood so you can chart your course accordingly. This post will be updated with news as we get it, so if you know of someplace that's open, please let us know in the comments. And as always, stay safe out there. [Update 11/03: As of 12 p.m., most of New York City's electrical service has been restored, and scores of restaurants — many of which are listed below as operating by candlelight — have already reopened, or will reopen, with full service throughout the weekend and on Monday.]
In Manhattan
Harlem and Morningside Heights
Sylvia's
The venerated Harlem soul food restaurant opened at 11 a.m.
Red Rooster Harlem
The restaurant is open for lunch and dinner.
Melba's
The soul food restaurant is open.
Harlem Tavern
The large, beer-centric restaurant is open.
Upper West Side
Indie Food & Wine
Open for business.
Telepan
The restaurant is open tonight and throughout the remainder of the week.
Center Bar
Will be open tonight, with live music, no less.
Kefi
Open for business.
A.G. Kitchen
Open.
A Voce Columbus
The restaurant will open its bar at 5 p.m. tonight, adding a limited menu at 6 p.m.
Momofuku Milk Bar
The bakery's Williamsburg, Carroll Gardens, and Midtown locations are also open.
Ditch Plains
The uptown location of Marc Murphy's fish and surf shack-inspired restaurant will be open today.
Boulud Sud and Épicerie Boulud
The chefs are taking the foie terrines out of the molds and primping the raw milk cheese for dinner service.
Landmarc
While the Tribeca location remains closed, Marc Murphy has reopened his Time Warner Center restaurant for lunch and dinner.
Isabella's
The UWS restaurant is open if you need a snack or a hot beverage.
Luke's Lobster
Luke Holden tweets that his West and East Side locations are serving lobster rolls until 9 p.m. Its East Village and Financial District locations remain closed.
Per Se
A call to Thomas Keller's flagship reveals they're open for dinner beginning at 5:30 p.m. tonight. They have early and late reservations available in the dining room, and the salon is open for a la carte service all night.
Bouchon Bakery
Keller's casual spots are open, too.
Upper East Side
Flex Mussels
The restaurant has embarked on extended happy hour and access to lots and lots of outlets for phone chargers (BYO charger).
Café Boulud
The restaurant is open for dinner with a limited menu.
Candle 79
Hey vegans, you're in luck: They're is open at 5:00 p.m. sharp.
Brother Jimmy's Original
The restaurant has reopened on the UES, and also at its UWS and 8th Avenue locations.
Fishtail
David Burke's restaurant is open for the rest of the day with snacks and a pared down dinner menu. If you want to watch the news, they've got plenty of televisions.
Caravaggio
Open for business.
Rouge Tomate
The health-focused spot on 60th Street is open for lunch and dinner with a limited menu and lots of drinks.
Sistina
Get a bottle of wine and a bowlful of Northern Italian pasta here.
Hell's Kitchen, Midtown and Times Square
'21'
The restaurant is open for lunch and dinner.
Marea
The sea urchin and crab spaghetti has landed.
Go!Go! Curry
The Japanese curry shack is back.
Abboccato
Fritto misto for all.
4Food
The Midtown East restaurant has reopened and is offering free WiFi and use of their iPads for all customers. Each seat has access to an electrical outlet.
Má Pêche
The Momofuku restaurant is open again.
Benoit
Alain Ducasse's classic French bistro has resumed regular operations. Order egg mayo, onion soup and a burger. You'll be able to sleep tonight.
Molyvos
The Greek restaurant reopened on Wednesday.
Le Cirque
The 38-year-old restaurant is accepting reservations for diners once again.
Quality Meats
The chophouse is not only open, but with sister restaurant Park Avenue Autumn is donating proceeds to the American Red Cross.
Oceana
The fish is back.
NOIR
The restaurant is offering 20% Champagne and wine each night through Sunday.
DB Bistro Moderne
When we last checked in, Daniel Boulud's prep cooks were going "full throttle" and getting back up to speed.
The Modern
While Danny Meyer's other restaurants catch up, the Modern and its Bar Room are open for lunch and dinner.
BLT Steak
The restaurant is open for dinner service.
Shake Shack
There was a line out the door yesterday morning, hours before the Times Square location reopened at 12:30. All Shake Shack locations except for Madison Square Park and Battery Park have reopened, with Madison Square expected to open Wednesday afternoon.
Three Monkeys
David Letterman may be playing to an empty house, but this bar around the corner from the Ed Sullivan Theater is pouring 36 tap beers.
Pie Face
They've got hot coffee and warm pies ready for take-out.
Bar Americain
Open for regular hours.
Carmine's
Here's the deal: Bring your kid in, order penne a la vodka, and get 45 minutes of day care on the house. Contact the restaurant for more details.
Rudy's Bar and Grill
The hot dogs are warm, the pitchers are plastic and full of beer.
Schnipper's Quality Kitchen
The hamburger palace is open for lunch and dinner.
Tao
The models, hoisin, and lychee martinis are back at it
Le Bernardin
Eric Ripert and co. got a fish shipment overnight and is accepting reservations on OpenTable.
Bill's Bar and Burger
While its Meatpacking location remains closed, Bill's in Midtown is open and offering pumpkin beer and shakes to those in costume.
Murray Hill and Kips Bay
i Trulli
The restaurant has resumed regular hours and is serving a full menu.

The Cannibal
"The Cannibal is open," owner Christian Pappanicholas tweets. "Lots of beer and food!"
Flatiron, Gramercy, Union Square and Chelsea
Del Posto
Opening Sunday with a "modified" menu.
The Red Cat
Limited menu, cash only, starting Saturday night.
Aldea
Reopening Saturday night.
Gramercy Tavern
Reopening Saturday; contact restaurant for details.
Union Square Cafe
Open for business.
Blue Smoke
The barbecue restaurant reopens for dinner Saturday night.
Hill Country Chicken
The restaurant's fryers are on again and the pies are baking. Dinner resumes Saturday night, with breakfast on Sunday morning.
Pounds & Ounces
The neighborhood is still without power, but the restaurant is serving drinks.
Flatiron Room
Picture this: 500 whiskeys on West 26th Street. Open for regular hours.
Old Homestead Steak House
"We are grilling outside today! Come join us! You cant keep NY down! We LOVE NY"
ilili
All-day happy hour, free WiFi, and charging stations for your phones.
Hill Country
The cornbread, 'cue, and hot links are back in action.
The NoMad
Daniel Humm and Will Guidara's restaurant is open for business.
Num Pang
Both of the Cambodian sandwich shop's locations are open today.
West Village
Babbo
Open again; call for reservations.
Kin Shop
Harold Dieterle is "back in the game" as of 5:30 p.m. Saturday night.

Perilla
See Kin Shop above.
Perla
Open for dinner.
Gradisca
The restaurant is pouring wine and serving a limited menu.
Pizza Roma
Owner Andrea Franchini has been working nonstop since Tuesday to serve pizza, pasta and wine to the electricity-bereft neighborhood.
Spasso
Open for business.
Barrio 47
The restaurant is roasting leg of lamb for dinner and serving brunch throughout the weekend.
Left Bank
The restaurant is serving a limited menu which includes line-caught striped bass and pasta with goat ragu.

Lela Bar
Until power is restored, the restaurant is serving wine,cheese and crackers by candlelight each evening. What more could one really want?
Barraca
Jesús Nuñez has scored a generator and a refrigerated truck and is now serving tapas and chilled drinks in the West Village.
Bosie Tea Parlor
The tea room is open with cold beer, sandwiches, and of course, tea and sweets.
Tertulia
Seamus Mullen's restaurant may not have power, but it does have rice. Paella power!
Aria Wine Bar
Confirmed open for business.
Macelleria
The restaurant has no power, but will be serving a limited menu (by candlelight) tonight.
The Spotted Pig
Open for business.
East Village
Calliope
Open for business with a limited menu, including (thank goodness) rum baba.
The Redhead
Open with a full menu.
Nicoletta
Pizza, pizza, pizza.
The Brindle Room
Looking to reopen Saturday night.

Momofuku Noodle Bar
Open for regular hours.
Momofuku Ssäm Bar
Open for business. Booker + Dax, too.

Exchange Alley
The restaurant is making jambalaya balls as we speak.
Peels
Back up and running with a limited menu, thanks to an assist from Isa.
Baohaus
A limited menu will be available for takeout and delivery starting 5 p.m. Saturday night.
Il Buco Alimentari and Vineria
The salumi, cheese, bread and wine shop is open from 12 p.m. to 6 p.m., with specials including pork sausage with roasted peppers, and porchetta with struzzichino and broccoli rabe. The provisions shop has also set up a grill in the street.
Extra Place
The diminutive organic döner restaurant is open for business on the secret side street between Bowery and First Avenue. Chef Michael Han has been grilling outside the restaurant.
Motorino
Matthieu Palombino is making pizza dough by candlelight and without electricity in the East Village.
Lil' Frankies
Making the pies once again.
Crif Dogs
The gonzo hot dog shop's East Village and Brooklyn locations have reopened.
The Cardinal
The restaurant's owners were last seen greeting the neighbors and handing out fried chicken.
Northern Spy Food Co.
The restaurant is back in action with a light snacks and drinks tonight, brunch and dinner on Sunday. Go visit!
Tinto Fino
The specialty shop may not have power, but it does have 250 kinds of sherry.
Veselka
You didn't expect it to close, did you? "Everybody needs a shelter in the storms of life."
Lower East Side
wd~50
Will reopen tonight with a limited menu of cocktails and hopefully some small plates.
Mission Chinese Food
The power is back, Danny Bowien tweets, and the restaurant will reopen Saturday for lunch.

Katz's
The most romantic restaurant in New York City now has candlelit tables to prove it.
Saro
Despite not having electricity, the restaurant has gas and hot water and will reopen Friday night with a full bar of Balkan wines, beers, and spirits. Order the prebranac!
Russ & Daughters
The lox is back in a LES groove as of Thursday.
Via Tribunali
The pizzeria is open for business.
Caffé Vita
The espressos are back in action.
Soho
Balthazar
Open for steak frites and then some.
508 GastroBrewery
Open, with a limited menu and candlelit tables.
Ed's Lobster Bar
Lobster rolls and raw bar going for low cash prices today on Lafayette Street.
Boqueria
The restaurant may have no power but will serve a limited menu of sandwiches and cocktails by candlelight all day, while supplies last.
Tribeca
Mehtaphor
Open from the afternoon at 4:30 p.m. until 9 p.m. with a limited menu. Graffiti in the East Village is also open from 6:30 p.m. to 9 p.m. with a wine and cheese menu.

Ward III
The cocktails den and its uptown sister bar the Rum House never closed.
Battery Park
Blue Smoke
Up and running.
North End Grill
You may not be able to make OpenTable reservations there at the moment, but Floyd Cardoz wants you to know the restaurant is open for business.
Shake Shack
They may not have that shake, but they do have the fries that go with it.
In Brooklyn
Williamsburg, Greenpoint and Bushwick
Roberta's
The Bushwick restaurant is back in action: "hello new york, and beyond…WE ARE OPENING by 5pm (maybe a little earlier)!! transport is down, but if you need a beacon in the dark…we will have pizzas, drinks and limited back kitchen stuff."
Betto
Open for business.
Antica Pesa
Open for dinner and drinks.
Isa
Up to temperature and open.
Maison Premiere
The oyster bar and kitchen is open, the absinthe frappes are chilly.
Sindicato de Cocineros
The Mexican restaurant is open.
Nitehawk Cinema
The movie theater and cafe is open with a limited menu. Call ahead.
Five Leaves
Open, and per the comments section, filled with well-dressed people.
Gwynnett St.
Open for drinks, dinner, and perhaps most crucially, whiskey bread.
DuMont Burger
The Bedford Avenue burger joint is open.
Reynard
The grill-heavy Wythe Hotel restaurant is open.
Brooklyn Star
Joaquin Baca will finish brining his fryer chickens by the time you finish this sentence.
Parish Hall
George Weld's farm-to-table restaurant is open for business, including lunch.
Pies and Thighs
Open for lunch today, then dinner from 5-10 p.m.
Extra Fancy
Owner Mark Rancourt writes in to tell us his clam shack and cocktail bar is open for dinner tonight. Kitchen closes at 3:30 a.m.; bar closes at 4 a.m. every night of the week.
Cafe Grumpy
The coffee shop's Greenpoint and Park Slope locations have reopened and are open from 7 a.m. to 7 p.m.
Champs Family Bakery
The diner is open and would like to see you soon.
Downtown Brooklyn
Shake Shack Brooklyn
Shack Burgers, et al, are ready for you.
Dumbo, Vinegar Hill and Brooklyn Heights
Vinegar Hill House
The restaurant is open for dinner. The restaurant's small plates and wine bar annex Hillside is also open next door.

Gran Electrica
The Mexican restaurant will open for dinner.
Wild Rise
The Dumbo pizzeria's wild yeast made it through the storm and the restaurant is open tonight.
Colonie
The New American restaurant is open for regular business.
Prospect Heights, Fort Greene, Clinton Hill and Bedford-Stuyvesant
606 R&D;
It's once again time to make the doughnuts (and much more) at Ilene Rosen and Sara Dima's restaurant and cafe.
No. 7
Tyler Kord's sandwich shop is open in Fort Greene, as are its satellites at the Plaza Food Hall and in Greenpoint. No. 7 in the Ace Hotel should be up and running by the end of the week.
Umi Nom
King Phojanakong's Lower East Side restaurant Kuma Inn may be temporarily closed, but the Filipino-Thai food is good to go.
Do or Dine
Will re-open for dinner tonight.
Lulu & Po
Craving a bone marrow taco? You know where to go.
Speedy Romeo
The billowy ricotta and tomato pies will start coming out of the wood-fired oven early this evening, beginning at 5. Pizza and beer it is.
Branded Saloon
The bar opens at 1 p.m. Take comfort in charcuterie. Halloween party, tonight, too.
Dean Street
The newly-cajun restaurant sold out its entire menu yesterday, but is coming back strong today.
Brooklyn Victory Garden
The larder is open. They've got hot coffee and bagels.
Park Slope, Cobble Hill, Boerum Hill
Thistle Hill Tavern
Open from 1 p.m. each day this week until 10 p.m., or whenever the food runs out.
Talde
The restaurant is open for the rest of the week, with the kitchen closing at 10 p.m. or when the food runs out.
Pork Slope
For the rest of the week, Dale Talde's animal fat-spattered Roadhouse homage opens at 3 p.m. and will try to serve the goods right up until 2 a.m.
Die Koelner Bierhalle
Beer, brats, burgers. From 2 p.m. until 4 a.m.
Franny's
Francine Stephens reports the restaurant will resume operations for dinner tonight.
Mile End
Rae and Noah Bernamoff's Red Hook production kitchen was destroyed overnight. The deli will be open today.
Gorilla Coffee
The Brooklyn roaster and café is open.
Tea Lounge
The family-friendly café is open.
Monro Pub
The British tavern is open for business.
Carroll Gardens
Battersby
At 5:30 p.m., it's "business as usual."

Buttermilk Channel
Doug Crowell sends word he'll reopen the restaurant, which was unharmed, at 5 p.m.
Court Street Grocers
The turkey sandwiches and hot coffee are ready. Dinner on Friday.
Brooklyn Farmacy
The restaurant is serving pancakes and egg creams all day. Hours are 10 a.m. to 6 p.m. today.
Arthur on Smith
Chef Joe Isidori wants you to know that 5 p.m. is also known as "bucatini time."
Prime Meats
Stop in for some roasted bone marrow, order an Old-Fashioned with pear bitters.
Gowanus
Littleneck
The clam shack that could has survived the storm. The restaurant ran out of food last night, but they still have plenty to drink.
Halyards
Pool tables, cold beer, and mother-lovin' Jenga.
Red Hook and Columbia Waterfront
Brooklyn Icehouse
The bar will be back in action tonight.
Red Hook Bait & Tackle
The bar was partially submerged in three feet of water on Tuesday morning, but has returned. So first of all, cue the Destiny's Child. Also, go get yourself a whiskey.
Pok Pok Ny
Andy Ricker's insanely popular restaurant did not sustain extensive damages and will re-open with a limited menu.
Queens
Astoria and Long Island City
John Brown Smokehouse
Smoking once again at 10-43 44th Dr. in LIC.
Queens Kickshaw
The restaurant is open
Bistro 33
The French-Japanese fusion place is open.
Bronx
Dallas BBQ
The Bronx location of the barbecue chain is open; its three other locations are up and running.
Tosca Café
The coal-oven pizza place is open for business.
Afield
Jersey City
Thirty Acres
Kevin and Alex Pemoulie's restaurant will reopen Friday night.
Pocantico Hills
Blue Hill at Stone Barns
The fireplace is roaring at Dan Barber's restaurant.