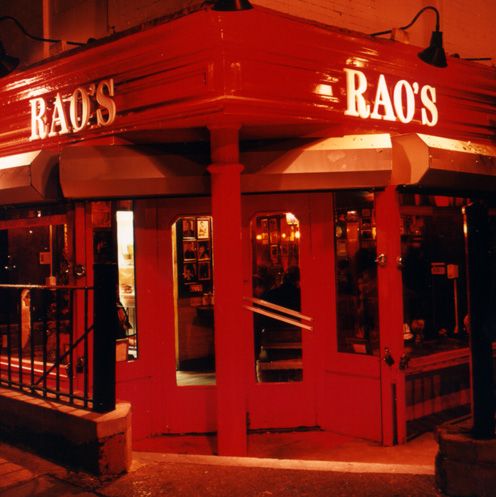 The original location in New York.
Photo: Courtesy of Rao's.
East Harlem's 116-year-old Italian institution, Rao's, appears to be destined for Los Angeles. Legendary for a regular lineup of colorful, connected heavyweights and a reservations policy so punishingly exclusive that few people actually ever squeeze between its bright red doors, Eater learns that this ten-table stalwart will take over a former club space in Hollywood. We reached out to Rao's for details, but so far they're saying nothing. Still, a pending liquor license application pinpoints Rao's plans on Hollywood's Seward Street, off the tourist drag-of-fame just enough to suggest its West Coast arrival may portend more than just a doubling down of the easily accessible fortunes sought when branching out to Caesar's Palace in Las Vegas back in 2006.
With Mozza just a short ride to its south, Rao's opening will offer an intriguing experiment in whether costly linguine with clams and shrimp scampi will create the same fervor found at its original location, though the famous brand name and sense of insider privilege will likely appeal to Hollywood's more label-concious elite when the doors finally squeak open.
Don't Forgetaboutit: Notorious Mob Haunt Rao's of New York Coming to Hollywood [Eater LA]
Earlier: Jay-Z Shows Everyone He Can Get Into Rao's