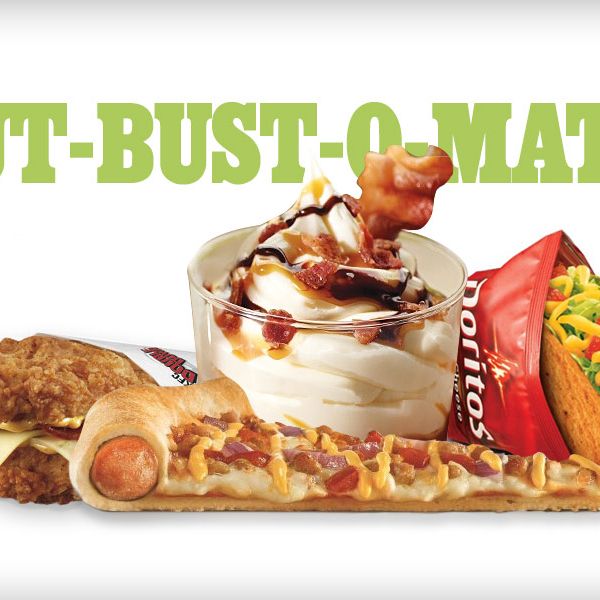 It all started with the Double Down.
Photo: Jen Cotton.
It began with the Double Down: When KFC introduced its fried-chicken-instead-of-bread sandwich and got a ton of attention from incredulous food writers everywhere, it started a trend. Now it's like a game for fast-food chains to see who can come up with the grossest-sounding food. How else to explain the existence of Doritos-wrapped tacos, pizzas with hot-dog-stuffed crusts, and Burger King bacon sundaes? There is probably a network of top-secret labs where fast-food Ph.Ds conduct evil experiments (and, presumably, smoke a lot of weed). But we figure you can randomly mash foods up and come up with something that's at least as good as the Nacho Whopper. Allow us to introduce the Grub Street Gut-Bust-o-Matic.


With a simple click of the mouse, the Grub Street Gut-Bust-o-Matic will automatically generate an entirely new fast-food gut buster. Give it a try.


Like any fast-food item development, some items will be hits (we'd totally eat Ranch-Slathered Tater Tots), and others will probably be misses (Velveeta-Stuffed Doughnuts, pass). But we won't know unless somebody actually makes them. This is where you come in.


We want you to make an actual item generated by the Gut-Bust-o-Matic and send the picture to us by Thursday, October 25 at noon Eastern. The best creation will win a copy of Modernist Cuisine at Home, Nathan Myhrvold and Maxime Bilet's new (expensive) cookbook. (Click here for the complete rules.)


Just spin the Gut-Bust-o-Matic until you get a combination you want to tackle, make it, shoot it, and send an e-mail to gutbust@grubstreet.com with your photo attached (keep the file size under 4 MB, please) and the custom name of your gut buster in the e-mail body. We'll be factoring in the degree of difficulty, so if you actually can make Velveeta-Stuffed Doughnuts look appetizing, now's the time to show us.