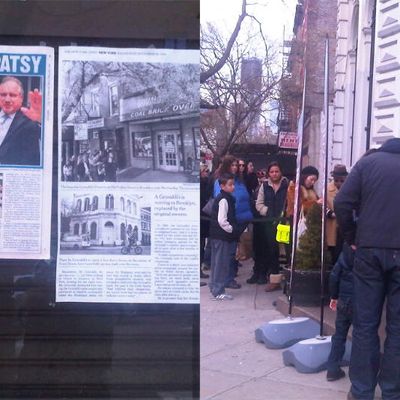 The line outside the current Grimaldi's.
Photo: Alyssa Shelasky
The Grimaldi's saga continues: You'll recall that Frank Ciolli and his family moved the Dumbo pizzeria to a bigger space around the corner after all sorts of rent drama with the owner of the original location. And now that Patsy Grimaldi might finally be ready to open his own new pizza place, Juliana's, in that vacant spot, the Post learns that Ciolli has filed a lawsuit aimed at stopping Grimaldi.

In the suit filed September 10, Ciolli alleges that Juliana's would violate a non-compete clause that Grimaldi signed when he orginally sold the pizzeria. But Grimaldi's lawyer tells the Post that the clause expired three years ago. But hey, Ciolli isn't afraid of a little competition, okay? He simply says that the move to open Juliana's "would recapture the many customers" that now go to Grimaldi's because they'd be confused about which place is the real Grimaldi's. Isn't there enough pizza to go around?
Slicing off a 'pizza' the pie: Grimaldi's brick-oven battle [NYP]
Earlier: Grimaldi's and Juliana's Pizza Prepare for Pizza Face-off in Dumbo