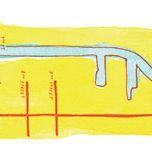 Photo: Map by Lauren Simkin Berke
The banks of Brooklyn's Gowanus Canal in its current condition are no one's idea of a waterfront dining destination. But despite the noxious waterway's distinctive bouquet, mysterious hue (like a nice unfiltered Tuscan olive oil), and 2010 designation as a Superfund site, its surrounding neighborhood is becoming something of a food hub. That unexpected development can be attributed to the usual causes—accessible rents, pioneering hungry artists, ambitious chefs—and also to the surplus of industrial buildings that lend themselves to mixed manufacturing and retail use. While a few historic vestiges remain, like red-sauce landmarks Two Toms and Monte's, it's the new developments that have been garnering most of the attention (and, in the case of an impending shuffleboard club and the first Brooklyn Whole Foods, the most controversy). Here, a food-and-drink-focused look at some of the latest arrivals to a neighborhood in transition, from coffee roasteries and barbecue joints to the requisite artisanal-pickle plant.


1. Juice Haven

252 Third Ave., at Union St.; 347-529-4797.

Wake up and smell the wheatgrass: In a comment on modern appetites and neighborhood necessities, a former hot-dog joint now deals in juice cleanses and raw food.

2. Royal Palms Shuffleboard Club

514 Union St., nr. Nevins St.; 347-766-7256.

Two hobbyists determined to promote the all-ages appeal of the Florida retiree's favorite pastime also plan to host food trucks and serve tropical cocktails when they open next year.

3. Dinosaur Bar-B-Que

604 Union St., nr. Fourth Ave.; no phone yet.

The Syracuse chain has marked this barbed-wired stretch for its next location, opening in 2013. With smoked-meat specialist Fort Reno down the block and Fletcher's nearby, it's a veritable barbecue belt.

4. Ger-nis Culinary & Herb Center

540 President St., Ste. 2E, nr. Third Ave.; 347-422-0337.

Nissa Pierson has grown and trafficked in herbs and fruit, a career that led to opening a cooking school in a renovated garment factory. Upcoming classes include Rejuvenating Ramen, the Rustic Bread Baker, and a Sunday supper club with the Littleneck crew.

5. Gorilla Coffee

500 President St., nr. Third Ave.; no phone yet.

A decade after the Park Slope coffee shop opened with an espresso machine and a single roaster, the owners have purchased a former printing plant, which they've begun transforming into a 4,000-square-foot roastery and café.

6. Brooklyn Brine Co.

574A President St., nr. Fourth Ave.; 347-223-4345.

You name it, they pickle it, from chipotle carrots to five-spice ramps. Self-described executive briner Shamus Jones calls the 2,300-square-foot factory and retail shop a Greenmarket of pickles.

7. Runner & Stone

285 Third Ave., nr. Carroll St.; no phone yet.

A former Per Se head baker and a Blue Ribbon Brooklyn alum aim to bring Gowanus morning croissants, lunchtime sandwiches, and dinner pastas like spaghetti alla chitarra with conch ragù. There is a new-to-the-neighbor​hood emphasis on alternative grains, natural leavening, and stylish modern design, too.

8. The Pines

284 Third Ave., nr. Carroll St.; 718-596-6560.

A forward-thinking locavore chef who can really cook, an apple cocktail you can inhale, an X-rated ATM, and curly kale growing in the backyard like pachysandra: Littleneck's sister restaurant is the best thing to happen to Gowanus since they flavenlushed the canal.

9. Littleneck

288 Third Ave., nr. Carroll St.; 718-522-1921.

Everything you could ask for in a Kickstarter clam shack: tender steamers, fat bellies tucked into top-loading buns, ice-cold cans of Narragansett, and what might be the finest chowder in Brooklyn.

10. Monte's

451 Carroll St., nr. Nevins St.; 718-852-7800.

The fossilized 1906 landmark reopened last year under new management and is equipped with a wood-burning oven that's turning out the best pizza in Gowanus.

11. Lavender Lake

383 Carroll St., nr. Bond St.; 347-799-2154.

Built in a former stable and named for the canal's facetious epithet, this bar packs 'em in with cocktails, buckets of beer, and a chalkboard-advertised "hang sesh" out back on the patio.

12. Pizza Cotta Bene

291 Third Ave., at Carroll St.; 718-722-7200.

A checkered-tablecloth slice joint where Lioni Latticini's venerable mozzarella graces almost every pie.

13. Root Hill Burger

256 Fourth Ave., nr. Carroll St.; 347-689-9040.

After tackling one urban essential (fancy coffee), the owners of Root Hill Café are poised to embrace another: the gourmet burger, with meat from Los Paisanos, buns from Amy's, and vegetable sides like fried sweet-potato balls and beets rémoulade.

14. Whole Foods

Third Ave. at 3rd St.; no phone yet.

The perpetually delayed and hotly contested harbinger of gentrification aims to open next fall, with a rooftop greenhouse and a local "forager" charged with sourcing the best Brooklyn-made goods.

15. Halyards

406 Third Ave., at 6th St.; 718-532-8787.

This nautically themed bar offers pool, darts, and an unexpectedly tasty grilled cheese.

16. The Bell House

149 7th St., nr. Second Ave.; 718-643-6510.

A bar and concert hall best known, from a foodie perspective, for the cook-offs called Food Experiments, where battles royal have been waged in such realms as brunch, tacos, and chocolate.

17. Fletcher's Brooklyn Barbecue

433 Third Ave., nr. 7th St.; 347-763-2680.

Does Brooklyn have a 'cue style it can call its own? Yes, indeed, say "BBQ Billy" Fletcher and former R.U.B. pitmaster Matt Fisher. They'll attempt to prove their thesis when they open Friday with dry-rubbed ribs, brisket, and sliced char siu pork shoulder steak.

18. Four & Twenty Blackbirds

439 Third Ave., at 8th St.; 718-499-2917.

Some trace pie's resurgence to this airy corner café, a homey redoubt in a cupcake-and-macaron-riddled world. The Elsen sisters made their name with the salted-caramel-apple, now on the café menu at the Whitney.

19. Brooklyn Homebrew

163 8th St., nr. Third Ave.; 718-369-0776.

Part lab, part hardware shop, part grocery store, all in the service of the borough's hop-happy, malt-mad beer geeks.

20. Stone Street Coffee Company

129 9th St., nr. Second Ave.; no phone.

Brooklyn's coffee-roasting tradition endures in this pet project of the Poulakakos restaurant family, built to supply its Financier chainlet, and now also custom roasting for Fairway.

21. Brooklyn Butcher Blocks

94 9th St., nr. Second Ave.; 413-214-3540, by appointment.

Nils Wessell apprenticed at Cut Brooklyn, the knife workshop, before branching out to mill thick, gorgeous cutting boards from Pennsylvania walnut and cherry. Your CSA haul deserves no less.

22. Bar Tano

457 Third Ave., at 9th St.; 718-499-3400.

Solid neighborhood pizza, pasta, and panini parlor with décor so artfully weathered (tin ceiling, zinc bar, moody lighting) you suspect Keith McNally may be a silent partner.

23. Cut Brooklyn

461 Third Ave., nr. 9th St.; 646-247-9955.

Joel Bukiewicz shapes, grinds, and sands every carbon and stainless-steel kitchen knife made in his workshop, which he opens to the public Wednesday and Saturday afternoons.

24. Lucey's Lounge

475 Third Ave., nr. 10th St.; 718-877-1075.

A new, old-school cocktail lair with a good bacon Bloody Mary and a great housemade ginger beer.

25. Gowanus Wine Merchants

493 Third Ave., at 11th St.; 718-499-9700.

Two Morrell & Co. alums don't let their personal Old World bias limit their well-rounded, accessibly priced selection. Tastings on Friday and Saturday.

26. Crop to Cup Brew Bar

541A Third Ave., nr. 14th St.; 917-503-9710.

One thing you might not be used to seeing on a coffee-shop menu: the altitude of the farm or washing station whence came the beans. That info is scribbled on the chalkboard at this importing office that doubles as a café, where single-origin beans are ground and brewed by the cup.

Photos: Rob Howard/Courtesy of Cut Brooklyn (Cut Brooklyn); Sydney Colburn/New York Magazine (The Pines); Courtesy of the vendors (remaining)
*This article originally appeared in the November 5, 2012 issue of New York Magazine.