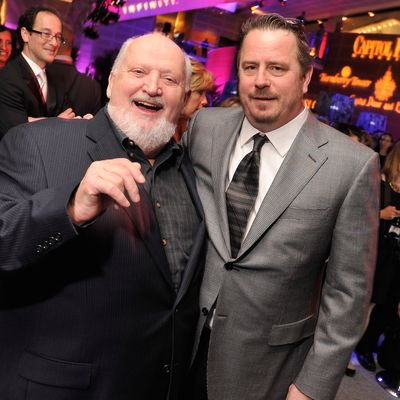 He's looking at you, Palace Hotel.
Photo: Stephen Lovekin/Getty Images
In February, the D.C.-based chef Michel Richard told Grub Street he was angling to open a New York branch of his popular bistro Central. By May, the chef said he was searching for a midtown space with around 6,000 square feet to spare, and today Richard tells Diner's Journal he will open a "bistro-style" restaurant inside the New York Palace hotel, at 455 Madison Avenue, former home of Le Cirque 2000 and current home to the restaurant Gilt.
No closing date has been set for Gilt, the Palace's current restaurant, which opened in 2006 with Paul Liebrandt at the pass and has since redefined its concept. The Gilt Bar will remain open, and Richard has not said whether the restaurant will in fact be an outpost of Central or not, identifying it simply as a "bistro-style" place. "It's a bigger, lighter room; we won't require jackets and it will be relaxed," the chef says. "I want people to have a good time."

Michel Richard to Move In to Le Cirque's Old Home [Diner's Journal/NYT]
Earlier: Michel Richard Delays NYC Debut to 2013, Looks for Downtown Location