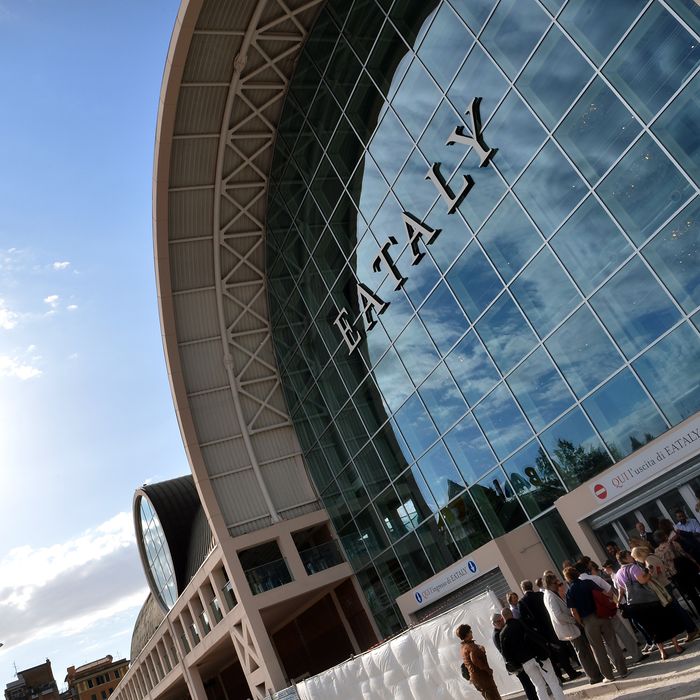 Eataly in Rome (not actual size).
Photo: ALBERTO PIZZOLI/AFP/GettyImages
Grub Street Chicaco totally called this one in May: Along with partners Mario Batali and Joe Bastianich, the founder of the Turin-based Eataly announced the megamarket's second location will open next year inside the former ESPN Zone, the big-box sports bar and arcade on Ohio between Rush and Wabash which closed in 2010. Oscar Farinetti, founder of the chain, tells Diner's Journal that Eataly's future home will occupy 60,000 square feet. Renovations will cost $20 million, and the new store will open in September of 2013.
Eataly's slow-food reinvention of the supermarket has paid off in New York. The 50,000-square-foot store has had 13 million visitors, with $150 million in total sales since opening its doors two years ago, Bastianich tells Diner's Journal. That's a lot of coppa.
The Chicago Eataly, the chain's twentieth location worldwide, will see the brand testing its ability to expand while simultaneously adapt to local markets. Eataly on Ohio will likely feature a grilled-sausage restaurant "in homage to the Eastern European tradition of sausage in Chicago," Bastianich says. Worldwide expansion will continue to Los Angeles, Istanbul, and São Paulo.
Eataly Coming to Chicago [Diner's Journal/NYT]
Earlier: Is Eataly Heading Into the Zone?
Related: How Eataly Conquered Italy, and Why America Will Be Next