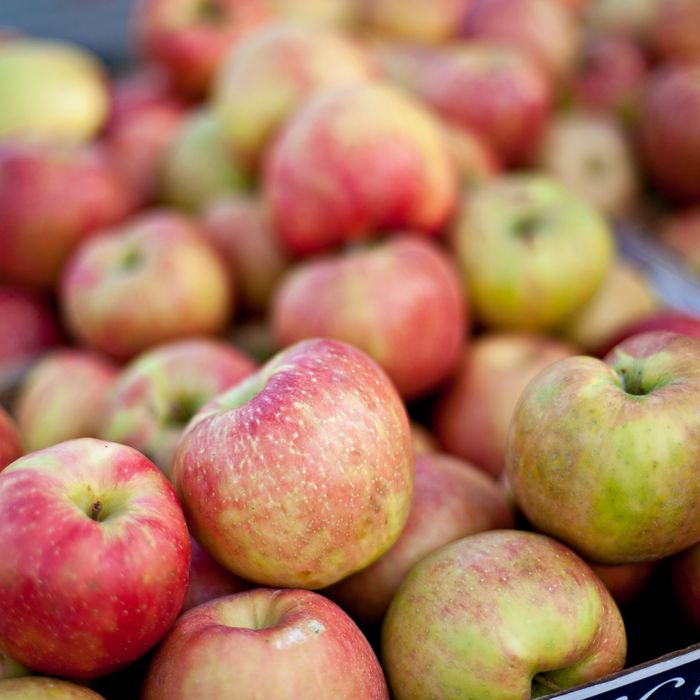 Plus: apples!
Photo: Corbis
Tasting menus aren't the healthiest things to do, but this week brings two ideas for multi-course meals that won't, uh, weigh you down. In addition to that, we've got plenty of produce to fill your week. Check it all out, straight ahead.
Monday, October 1: Splurge Healthfully
As far as over-the-top meals go, sushi, provided you don't eat it with Jeremy Piven–like regularity, isn't nearly as bad for you as, say, a French tasting menu. And even the richest dishes at Neta (uni porridge!) won't leave you feeling weighed down — meaning something like a twelve-course omakase is totally manageable on a Monday.
Tuesday, October 2: Make Like a Vegetarian at Franny's
There's plenty of meat to be had at this Brooklyn institution, but the kitchen really knows how to treat a vegetable. Go for broke with seasonal stuff like eggplant, peppers, and anchovies; pole beans with almonds and chilies; olive-oil dressed shell beans; and a kick-ass tomato, arugula, and ricotta salata salad.
Wednesday, October 3: Apples!
Take advantage of the season and load up on honeycrisps at the farmers' market. Turns out that whole one-a-day-keeps-the-doctor-away thing is sort of true: Regular apple-eaters have lower cholesterol and a lower risk of stroke and cardiovascular disease.
Thursday, October 4: Funky Fermentation
You might like kimchee for its pungent, garlic-packed complexity, but it's also got hefty doses of vitamins A, B, and C. (Not to mention some research that links the fermented cabbage to cancer prevention.) In other words, stock up: Buy a bucket at K-Town's Han Ah Reum, or try a more refined trio of the stuff at Danji.
Friday, October 5: Get to This Guest Chef Series
Tonight is the first part of Alex Stupak's Push Project at Empellón Cocina. Stupak, Lauren Resler, and Mexico City's Enrique Olvera will colloborate on an eight-course tasting menu. They won't say what's in store, other than teasing surprisingly healthy-sounding ingredients like cured scallops, cilantro root, nopales, and purslane. Even better: Tickets for an early seating can still be had by heading here.
Kate Lowenstein is the senior features editor at Health Magazine.