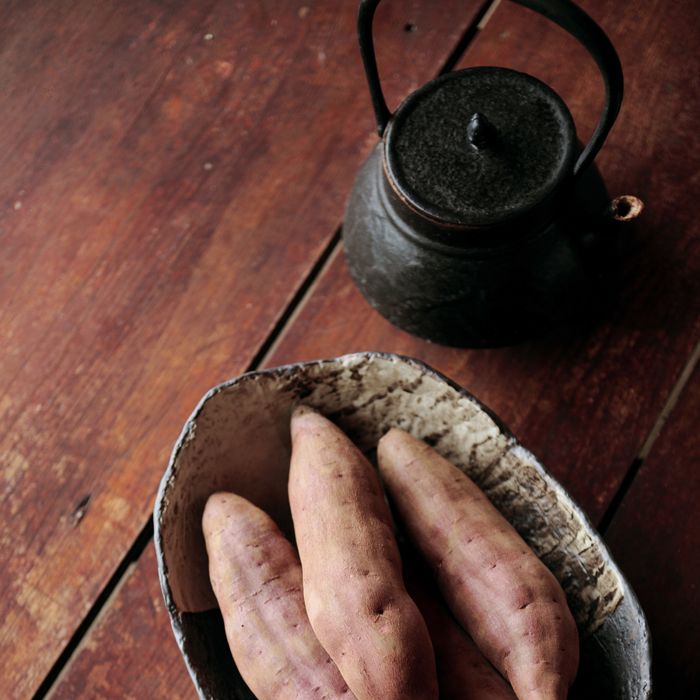 Look for Japanese sweet potatoes at the Greenmarket.
Photo: Ocean/Corbis
If it's Monday morning, it must be time for Eat Well, Grub Street's guide to great, virtuous food around town. This week brings us a great bar-grazing strategy, a midweek detox option, soft scrambled eggs from Floyd Cardoz, and plenty more. Check it all out, straight ahead.
Monday, October 22: High-end Eggs From a Top Chef Master
In case you forgot, eggs are actually awesome for you. Lucky us, then, that Floyd Cardoz has a whole section of the menu devoted to them at North End Grill. Start your week with some breakfast-for-dinner: Soft scrambled eggs with ruby red shrimp and grilled bread should do the trick.
Tuesday, October 23: Stand Up for Yourself
Here's a dinner strategy: Instead of stuffing yourself silly at a table, do your body a favor and just graze while standing at the bar. Another benefit: You won't need a reservation. Our advice, hit a hot spot like NoMad. (Bonus points if you order their Broccoli entree.)
Wednesday, October 24: Midweek Detox
Macrobiotic devotees already know about this Asian-inflected health spot, but if you're a non-careful eater just looking to feel good on the inside for an evening, Souen's got some dishes for you. Try the macro platter if you're feeling especially monastic.
Thursday, October 25: It's Sweet Potato Time
You probably already know by now that sweet potatoes are a great source of vitamins A, C, B, potassium, and even iron. Grab a few try and try this salad. Feel free to upgrade to Japanese sweet potatoes, a.k.a satsuma-imo, available at the Greenmarket (good bets for finding them: Bodhitree and Lani's Farm).
Friday, October 26: Season-Appropriate Tea
Every few months, science tells us something great about tea: It lowers cholesterol, improves your mood, helps you lose weight, etc. If plain ol' Lipton's doesn't get you excited (we don't blame you), stop in at David's Tea for fall flavors like banana nut bread, pumpkin chai, and toasted marshmallow.
Kate Lowenstein is the senior features editor at Health magazine.