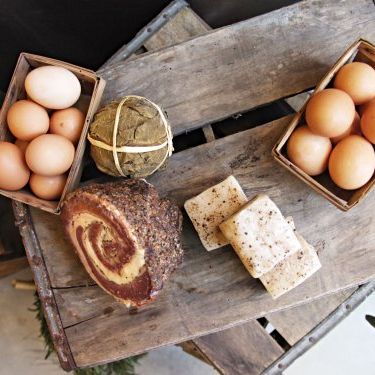 Hit the All Good Things market to fill your pantry the right way
Photo: Celeste Sloman/New York Magazine
Welcome back to Eat Well, Grub Street's guide to great food around town that just so happens to be healthy, too. This week brings us fantastic fish at Reynard, Pok Pok's best beverage choices, and even a valid excuse to grab a slice of cake in the morning. Check it all out, straight ahead.
Monday, October 15: Fine Fish in Williamsburg
At the Wythe Hotel, Reynard offers some excellent sustainable seafood choices that also happen to be super heart-healthy. Our picks: Mackerel tartare with egg yolk and Dijon, and slow-roasted Arctic char with asparagus ragout.
Tuesday, October 16: Drop Some Acid
If you haven't tried them yet, make sure you check out the Som — sweetened drinking vinegar — served at Pok Pok Phat Thai and Pok Pok Ny (and sold online). Drinking vinegar may help lower cholesterol, and ward off heart disease.
Wednesday, October 17: Cake for Breakfast!
Turns out it can be a good thing: In a recent study, dieters who ate a big breakfast — even if that breakfast included a dessert — first thing in the morning lost more weight and kept it off longer than people who didn't. Celebrate this news with a slice of brown sugar coffee cake at Calliope.
Thursday, October 18: Healthier, Heartier Fast Food
Ramen may be Japanese junk food, but it's way better for you than a burger. Case in point: the mushroom ramen, complete with virtuously poached egg, at Carroll Gardens' Dassara.
Friday, October 19: Stock Your Kitchen With Ecofriendly Ingredients
Load up for the weekend with the wholesome supplies at All Good Things Market in Tribeca. Look for well-sourced meat (courtesy of Dickson's Farmstand) and produce (curated by Savoy's Ryan Tate), all of which gives even the most hopeless home cooks a fighting chance.
Kate Lowenstein is the senior features editor at Health magazine.