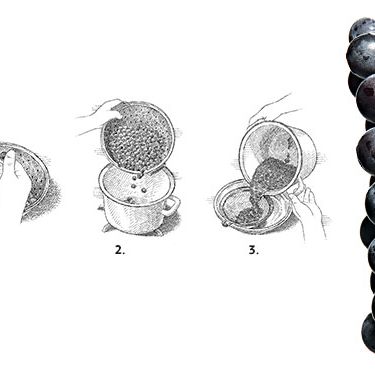 Photo: Victor Prado. Illustrations by John Burgoyne.
Beautiful blue-black clusters of Concord grapes, heavy with juice, have arrived at Greenmarket, and the local bumblebee population couldn't be more thrilled. Slip into your beekeeper's suit, work your way through a swarm, and bring home a bunch to turn into jam, jelly, a pie, or even the Tuscan flatbread known as schiacciata. Seersucker pastry chef Stephanie Alexander has another idea: make grape soda with buttermilk ice cubes for a delicious sweet-tart Creamsicle effect.
Stephanie Alexander's Concord-Grape Soda With Buttermilk Ice Cubes
1 1/4 cups buttermilk
1/4 cup simple syrup (combine equal parts superfine sugar and water)
1 quart Concord grapes
2 cups water
1/3 cup superfine sugar
5 cups seltzer
For the ice cubes: Whisk together the buttermilk and the simple syrup. Pour into an ice-cube tray, and freeze for at least 3 hours.
For the soda: (1) Stem the grapes. (2) In a medium pot, bring the grapes and 2 cups of water to a boil. Lower heat, and simmer until the grapes have broken down and released their juice, about 10 minutes. (3) Pour the juice through a fine strainer or a large coffee filter and into a bowl or pitcher, discarding pulp (to yield 2 1/2 cups). Add the 1/3 cup sugar, and whisk to dissolve. Cool the juice mixture down over ice. To serve a 12-ounce soda, pour 1 cup seltzer over 1/2 cup grape juice. Garnish with 2 buttermilk ice cubes.
*This article originally appeared in the October 15, 2012 issue of New York Magazine.