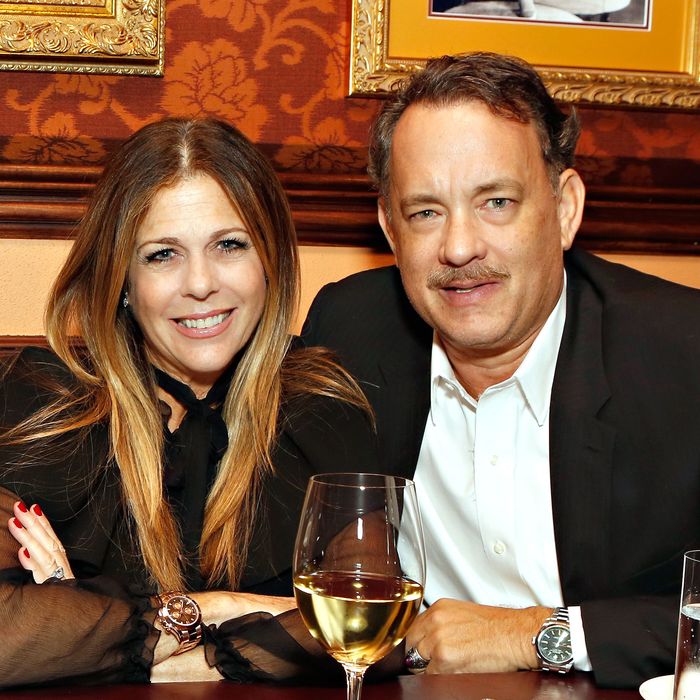 Hanks with his wife, Rita Wilson.
Photo: Cindy Ord/Getty Images
This week, New York celebrities hit up their usual meatpacking district haunts, sparked some rumors, and even made time for a few good deeds. Demi Moore maybe flirted with Knick Baron Davis at Catch; Robert De Niro said thank you with lunch from Tribeca Grill; and Kanye West and others supported cancer research at the 2012 Angel Ball at Cipriani on Wall Street. This and more, ahead in our weekly roundup of celebrity dining.
54 Below: A mustachioed Tom Hanks shared a table with wife Rita Wilson and Brooke Shields to see Sherie Rene Scott perform. [Page Six / NYP]
The Ainsworth: Dave Annable, who has been filming his new show 666 Park Avenue in Manhattan and Brooklyn Heights, dined with friends, including actress wife Odette Annable, on Saturday. The group downed a few Blue Moons before heading out around 11 p.m. [NYDN]
Capitale: Tyra Banks threw her "Flawsome Ball" to benefit the new Lower East Side Girls' Club and her own TZone Foundation. Rosario Dawson, Isiah Thomas, and Drake all partied to support the two causes. [NYDN]
Catch: The meatpacking restaurant was the usual celebrity magnet this week. Demi Moore sparked rumors of a romance when she dined with former Knick Baron Davis and friends on Friday. The next day, Emma Watson, Ezra Miller, and Logan Lerman celebrated their Nylon cover shoot. The Perks of Being a Wallflower cast walked around the tables, taking photos while sporting props from Forever 21 and Sanrio's Hello Kitty Forever gift bags. [Page Six/NYP]
Ciano: Napster creator Sean Parker hosted a dinner for friends and family, including his six-months-pregnant fiancée, in Gramercy Saturday night. Chef Shea Gallante personally cooked for the group. [Page Six / NYP]
Cipriani Club 55: Lots of boldfaced names were out for the annual Angel Ball for cancer research this past weekend. Kim Kardashian, Kanye West, Gerard Butler, David Arquette, Russell Simmons, Solange Knowles, Bar Rafeli, Jessica Stam, Ashanti, Star Jones, and Wendy Williams attended as guests, while Smokey Robinson, Nelly, and Natalie Cole performed. [Page Six/NYP]
Darby Downstairs: Mark Sanchez was seen flirting with a blonde on Friday night. Eye witnesses said she wasn't "overly cute." [NYDN]
Dream Downtown: The Brant brothers partied at the Chelsea spot and at Boom Boom Room Saturday night. Peter, who is 18, and his 16-year-old brother, Harry, met up with socialite Genevieve Jones. [NYDN]
Le Baron: Lindsay Lohan was turned away from the Bullett party honoring Cat Power on Wednesday night. A member of Lohan's entourage calmed her down, successfully avoiding a potential scene. [NYDN]
Lexington Brass: Michelle Tratchenberg hosted a going-away dinner for Gossip Girl co-star Leighton Meester, who is moving to L.A. now that the series has wrapped. Chace Crawford, Ed Westwick, Penn Badgley, and Kelly Rutherford all dined at the midtown restaurant for the send-off. [Page Six/NYP]
Old Homestead Steakhouse: Co-owner Greg Sherry's daughter had planned to celebrate her 31st birthday in the restaurant's Schnabel Room, but the space was instead given over to artist and filmmaker Julian Schnabel and ten others, including his twin boys, Cy and Olmo, who were celebrating their 19th birthdays. [NYDN]
Pink Elephant Club: Ashley Greene showed off darker locks with pal Jessica Stam on Saturday night. They reportedly tipped the bartender well before heading out on the early side. [NYDN]
Primola: Frankie Valli and Henry Winkler ate at separate tables at the Upper East Side Italian spot. [Page Six/NYP]
Sons of Essex: Sting and five friends had to wait twenty minutes for a table over the weekend. Celebrities, they're just like us! [NYDN]
Southern Hospitality: Derek Jeter wore a gray sweatsuit and crutches to the Hell's Kitchen restaurant on Monday night. He and six friends ate in a curtained-off back room. [Page Six/NYP]
Tribeca Grill: Robert De Niro thanked the firefighters who put out a blaze at his Central Park West apartment with a catered lunch. De Niro and wife Grace Hightower, who are in need of a new home after the June apartment fire, spent two hours with the Upper West Side's Engine Company 23 as they dined on meatballs, eggplant sandwiches, and more. [Page Six/NYP]