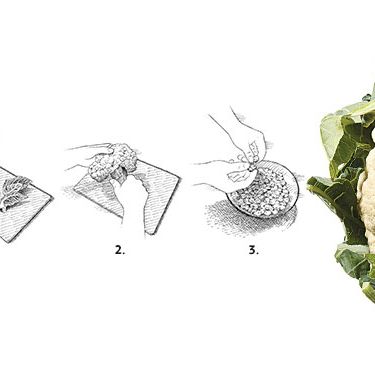 Photo: Victor Prado. Illustrations by John Burgoyne.
Cauliflower, like its fellow brassicas broccoli and Brussels sprouts, comes into its own in the fall, when the Greenmarket overflows with orange, purple, and snowy-white varieties. If you're used to finding the florets puréed into creamy soups, this brothy, chunky version will come as a comforting surprise. So will its source: Saltie, a Williamsburg takeout shop best known for its distinctive sandwiches. In chef-partner Caroline Fidanza's new cookbook, Saltie (Chronicle; $25), from which we've adapted the recipe, she calls the concoction "a fancy version of broccoli and Cheddar."
Caroline Fidanza's Cauliflower, Leek, and Gruyère Soup
1 head cauliflower
3 tbs. unsalted butter
3 tbs. extra-virgin olive oil
4 leeks, white and tender green parts, thinly sliced on the bias
Kosher salt
1 chunk Gruyère (about 5 ounces)
Chicken stock, as needed (about 4 cups)
1 cup fresh parsley
Prep the cauliflower: (1) Remove outer leaves. (2) Cut into large florets. (3) Break apart into small florets with your hands or a knife. In a soup pot over medium-high heat, melt the butter in the olive oil. When the butter begins to sizzle, add the leeks and a pinch of salt. Sauté the leeks until they begin to wilt, about 5 minutes. Add the cauliflower and another pinch of salt, and cook the cauliflower and leeks until they start to come together, about 3 minutes longer. Add the Gruyère, and give everything a good stir. Add just enough chicken stock to cover the vegetables. Turn the heat down to low, and simmer until the cauliflower is tender, 20 to 30 minutes. At this point, the cheese will have mostly melted. Taste and adjust the seasoning, stir in the parsley, and serve hot. Serves 4.
*This article originally appeared in the October 29, 2012 issue of New York Magazine.