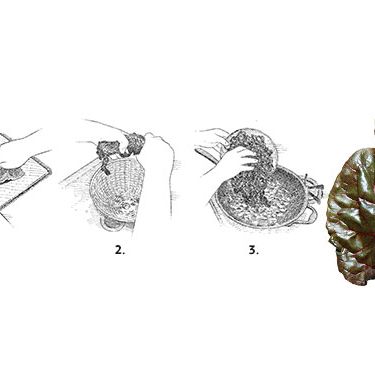 Photo: Victor Prado. Illustration by John Burgoyne.
Unlike somberly vegetal spinach, rainbow chard pops with color; the entire ROYGBIV spectrum might not be represented in a single bunch, but almost. Its ruffly leaves and sturdy stems count as two vegetables in one, and both can be used to great effect in rich gratins, as co-chefs Ginevra Iverson and Eric Korsh do in dueling sides at Calliope in the East Village. For this recipe, they combine the leaves with lemony sorrel and tangy Pecorino for a luscious French classic that makes it easier to bid Indian summer adieu.
Calliope's Chard-and-Sorrel Gratin
3 bunches (about 2 pounds) chard
4 tbs. unsalted butter
2 cloves garlic, finely chopped
1 cup chopped sorrel
1 heaping tbs. flour
2 cups milk
1 cup grated Pecorino Romano
Salt and freshly ground black pepper to taste
1/2 cup panko
Preheat oven to 400. Cut off the chard stems and save for another use. (1) Wash the leaves and cut away the ribs from each leaf. Blanch the leaves in a large pot of boiling salted water. (2) Squeeze them dry and roughly chop them into small pieces. In a large sauté pan or Dutch oven over medium heat, melt 2 tablespoons of butter, add the garlic, and cook until translucent. Add the sorrel and cook until it turns soft and army green. (3) Add the chard and cook for two minutes. Sprinkle the flour over the chard-sorrel mixture and stir until combined. Add the milk gradually in small increments and simmer until it is mostly absorbed. (You want the mixture to be moist but not soupy.) Stir in the cheese. Season with salt and plenty of black pepper. Transfer the mixture to a large gratin dish. In a small skillet, melt the remaining 2 tablespoons of butter and toss with the panko. Sprinkle the buttered panko evenly over the vegetable mixture. Bake until bubbly and the bread crumbs have turned golden brown, about 25 to 30 minutes. Serves 4 to 6.
*This article originally appeared in the October 22, 2012 issue of New York Magazine.