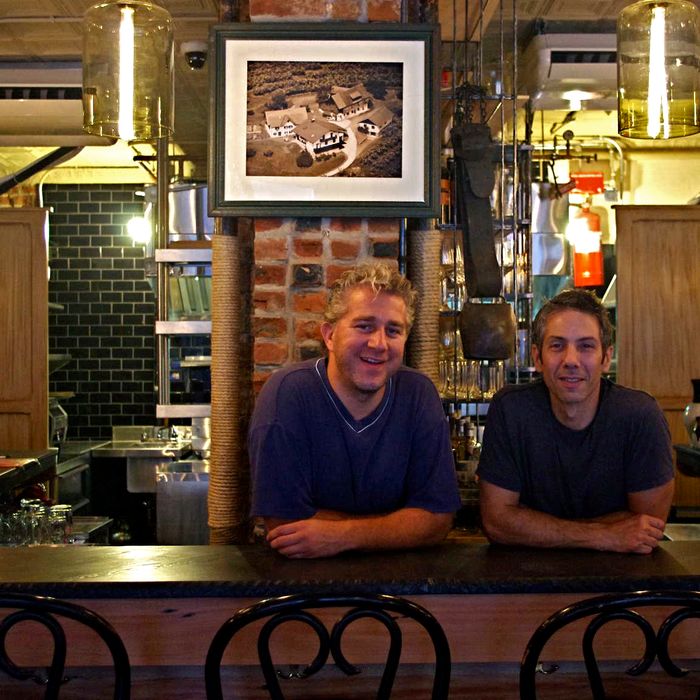 Erwin Schrottner and Andrew Chase, at their new bar.
Photo: Rebecca Flint Marx
When Café Katja opens its doors next week after a three-month absence, customers will find a space double its original size. That's because the formerly minuscule Lower East Side Austrian restaurant has expanded into the storefront next door, emerging with 52 seats and an expansive U-shaped bar in the center of its dining room.
Andrew Chase and Erwin Schrottner, Katja's owners, wanted to expand for a while to accommodate the numerous regulars they often had to turn away because of inadequate space. Their new menu reflects the five-year-old restaurant's new size, too: In addition to their original dishes, there's a renewed focus on vegetarian and vegetable-centric items such as market vegetables with farro and pumpkin seed oil. "We wanted to have stuff that people feel they can eat every day," Chase says.
Of course, there's plenty of meat, too. Perhaps most exciting of all to Austrian food fanatics is the imminent arrival of schnitzel, something that the previous kitchen couldn't produce because of a lack of space and gas. Chase cautions that they're still unsure when the breaded cutlets will make their debut, or whether they'll take the form of an occasional special, but rest assured, they "really want to do schnitzel."
Also in the works: daily lunch service, with Sunday brunch set to debut in three or four weeks.

Menu [PDF]