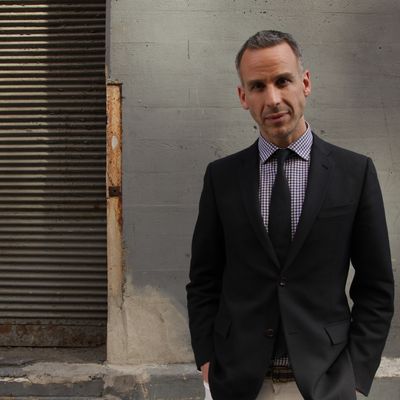 Rapoport.
Photo: Courtesy of Bon Appétit.
It's been two years since Adam Rapoport was named editor-in-chief at Bon Appétit, and since then the food glossy has gone through plenty of changes (and at least one attention-grabbing cover girl). We grabbed lunch with Rapoport to talk about his approach to the magazine, his ever-evolving partnership with his publisher, and the importance of getting away from the office.
"What I like about this restaurant — and this is what guys like Andrew Knowlton will scoff at me for — is that I don't want an ambitious, complicated lunch," Rapoport says. It's 12:30 p.m. on a Friday and the scene at Bar Pitti could be described as "downtown Euro." At a nearby table, two young men, sockless in driving loafers, eat bowls of pasta. Rapoport orders chopped sautéed spinach, simple grilled bread with prosciutto and olive oil, and a glass of white wine. "God bless David Chang, but I don't need crispy braised pork shoulder and fried chicken two ways and kimchee. I will die. I've gotta go back to work, get stuff done."
Since Rapoport took over, Bon Appétit has managed not only to stay afloat amid dwindling magazine sales, but to grow: Newsstand sales for the first half of 2012 are up 20 percent over 2011, the magazine's website has seen the largest online growth of any food magazine, and this week the glossy grabbed a spot on Advertising Age's A-List for the year, a closely watched sales award in the industry.
It's thanks in part to the fact that Rapoport appears genuinely happy to embrace the changing role of a magazine editor — one that requires a mix of salesmanship and editing.
"It's no secret — and Condé Nast has been pretty candid about it — that they expect their editors to be partners with their publishers," Rapoport says. "It's different than years ago when there was always a stark separation of church and state. We still have separate offices and everything, but our responsibility now is to think beyond the magazine."
New revenue streams must look very appealing to the company, which this month reportedly issued across-the-board 5 percent budget cuts for its magazines, piled on top of 10 percent cuts the company issued to staffers earlier this summer.
So, last year, Bon App publisher Pamela Drucker Mann and Rapoport started "Feast or Fashion Week," which created dinners and events that paired different chefs with fashion designers (Jean-Georges Vongerichten and Michael Bastian, Daniel Humm and Rachel Roy); in January, the magazine launched a partnership with HSN to sell kitchenwares (the most successful culinary launch in HSN's history); and this past summer, with Banana Republic, a "Desk to Dinner" clothing line hit the shelves. (Rapoport doesn't own anything from the collection.)
Even still, Rapoport says, schedule permitting, he tries to schlep "as far away as possible" from his Times Square office to clear his head during the week. "Jim Nelson" — GQ's editor and Rapoport's former boss — "was a very big proponent of getting out of the office," Rapoport said. "One time we went to lunch in Hoboken."
Rapoport, though, favors Bar Pitti ("I like the fact that actual Italian people come here") and Il Buco Alimentari e Vineria — light, airy spots that speak to the easygoing aesthetic and sensibility he's brought to Bon App's features.
"I'm obsessed with lighting; I'm obsessed with the glassware on the table," he says, "and the people at the dinner party. All those elements of your lifestyle are what food is about. I want to make a magazine that is a lot more '360.'" (In August, the influential design site the Fox Is Black called Bon App "one of the most visually interesting mainstream magazines" around.)
Expanding the focus of the magazine from food to lifestyle seems like a natural evolution to Rapoport. It creates increased opportunities for new advertisers, and, in Rapoport's view, food lovers, fashion disciples, and design fanatics are all coming from the same place.
"Go to any cool, downtown restaurant in New York and it's right there in front of you," he says, drizzling extra olive oil on his fettunta and smoothing down his white Uniqlo jeans. "Coolness extends from restaurants to clothes to the music you listen to. 'Cool' is a cross-all-borders mentality."