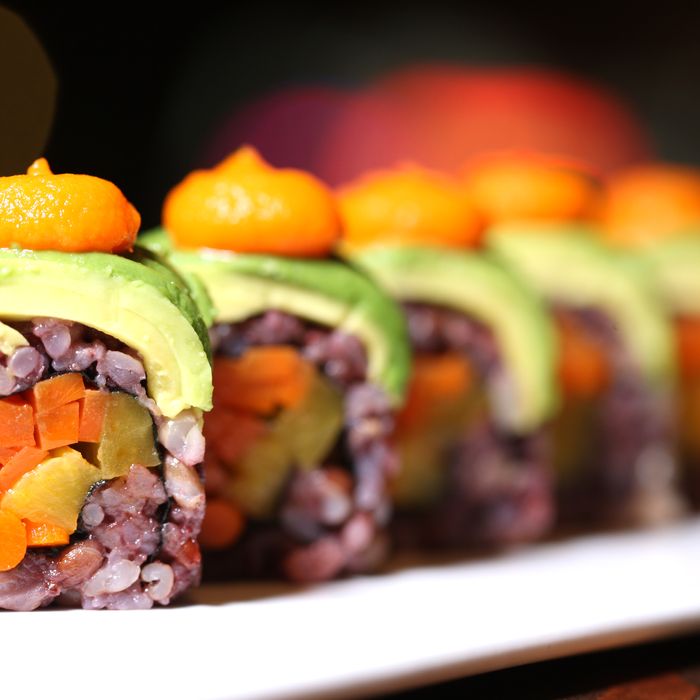 Beyond Sushi's Pickle Me roll.
Photo: Melissa Hom
As you know, Grub Street likes our meat. But we're not trying to get the gout, so there are plenty of times that we shift gears and look for healthier things. And though we're proud omnivores, we don't mind cutting out meat and dairy products completely for health reasons. Read on for our list of healthy — and some not-so-healthy — new vegan dishes. The thing these have in common is that they all taste good.
Dish: Sushi rolls
Where to get them: Beyond Sushi
We admit we were skeptical when this all-vegan sushi restaurant opened a few months back. But after tasting some things, we're sold on the creative combinations and super-fresh ingredients. Plus, fish-free sushi rolls are a deal at $6.50 a pop — no wonder this spot often has a line.
Dish: Pasta puttanesca
Where to get it: Gingersnaps Organic
At this all-vegan, all-raw joint, nothing is heated over 118 degrees, a practice some believe preserves the food's enzymes. Despite these restrictions, a puttanesca made with zucchini noodles is fantastic — it's mixed with tomato, salty capers and olives, and a creamy "ricotta" fashioned from brazil nuts. And unlike with regular pasta, there's no carb-crash after eating.
Dish: Gobi Manchurian
Where to get it: The MasalaWala
If General Tso had an Indian cousin, he might make this: lightly breaded, fried chunks of cauliflower in an Indo-Chinese spice rub with diced pieces of green pepper and onion. We wouldn't say it's entirely healthy, but we can vouch that it is packed with deep flavor.
Dish: (Bacon-less) Thrice-Cooked Bacon
Where to get it: Mission Chinese Food
While it probably sounds heretical to order this Danny Bowien signature without its namesake pork headliner, we might just prefer the bacon-free version. Stripped down to the rice cakes and yuba, the fry-up becomes a pure vehicle for spice, just the way we like it.
Dish: Phat Thai Jay
Where to get it: Pok Pok Phat Thai
While the regular version contains dried shrimp, fish sauce, and eggs, it's possible to opt for a vegan rendition that's pretty much just as tasty.
Dish: 8 Treasure Rice
Where to get it: Toy
Even the animal-products-eschewing sometimes crave a scene. Fortunately, the new meatpacking pretty-people hang has several options for vegans, including this bamboo-leaf-steamed "eight treasures," stuffed with (count 'em) smoked tofu, celery, oyster mushrooms, braised Shiitake, Chinese preserved radish, mock duck, soy bacon, and edamame.
Dish: Vegan Tartufo Pie
Where to get it: Williamsburg Pizza
Vegan sympathizers though we are, we draw the line at fake cheese. Luckily, this pizza forgoes dairy — real or ersatz — for a healthy dose of truffle oil, rosemary, and mushrooms.