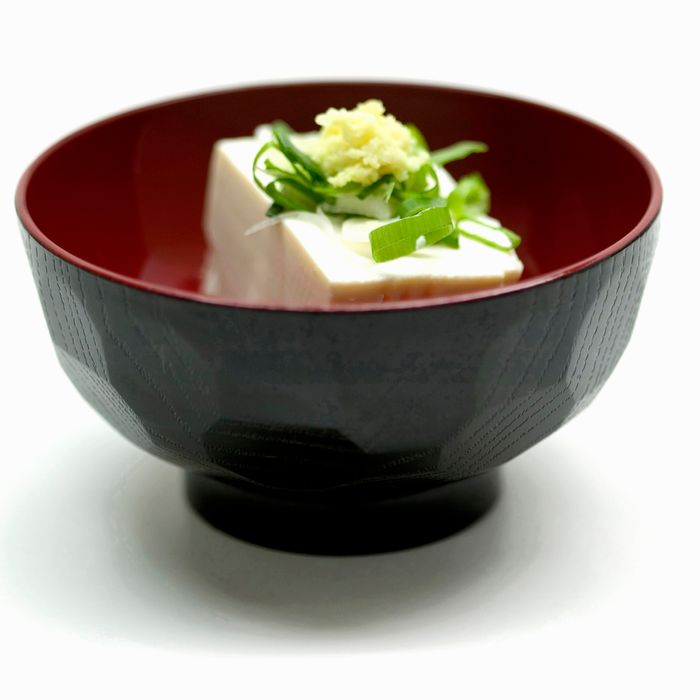 Way better than the supermarket stuff.
Photo: Kondo Photography/cultura/Corbis
Tofu sometimes gets a bad rap, but when it's good — made that day, in house, by a skilled cook — it's really, really good. The fresh bean curd is deeply creamy, with a texture not much different from panna cotta. We like it cool and quivering and pristine with just soy, ginger, and maybe a few bonito flakes on the side, but not everybody's such a purist. No matter where you fall on the scale, read on for a list of places around town that make their own tofu and serve it every which way: cold, hot, sweet, savory — this food is versatile.
Cho Dang Gol
This midtown restaurant specializes in tofu, preparing it in house daily and serving it in as many ways as are imaginable: sliced, paired with soy sauce, in salad, and, of course, in soft tofu stews, with options for vegetarians and carnivores. Once you've tried the "dubu" stews (complete with an egg cracked straight into the bowl), the thought of spicy seafood and tofu bubbling together in a pot will elicit Pavlovian reactions.
Cocoron
The soba-noodle specialist also serves a fresh, creamy homemade tofu appetizer with grated ginger, scallions, nori, bonito flakes, and soy sauce — it's one of the best versions in town.

En Japanese Brasserie
Chef Abe Hiroki has turned bean curd into an art form. Here, cooks prepare fresh tofu by the hour and use wooden ladles to scoop the delicate custardlike stuff into lacquer boxes. The dish comes with a side of wari-joyu, a soy sauce and fish broth concoction intended as a seasoning. A tofu dressing, salad, and tofu-and-avocado roll are also available to order.
Fong Inn Too
Fong Inn is a tofu- (and all things soy) producing hub that supplies curds to local restaurants. Consider it for a Chinatown dessert fix: For just a dollar, you can get bowl of hot (or cold) silky tofu custard with a small container of sweet ginger syrup on the side.
Hibino
The Cobble Hill-based Japanese favorite prepares fresh-made tofu with Kinoko sauce, made from a mix of Eringi, Shiitake, and Enoki Mushrooms.
Kyotofu
This haven for modern Japanese desserts fills pastries, cheesecakes, and even burgers with fresh tofu. Those with a sweet tooth can try a slice of yuzu tofu cheesecake, or the kuro goma sweet tofu, a black sesame sweet tofu panna cotta. The more ravenous can opt for the $10 house tofu served with soy sesame and tomato-and-olive-oil sauces — or maybe a chicken burger (with a slab of tofu on top, of course).
Morimoto
The Iron Chef's restaurant might be the only place in town to get fresh tofu tableside. Yosedofu, a dish that transforms a bowl of soy milk into its firmer cousin, comes with lobster ankake, dashi soy, and fresh wasabi. For dessert, try the tofu "hot and cold," a trio of soy milk soufflé, tofu cheesecake, and maple ice cream.
NY Tofu House
While this house of soy repute stays true to Korean cuisine and serves the classic seafood tofu broth, it also makes its star ingredient in house and slings it in a variety of manners. Taste the soybean product deep-fried, with kimchee and pork, stir-fried with glass noodles, stuffed in mushrooms, or adding a creamy bite to bubbling stews.
Soto
Head over to the Sixth Avenue sushi haven to taste Goma Tofu, a black-and-white sesame tofu with wasabi soy sauce and soy foam.
Tung Woo Co.
230 Grand St., nr. Bowery
Grand Street is home to a tofu-and-soy-milk-producing gem. Bags of hot, cold, firm, and soft homemade tofu sell for one dollar each; additional goods include douhua (tofu pudding), and gallons of soymilk are less than $2. For a creamy, protein-rich snack, try a pint container of creamy tofu fa — ask for it spicy, of course.
Yakitori Totto
The second-floor chef hang makes its tofu in house for dinner only, and serves it both agedashi style in dashi broth or yakumi zaru tofu, with traditional scallion, bonito flake, ginger, sesame, and ume plum salt accompaniments.
Zenkichi
The start of autumn welcomes a new menu at Zenkichi. Grab a friend (who has $65 to spare) for the eight-course Omakase Tasting menu for the fall. While the sashimi, namako, and pork belly dishes may threaten to steal the show, don't forget about the soft, silky, homemade tofu that makes an appearance in the Zenkichi Salad. For dessert, try their milky Mineoka Tofu pudding topped with azuki red beans and strawberries.