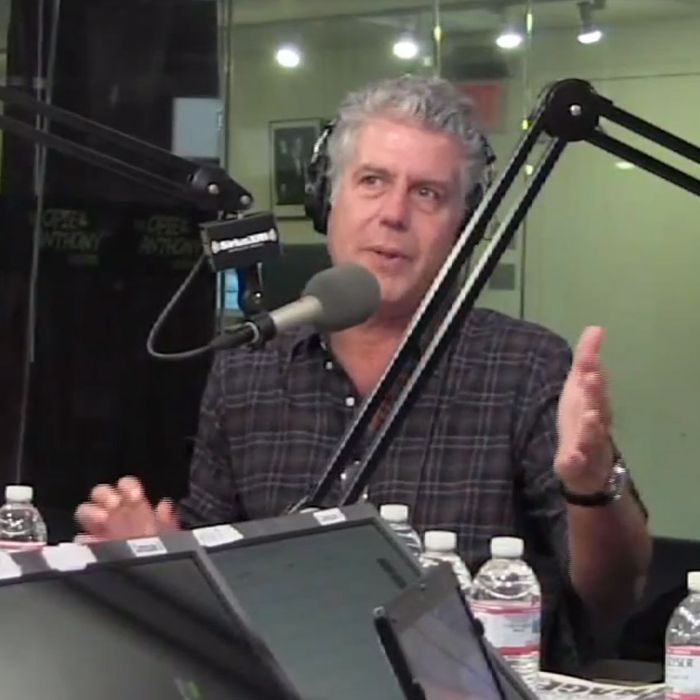 You may have caught a little of Anthony Bourdain's appearance last week on "The Opie & Anthony Show" lamenting the recent arrival of Guy Fieri's Guy's American Kitchen. Of course, Bourdain has some hilarious things to say about the 600-seat "terror-dome" and its proprietor, who "single-handedly turned the neighborhood into the Ed Hardy district," says Bourdain, who adds he feels bad for the customers who come "waddling in" to discover $18 hamburgers and French fries for $12 on the menu.
Of course, those (La Frieda) burgers cost $17.50, which isn't astronomically high considering the market, and the fries are actually only $6.95, which isn't too bad either, but Bourdain always wins because he's funnier than everyone else. Because Fieri is a big part of "On the Chopping Block: A Roast of Anthony Bourdain" at next month's New York Wine & Food Festival, though, isn't it a little predictable that his sharpest barbs always seem to come out whenever there are tickets to sell?

Anthony Bourdain Talks Guy Fieri's New "Terror-Dome" on SiriusXM [YouTube]
Earlier: Bourdain Can Give It, But Can He Take It?